Click here to listen to the Daily Zohar [audio:https://dailyzohar.com/wp-content/uploads/audio/dz974.mp3|titles=Daily Zohar 974]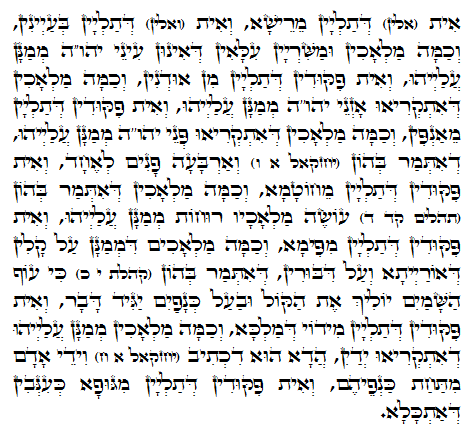 Hebrew translation:
Tikkun 70 – 79
Die Gebote der Thora beziehen sich auf alle Körperteile. Es gibt einige für den Kopf, wie das Tragen von Tefilin, einige verbinden mit den Augen, wie "und dass ihr nicht nach euren eigenen Herzen und eigenen Augen gehen werdet" (Numbers 15:29). Einige Gebote verbinden uns mit den Ohren, wie dem Shofar, der Thora und den Gebeten zuzuhören. Es gibt Gebote, die sich auf das Gesicht beziehen wie, "noch sollt ihr die Ecken eures Bartes verunzieren." Es gibt solche, die sich auf die Nase beziehen, wie nach dem Shabbat am Weirauch zu riechen. Der Mund verbindet mit dem Studieren von Geboten und unterschiedlichen Segen. Die Hände haben auch eine Verbingung zu den Geboten, wie der Lulav und der Tefilin von der Hand.
Der Zohar lehrt uns, dass jeder Körperteil Engel hat, der die Handlung unterstützt, die sich auf den Körperteil bezieht und das speziefische Licht erhöht, um so die Seele von dieser Person zu reinigen.
Der Zohar sagt, wie die Traube Weintrauben verbindet, verbinden die Gebote mit der Thora und ihrem Licht.
{||}