Click here to listen to the Daily Zohar [audio:https://dailyzohar.com/wp-content/uploads/audio/dz990.mp3|titles=Daily Zohar 990]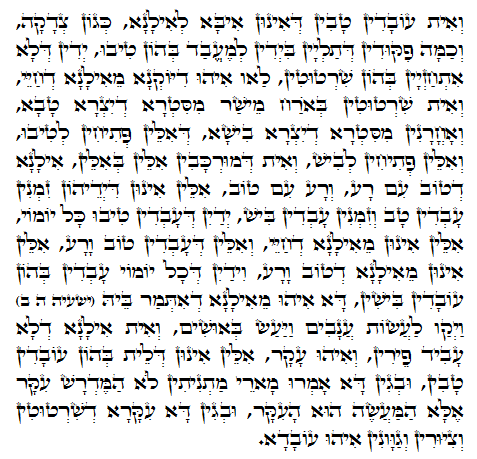 Hebrew translation:
Tikkun 70 – 95
(Continue from DZ 989)
Die Wurzeln aller Kennzeichnungen auf Gesichtern, Körpern und Farben sind in Keter, Chochma and Binah.
Linien sind der Aspekt der rechten Säule, Chesed und des Löwen vom Heiligen Thron, . Formen sind der Aspekt der Linken, Gevurah und des Ochsen. Farben (nicht immer sichtbar) sind der Aspekt von unterschiedlichen Energie Typen, der Aspekt der mittleren Säule, Tiferet und Adler vom Heiligen Thron.
Sie werden in der unteren Ebene sichtbar, die der Platz der Shechina im Bildnis von Adam ist. Die spirituellen Kräfte, die sich unten in Kennzeichnungen auf dem Gesicht, den Händen und demKörper enthüllen, sind verborgene Formen des Lichts, die der Einzelne in sich trägt oder mit denen er verbunden ist.
.
Exodus 33:23 " וַהֲסִרֹתִי, אֶת-כַּפִּי, וְרָאִיתָ, אֶת-אֲחֹרָי; וּפָנַי, לֹא יֵרָאוּ " "Und Ich will meine Hand wegnehmen und ihr sollt Meinen Rücken sehen; aber Mein Gesicht soll nicht gesehen werden.'
" Der 'Rücken' des Lichts ist der Aspekt von Verborgenheit. Das 'Gesicht' ist Enthüllung .
Gott sagte zu Moses, dass er seinen Rücken sehen kann, aber nicht sein Gesicht
Als geschaffene Wesen können wir unseren Schöpfer solange nicht sehen, wie wir in der Form von Gefäßen sind. Ein Gefäß ist Licht, das sich vom umgebenen Licht unterscheidet und den Wunsch nach einer speziellen Identität hat.
In diesem Abschnitt erklärt der Zohar, dass unsere Hände der Aspekt vom Baum des Lebens sind.
Daumen – Keter
Zeigefinger – Chochma
Mittelfinger – Binah
Ringfinger – Zeir Anpin (6 Sefirot von Chesed, Gevurah, Tiferet, Netzach, Hod und Yessod)
Kleiner Finger – Malchut
Die Handlungen der Hände sind die Früchte von dem Baum. Positive Handlungen wie Tzedaka, anderen zu helfen, Teilen und ähnliches, sind in den Handflächen registriert. Durch das Lesen der Hände können wir sagen, ob eine Person freundliche oder negative Handlungen tut oder ob er ein Sklave seiner Natur ist, Gutes und Negatives tut, wie es ihm zufällig in seinen Weg kommt.
.
Isaiah 5:2 "וַיְקַו לַעֲשׂוֹת עֲנָבִים, וַיַּעַשׂ בְּאֻשִׁים" "und er sah, dass er Trauben hervor bringen sollte und es brachte wilde Trauben hervor"
Das positive Licht, durch gute Handlungen herunter gezogen, verbleibt auf den Händen und bringt Segen zu der Person. Die Energie von negativen Handlungen wird verderben, selbst wenn sie das Ergebnis von positiven Absichten sind .
Benutzt eure Hände nicht für irgendeine negative Handlung und wascht eure Hände jedesmal wenn ihr negative Dinge berührt habt, selbst wenn sie nicht sichtbar schmutzig sind.
Um den Segen vonTzedaka anzuziehen, meditiert mit, L'shem Yichud (DZ 980 https://dailyzohar.com/?p=8068)
Meditiert darauf, dass das was ihr gebt, das י Yud des Namens ist, denn alles kommt vom Licht . Die Hand mit den fünf Fingern ist der Aspekt des Buchstaben H ה, der bewusste Akt des Gebens ist der Buchstabe ו Vav, das ist wie ein Strecken der Hand. Das aktuelle Geben ist der Aspekt des Buchstaben ה H von Malchut. Damit kommt das Licht herunter und versüßt die Urteile.
Die Verbindung und das Vertrauen in das Licht wird auch als Tzedaka bezeichnet, weil es das Licht mit dem Gefäß verbindet.
Für Menschen, die ihre Leben widmen,wie Abraham in dem Vers unten, gilt ebenfalls ihre Handlung von Tzedaka mit ihrer Verbindung zu machen.
Genesis 15:6 "וְהֶאֱמִן, בַּיהוָה; וַיַּחְשְׁבֶהָ לּוֹ, צְדָקָה" "und er glaubte an den HERRN; und Er rechnete es ihm für seine Rechtschaffenheit an (Tzedaka) "
Rabbi Nissim Peretz זצ"ל ,gesegnet sei sein Andenken, erklärte, dass eine Münze, פרוטה, פרט den numerischen Wert von רפח mit dem kolel hat (hinzufügen von 1 für das gesamte) ). רפח ist 288, das repräsentiert die Welt von Tikun.
Jede einzelne Handlung die wir mit reinen Händen tun und um den Willen, das Licht mit dem Gefäß, der Shechina, zu verbinden, ist Tzedaka, eine Münze oder Millionen davon. Jeder sollte so viel Tzedaka auf der geistigen und körperlichen Ebene tun wie er kann, um Segen zu seinen Händen zu bringen.
{||}