Click here to listen to the Daily Zohar [audio:https://dailyzohar.com/wp-content/uploads/audio/dz937.mp3|titles=Daily Zohar 937]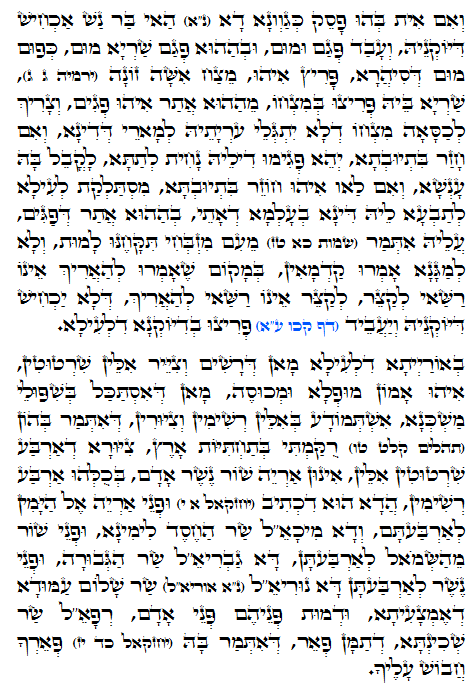 Hebrew translation:
Sorry Hebrew translation is missing from my original files.
Tikkun 70 – 42
Da Õhr Hachãmã – Rabbi Avrahãm Azulai

Se tra le linee della fronte noi trovano delle interruzioni, allora queste rappresentano difetti nella radice dell'anima di una persona. Il flusso di Luce da Chokmãh viene considerato interrotto.Quella persona può essere facilmente confusa o può esprimere giudizi sugli altri. Senza un filo forte verso Chokmãh, una persona cade nella 'gravità' di Malchūt. Una tale persona non tiene anche i segreti e ama il "gossip"

Questi tipi di linee indicano pensieri profondi e saggezza. Gli archi sono come 'tirati' dalla Luce di Chokmãh.
Una persona con una fronte piccola e rotonda è saggia e intelligente. Ha un animo sensibile e agisce con misericordia. Ha un interesse più ampio in molte cose e può essere grande nello studio della Torãh, ama essere in pace e gioia.
Salmi-Tehillìm 139:15."לֹא-נִכְחַד עָצְמִי, מִמֶּךָּ: אֲשֶׁר-עֻשֵּׂיתִי בַסֵּתֶר; רֻקַּמְתִּי, בְּתַחְתִּיּוֹת אָרֶץ""lõ-nichchãd 'otzmì mimmēka asher-'usséti vasséter rukkàmti betachtilòt àretz"" non Ti (YHVH) era nascosta la mia struttura fisica quando sono stato plasmato in segreto e sono stato forgiato nelle profonditã della terra"Questo è un versetto con molteplici significati profondi, ma per la nostra discussione, esso rivela che la Luce nascosta di Chokmãh ē rivelata nei livelli più bassi, come il ricamo su una superficie piana.Ogni linea sulla fronte rappresenta un differente aspetto della Luce di Chokmãh.Questa Luce è il seme dell'uomo (Adamo) e comprende in sé il passato e il futuro.
{||}