Zohar quotidiano # 959 – Come Vedere i Veri Colori ?
Click here to listen to the Daily Zohar [audio:https://dailyzohar.com/wp-content/uploads/audio/dz959.mp3|titles=Daily Zohar 959]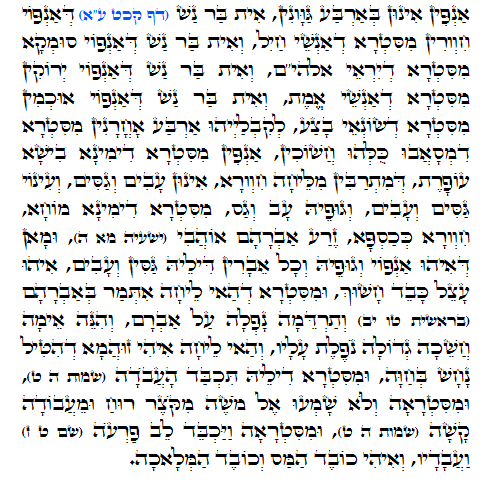 Hebrew translation:
Tikkun 70 – 64
I colori della faccia hanno gli aspetti del nome YHVH.
Y – Bianco – Destra – Chessèd
H – Rosso – Sinistra – Ghevurãh
V – Verde – Centro – Tiferèt
H – Nero – Malchût. Perché non ha luce propria e prende tutti i colori / Sefirõt di cui sopra.
Ci sono aspetti in cui Yessõd è rappresentato dal colore nero e Malchūt ottiene il colore blu.Un volto che irradia luce bianca ha l'aspetto di Chessēd. Se il bianco appare come il colore di piombo allora esso rivela le impurità e gli aspetti negativi in quella persona.
Quando la luce che irradia dal volto è rossa allora l'aspetto puro indica il desiderio e la connessione alla luce. L'aspetto impuro è rappresentato da desideri terreni solo per sé stessi.Un volto che irradia luce verde rappresenta aderire alla verità ed il contrario ē per persone bugiarde e manipolative.
Un volto che irradia luce Nera rappresenta forte energia in Malchūt. L'aspetto positivo del volto che irradia luce Nera è il collegamento alla Shechinã, l'aspetto negativo del volto che irradia luce Nera è la connessione al lato oscuro della vita, l'amarezza, la pigrizia e la pesantezza.Le persone con mancanza di energia, cercano delle "vie brevi" ed evitano il lavoro duro.
Quando cerchi sul viso delle persone, guarda al di là delle caratteristiche fisiche. Per la maggior parte persone che legge lo studio PFR (Lettura del Palmo e della Faccia) sullo Zohar Quotidiano è fonte di confusione. Non è una semplice guida per una corretta interpretazione.Il carattere ed il processo di Tikkun di una persona è scritto sul suo volto, come viene da vite precedenti e non come uno schermo televisivo in diretta.
I veri colori possono essere visti soltanto quando "lanciamo" luce sull'oggetto. È lo stesso con le persone. Dovremmo inviare luce (con pensiero puro) dai nostri occhi alla persona.
Ciò aumenterà la nostra capacità di vedere la verità con i nostri occhi interiori, Chokmãh e Binãh. Senza essere daltonici.
{||}