Click here to listen to the Daily Zohar [audio:https://dailyzohar.com/wp-content/uploads/audio/dz947.mp3|titles=Daily Zohar 947]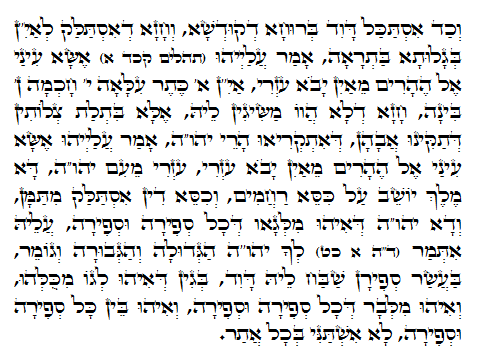 Tikkun 70 – 52
Salmo 121:1
"שִׁיר, לַמַּעֲלוֹת: אֶשָּׂא עֵינַי, אֶל – הֶהָרִים – מֵאַיִן, יָבֹא עֶזְרִי" "shìr lamma'àlòt essà enai el-heharìm meàin iavò ezrì" "canto dei gradini levo i miei occhi ai monti da dove (מֵאַיִן) verrà il mio aiuto? ".
Il Re Davide aveva lo Spirito Santo in lui. Egli ha visto che nell'Esilio Finale (i nostri tempi), il Santo Tempio non sarebbe esistito e per questo motivo l'unificazione di Zeir Anpìn e Malchùt non sarebbe esistita. La Luce che era a nostra disposizione senza lavoro richiede un processo per raggiungerla.
La frase "da dove (מֵאַיִן) verrà il mio aiuto יָבֹא עֶזְרִי ?" include la risposta alla domanda.
אַיִן, (àin) letteralmente significa 'niente' il riferimento è chiaramente all'Ein Sòf (Endless).
Alef א – per Keter
Yod י – per Chokmàh
Nun ן – per Binàh
Le tre Sefiròt superiori che non sono state coinvolte nel processo della rottura originale dei vasi che hanno creato il nostro mondo, sono in un perfetto stato spirituale.
Giobbe 28:12.
"וְהַחָכְמָה, מֵאַיִן תִּמָּצֵא; וְאֵי זֶה, מְקוֹם בִּינָה"
"Ma la Saggezza (Chokmàh), dove (מֵאַיִן) può essere trovata? E dove è il luogo della Comprensione (Binàh)? "
La nostra connessione dovrebbe essere prima con "le montagne" che sono l'aspetto dei Patriarchi, Avrahàm, Itzchàk e Yaàkòv. Quando ci eleviamo al loro livello, partecipando alle tre Colonne dell'Albero della Vita, siamo in grado di salire fino alle tre Sefiròt superiori Keter, Chokmàh e Binàh. Solo allora, il Senza Fine Ein Sòf ( Endless) אין ci darà l'aiuto necessario.
{| |}