Zohar Quotidiano # 973 – Come Essere un Figlio di Dio?
Click here to listen to the Daily Zohar [audio:https://dailyzohar.com/wp-content/uploads/audio/dz973.mp3|titles=Daily Zohar 973]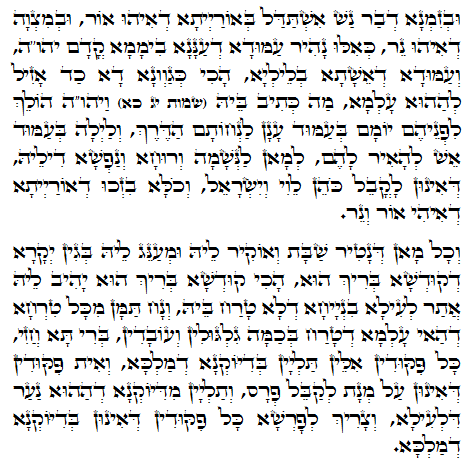 Hebrew translation:
Tikkun 70– 78
Esodo-Shemòt 13:21.
"וַיהוָה הֹלֵךְ לִפְנֵיהֶם יוֹמָם בְּעַמּוּד עָנָן, לַנְחֹתָם הַדֶּרֶךְ, וְלַיְלָה בְּעַמּוּד אֵשׁ, לְהָאִיר לָהֶם – לָלֶכֶת, יוֹמָם וָלָיְלָה""vè'Adonay holèch lifneyhèm yomàm bè'amùd anàn lanchotàm haderech velaylah bè'amùd èsh lèha'ir lahem lalechet yomàm valaylah".
"e YHVH andava davanti a loro di giorno in una Colonna di Nube, per guidarli sulla strada, e di notte in una Colonna di Fuoco, per far loro luce, cosìcchè potevano procedere di giorno e di notte"
Lo studio della Toràh e dello Zohar ci collegano a Zeir Anpìn che è l'aspetto del giorno e della 'Colonna di Nube'. Seguendo le leggi spirituali e la correzione in Malchut è l'aspetto della notte e,della 'Colonna di Fuoco' .Lo Zohar ci insegna che lo studio della Torah / Zohar è l'aspetto della Luce e le nostre azioni sono l'aspetto della candela. Quando studiamo e seguiamo le leggi spirituali con le nostre azioni, colleghiamo la luce con la candela e meritiamo la protezione di HaShèm giorno e notte. E 'la stessa protezione che gli Israeliti avevano nel deserto nel loro cammino verso la Terra Promessa. La Colonna di Nube li proteggeva durante il giorno e la Colonna di Fuoco, durante la notte.Osservare lo Shabbàt e dedicandolo allo studio dello Zohar connette una persona al mondo di Atzilut in tutte le vie per beneficiare la sua anima con la purificazione e l' elevazione.Lo Zohar ci dice che ci sono due livelli di connessioni spirituali. Un livello di Zeir Anpìn e un livello di Malchùt. Il Kabbalista, Rabbi Daniel Frish, "Matòk Mìdvàsh", spiega che il livello più basso di Malchut è per le persone che cercano il proprio benessere e la realizzazione delle loro mancanze.
Essi sono descritti nel versetto della Toràh in Levitico-Vaykrà 25:55.
"כִּי – לִי בְנֵי – יִשְׂרָאֵל, עֲבָדִים – עֲבָדַי הֵם, אֲשֶׁר – הוֹצֵאתִי אוֹתָם מֵאֶרֶץ מִצְרָיִם: אֲנִי, יְהוָה אֱלֹהֵיכֶם""kì-lì benèi-Yisra'èl avadìm avaday hèm asher-hotzeti otàm mè'eretz Mìtzrayim ani Adonay Eloheychem".
"perchè i figli di Israele sono i Miei servi.Essi sono i Miei servi che ho fatto uscire dalla terra d'Egitto: Io sono il tuo Dio YHVH".
Il livello superiore di Zeir Anpìn è connesso a quelle persone che si collegano e studiano per rivelare Luce nel mondo.Essi sono chiaramente descritti nei versettii della Toràh in: Deuteronomio-Devarìm 14:1.
"בָּנִים אַתֶּם, לַיהוָה אֱלֹהֵיכֶם" "banìm atem l'Adonay Eloheychem" "voi siete i figli di YHVH il vostro Dio".
Quando uno fa le connessioni e medita per tutti gli altri, egli attira Luce per il mondo e allo stesso tempo ne beneficia lui stesso. Egli crea un canale più grande della luce e non come un piccolo vaso/recipiente che dipende da una piccola 'razione' dal suo padrone che lo può sostenere per un piccolo attimo '.
Come figli, ereditiamo i poteri del Padre. Come schiavi / servitori spossiamo godere della vita in alcune parti lontane del palazzo e possiamo godere di qualche conforto, ma non sarà mai vicino a quello che avrebbe potuto avere e godere un figlio.
{| |}