Zohar quotidiano # 970 – Come il Sommo Sacerdote.
Click here to listen to the Daily Zohar [audio:https://dailyzohar.com/wp-content/uploads/audio/dz970.mp3|titles=Daily Zohar 970]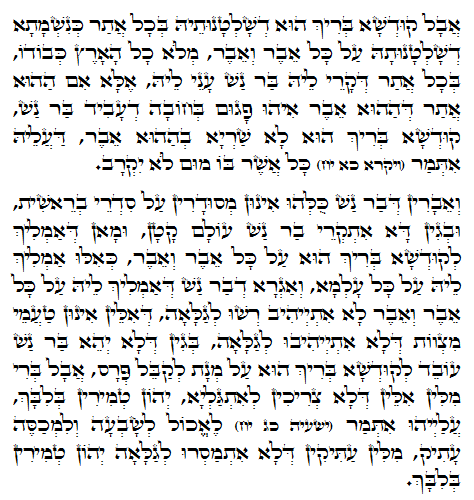 Hebrew translation:

Tikkun 70-75
Levitico-Vaykrà 21:18.
"כִּי כָל – אִישׁ אֲשֶׁר – בּוֹ מוּם, לֹא יִקְרָב" "Ki chòl-ìsh asher-bò mùm lò yikràv"
"perchè non si accosti qualunque uomo che abbia un difetto".
Questo Versetto della Toràh parla delle leggi che HaShèm ha dato ai Sacerdoti e ci rivela che il corpo impuro non può avvicinarsi per servire il Santo. I Sacerdoti hanno bisogno di avere un corpo puro, il che significa che essi conducono tutte le loro azioni con purezza altrimenti non possono incanalare la Luce.A Yòm Kippùr, che è il giorno più Sacro dell'anno, il Sommo Sacerdote entrava nel Santo dei Santi per fare un collegamento speciale con il nome di YHVH e attirare Luce per il mondo intero. Se non fosse stato puro, egli sarebbe morto subito, quando la Luce scendeva giù.Per aiutare il Sommo Sacerdote a fare il suo lavoro, egli era stato istruito di usare droghe speciali che gli permettevano di disconnettersi dalla consapevolezza-coscienza del corpo.L'insegnamento da questo è che per diventare un grande canale dobbiamo dimenticare noi stessi e il nostro vaso-recipiente limitato. Quando siamo canali non abbiamo mancanze.Vedo molte persone su Facebook e Tweeter che condividono alcune citazioni positive e motivazionali. Queste citazioni sono belle ma non hanno il potere di influenzare l'anima ad un livello che potrebbero diventare parte di essa.
L'impatto dell'insegnamento Zohar è puro e a livello dell'anima cambia il DNA spirituale. Collegarsi al Testo Sacro ci porta alle radici del sistema spirituale e al codice del DNA della Creazione. Dobbiamo avere lo Zohar di fronte a noi quando lo studiamo. Ascoltare una conferenza di Kabbalah senza avere lo Zohar non ha lo stesso effetto. Soprattutto dovremmo condividere le risorse di studio dello Zohar che usiamo con qualsiasi persona che conosciamo. Con questa azione diventiamo un canale di Luce come il Sommo Sacerdote. Noi aiutamo non solo i pochi che conosciamo, aiutiamo il mondo intero.
{| |}