Zohar Quotidiano # 981 – Il Modo Migliore e Facile per Correggere l'Anima,
Click here to listen to the Daily Zohar [audio:https://dailyzohar.com/wp-content/uploads/audio/dz981.mp3|titles=Daily Zohar 981]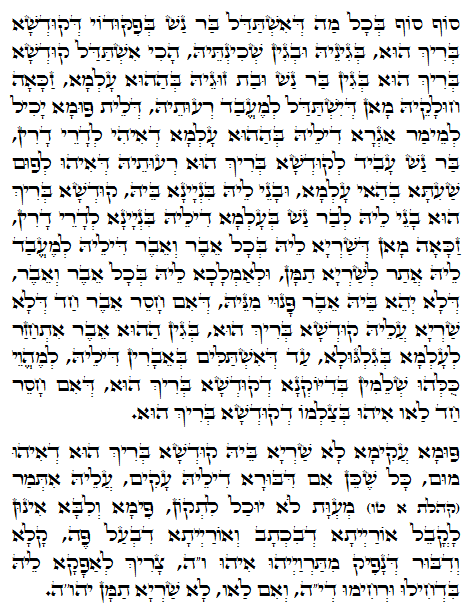 Hebrew translation:
Tikkun 70 – 86.
(Continua da DZ # 980)
Ci sono 248 Precetti nell'ambito del "Tu farai …" e 365 Precetti del "Tu non farai …".
248 è il numero delle parti del corpo ed è inoltre il valore numerico della parola Ebraica רחם, 'ventre' che significa anche amore in aramaico. Siamo nati con un atto di amore e di unificazione del maschile e del femminile che disegna la Luce e inizia un processo di creazione nel grembo materno, che è un recipiente d'amore.
Ogni Precetto crea una connessione di Luce per una parte differente del corpo. E 'impossibile per una persona completare 248 precetti nel tempo di una vita e quindi abbiamo il processo di reincarnazione per aiutarci a raggiungere l'unificazione di tutte le parti del corpo / anima con la Luce.
Quando seguiamo la meditazione descritta nello Zohar Quotidiano# 980, ci assicuriamo che la Luce porti purezza a quella parte. Il Precetto che copre tutti i Precetti è lo studio della Torah che è possibile per noi attraverso lo studio dello Zohar. La Luce della Toràh splende dallo studio dello Zohar e ci connette a tutti i Precetti. Quando leggiamo riguardo al lavoro svolto dai Sacerdoti, le Dieci Parole e tutti i Precetti, attiriamo quella Luce speciale nelle nostre anime.
I Saggi ci insegnano;
אֵלּוּ דְבָרִים שֶׁאָדָם אוֹכֵל פֵּרוֹתֵיהֶם בָּעוֹלָם הַזֶּה, וְהַקֶּרֶן קַיֶּמֶת לוֹ לָעוֹלָם הַבָּא: כִּבּוּד אָב וָאֵם, וּגְמִילוּת חֲסָדִים, וַהֲבָאַת שָׁלוֹם בֵּין אָדָם לַחֲבֵרוֹ; וְתַלְמוּד תּוֹרָה כְּנֶגֶד כֻּלָּם.
תלמוד בבלי, שבת קכז ע"א ".
Traduzione:
"Queste sono le cose che l'uomo 'mangia' dai loro frutti in questo mondo e il principale è tenuto per il Mondo a Venire, onorare i genitori, atti di gentilezza verso gli altri, portare la pace tra un uomo ed il suo prossimo e lo studio della Torah (Talmùd Toràh) vale quanto tutti quanti insieme."
La ragione di questa affermazione è che le nostre azioni sono limitate al tempo e luogo, ma lo studio è una connessione alla Luce che purifica l'anima e viene portato con noi nel Mondo a Venire.
Le azioni che influenzano direttamente il nostro Tikkùn, lo studio influenza questa vita e le vite precedenti.
Se passiamo prima di correggere ogni parte dell'anima, torniamo nella reincarnazione con una parte del corpo sbagliata che ci insegna la nostra correzione.
{||}