Daily Zohar – Tikunim – # 1014 – Con il Sostegno dei Padri Possiamo farlo Sicuro.
Click here to listen to the Daily Zohar [audio:https://dailyzohar.com/wp-content/uploads/audio/dz1014.mp3|titles=Daily Zohar 1014]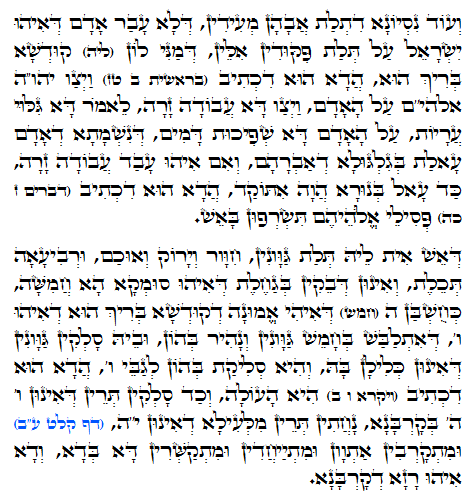 Tikkùn 2 – 3 .(si riferisce al Tikkùn 22 e 23)
Genesi-Bereshìt 2:16.
"וַיְצַו יְהוָה אֱלֹהִים, עַל – הָאָדָם לֵאמֹר:. מִכֹּל עֵץ – הַגָּן, אָכֹל תֹּאכֵל" "vayetzàv Adonay Elohim al-ha'adam lemor mikol etz-hagàn àchòl tòchèl" "e YHVH Dio comandò l'uomo (Adamo), dicendo: 'di ogni albero del giardino puoi mangiare liberamente;"
Lo Zohar ci dice che le prove i patriarchi ha attraversato dovevano correggere i peccati e le impurità che aveva fatto Adamo.
Adamo è la radice di tutti gli Israeliti ed il comando nel verso della Toràh di cui abbiamo accennato sopra è relativo per tutti noi.
"E YHVH Dio ordinò" è il culto dell'idolatria, che non stà seguendo il sistema spirituale dell'Albero della Vita.
"Dicendo" è il riferimento ai peccati sessuali. Questo è stato corretto da Yaàkòv attraverso la sua vita di lavoro, facendo connessioni adeguate con le sue mogli per attirare giù le anime più alte.
"All'uomo" è il 'Sangue versato', corretto da Itzchàck, quando egli stesso si è sottoposto alla sua legatura ed era pronto a dare la sua anima per tale correzione. Itzchàck aveva 37 anni e suo padre aveva 99 anni al momento di questo evento.
Questo studio è un'altra preparazione per Ròsh HaShanàh, che stà arrivando tra pochi giorni. Quando abbiamo questa conoscenza e la correzione che i Patriarchi hanno fatto per tutti noi, siamo in grado di trarre beneficio da questa conoscenza durante il Giorno del Giudizio (un giorno di 48 ore) e per il resto delle nostre vite.
Maggiori informazioni sulla correzione di Avrahàm Itzchàck e di Yaàkòv nel DZ successivo. Anche se sei impegnato a prepararti per le Feste, trova il tempo per studiarlo, in quanto ti aiuterà grandemente.
{| |}