Zohar quotidiano # 972 – "Spiana" a te Stesso una SuperStrada Verso il Cielo.
Click here to listen to the Daily Zohar [audio:https://dailyzohar.com/wp-content/uploads/audio/dz972.mp3|titles=Daily Zohar 972]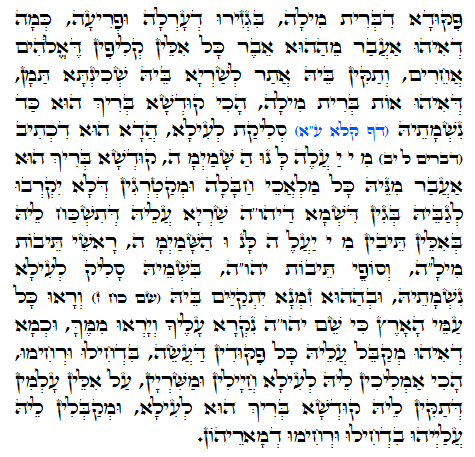 Hebrew translation:
Tikkun 70-77
Il processo della circoncisione "מילה" rimuove le Klipòt che si sono attaccate al corpo fisico, quando Adamo ha fatto il primo peccato. Il prepuzio copre la 'corona' di Yessòd e blocca la Luce dall'essere facilmente rivelata. La rimozione del prepuzio apre il canale di Yessòd e una persona ha un potenziale più grande di diventare Giusto.
Quando una persona muore, la sua anima sale ai livelli superiori. Le forze del lato negativo tentano di 'attaccare' l'anima, alla ricerca di buchi nelle sue vesti per 'succhiare' quanta più possibile energia prima che l'anima vada più in alto e al di là della loro portata.Un'anima 'pesante', che significa un'anima con desideri più grandi per il sé ed una forte connessione al mondo materiale, è molto lenta a salire e fornisce un buon 'pasto' per l'altro lato, mentre stà vivendo un processo doloroso. Questo è il passaggio attraverso le porte dell'inferno prima che l'anima sia giudicata e va per un appropriato processo di pulizia. Le leggi della Torah ci insegnano a seppellire il corpo il più presto possibile e prima del tramonto. Ciò contribuisce a ridurre o a saltare il dolore dell'anima durante la salita. Finché il corpo non è tornato nella terra, l'anima non si sposta alla fase successiva.Lo Zohar ci rivela che a causa della circoncisione 'מילה', HaShèm ci dà un passaggio facile per i Mondi Superiori e protegge l'anima da coloro che vogliono farle del male.
Deuteronomio-Devarìm 30:12.
"מִי יַעֲלֶה – לָּנוּ הַשָּׁמַיְמָה" "mi ya'alèh-lanu hashamaymah""'Chi salirà per noi in cielo"Le Iniziali di questa citazione formano la parola 'מילה', 'circoncisione' (מִי יַעֲלֶה – לָּנוּ הַשָּׁמַיְמָה")e le Ultime lettere di questa citazione digitano il nome יהוה YHVH ("מִי יַעֲלֶה – לָּנוּ הַשָּׁמַיְמָה"). Il nostro collegamento con YHVH con il processo di correzione del nostro corpo con le azioni positive ci apre una "superstrada" liscia al Mondo Superiore.Noi abbiamo la Toràh e lo Zohar come nostro strumento di 'pavimentazione'. Con la Loro Luce, possiamo arricchire la nostra anima e completare la nostra correzione. Quando arriverà il momento, otterremo la "superstrada" raggiungendo la nostra destinazione con una scorta di prima classe.Noi tutti vogliamo avere esperienza del Mashiach e della Redenzione Finale nella nostra vita e noi dobbiamo credere che sarà oggi, ma se non sarà oggi, allora saremo felici di avere un altro giorno lavorativo guadagnando di più per il futuro.
E a proposito, per avere successo nel tuo lavoro dovresti provare piacere in ogni momento di esso, indipendentemente da come è difficile o facile.
{| |}