Zohar Quotidiano # 996 – La Vita Segreta del Mikvèh.
Click here to listen to the Daily Zohar [audio:https://dailyzohar.com/wp-content/uploads/audio/dz996.mp3|titles=Daily Zohar 996]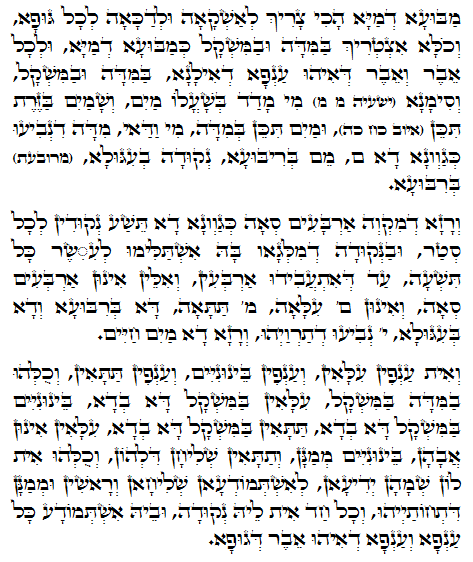 Tikkun 70 – 101.
Isaia 40:12.
"מִי – מָדַד בְּשָׁעֳלוֹ מַיִם, וְשָׁמַיִם בַּזֶּרֶת תִּכֵּן, וְכָל בַּשָּׁלִשׁ, עֲפַר הָאָרֶץ; וְשָׁקַל בַּפֶּלֶס הָרִים, וּגְבָעוֹת בְּמֹאזְנָיִם. ""chi ha misurato le acque nel cavo della sua mano, o preso le dimensioni del cielo con la spanna, e chi ha raccolto la polvere della terra in una misura o pesato le montagne con la stadera ed i colli con la bilancia?"
La fonte di acqua, che significa Chockmàh, scende giù ed 'irriga' tutti i rami dell' Albero della Vita che sono le Sefiròt inferiori.
Ogni Sefirà ottiene la misura adeguata di acqua / Luce di cui ha bisogno, al fine di svolgere la sua funzione in tutto il sistema.
La prima parola del verso מִי,(Mì) 'chi', ha un valore numerico di 50 e implica Binàh.
La parola dell'Alef-Beit Ebraico che significa acqua è מים, e numericamente ha un valore di 90 ed è l'aspetto delle nove Sefiròt di Luce. La prima lettera è una מ (Mèm) aperta ed è l'aspetto di Yessòd che è la sorgente della vita. L'ultima lettera ם (Mèm Sofìt) è la forma finale della prima letteraמ (Mèm).
מ (Mèm) è la fonte di acqua e la lettera di mezzo י (Yòd) è la Luce che viene da Binàh per nutrire i livelli più bassi.
Il segreto del Mikvèh è nella parola מים, acqua.
[frame type="lifted"]https://dailyzohar.com/wp-content/uploads/2012/08/
mikveh
-secret1.jpg[/frame]
Lo Zohar ci mostra questa immagine e spiega che al centro abbiamo la Mèm finale ם. Il nome superiore di אלף – הה – יוד – הה ha il valore numerico 151 della parola Ebraica Mikvèh, מקוה. Quattro lati per le quattro lettere della ה (Hey) sono in quel Nome (Dal commento di 'Matòk Midvàsh', מתוק מדבש). Ogni lato ha 3 × 3 = 9 punti (Sefiròt) e aggiungendo il punto centrale che collega tutti gli altri punti, otteniamo 10 X 4 = 40 come in 4 י ( Yòd) in totale.
Il volume di acqua in un Mikvèh, מקוה dovrebbe essere non meno di סאה 40 'Seah'. Si tratta di una unità di misura biblica e secondo Maimonide un Seàh è pari a 7,2 litri così quando moltiplichiamo per 40 otteniamo 288 litri (1 litro = 33,81 fl oz). Seah è anche il volume di 144 uova. 288 è רפח e il numero delle scintille di Luce che dobbiamo correggere nel mondo per portare la Redenzione Finale e l'immortalità.
Rabbi Avrahàm Azulai ha scritto nel suo libro "Chessèd L'Avrahàm" che il segreto del Mikveh ci collega alla Redenzione Finale e alla Resurrezione.Rabbi Avraham Azulai si riferiva al versetto dalla profezia di Zaccaria (13:2) "e Io farò sparire dalla Terra gli spiriti immondi" che recitiamo prima di immergerci nel Mikvèh, מקוה.
288 è il volume minimo per collegare le acque superiori ed inferiori e portare pulizia spirituale quando ci immergiamo nel Mikvèh, מקוה. Il Mikvèh, מקוה standard contiene 1000 litri o più di acqua.
La prossima volta che ti immergerai nel Mikvèh, מקוה medita per avere la 'vita' dall'Albero della Vita che ti circonda e ti aiuterà con la tua purificazione spirituale.
Leggi anche Zohar Daily # 757 – Come Rinnovare la Tua Vita
{| |}