Click here to listen to the Daily Zohar [audio:https://dailyzohar.com/wp-content/uploads/audio/dz952.mp3|titles=Daily Zohar 952]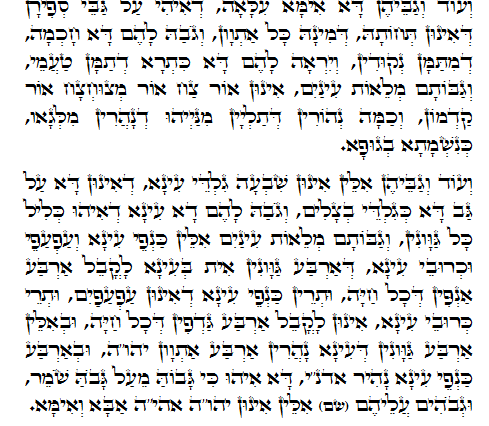 Hebrew translation:
Sorry Hebrew translation is missing from my original files.
Tikkun 70-55
Le quattro creature consacrate sono gli aspetti di Chessèd (Leone), Ghevuràh (Bue), Tiferèt (Aquila) e Malchùt (Uomo).
Sopra di loro è la Madre Celeste, Binàh che li governa e li nutre come suoi figli.Il Nikkùd che viene da Binàh riceve la sua Luce da Chokmàh prima di scendere giù al vaso,recipiente di Malchut. I Te'amìm vengono da Chokmàh e ricevono la loro Luce da Keter.Keter comprende tre Luci dal Senza Fine (Ein Sof- Endless) che stabiliscono le radici per Chokmàh, Binàh e Dà'at.Esse portano l'aspetto dell'anima e della forza vitale nel corpo delle lettere.
Il bulbo oculare ha sette strati, come strati di cipolla, per rappresentare le sette Sefiròt. Sopra di loro le palpebre con le loro 'labbra ed i capelli che proteggono l'occhio.
I quattro colori degli occhi rappresentano i volti delle Sante Creature e l'aspetto del Nome YHVH. Le due palpebre e le due labbra rappresentano le due "ali" delle Sante Creature e l'aspetto del Nome ADNY Adonai.
Sopra gli occhi abbiamo il nome della madre superna, Binàh, אהיה, AHYH che protegge i 'figli' in basso.I dettagli possono essere fonte di confusione all'inizio, ma ciò che lo Zohàr ci stà insegnando qui nel quadro dello studio PFR (Lettura del Palmo e della Faccia) è di guardare al flusso e alla gerarchia delle Luci. Keter 'spinge' verso il basso la Luce del Senza Fine (Ein Sof- Endless) a Chokmàh e Binàh , che viene riflessa dagli occhi. Guardando negli occhi e determinando il loro vero colore ci dirà il livello della connessione di quella persona ai livelli superiori.
Le palpebre possono dirci riguardo al potere della persona di esprimere la sua luce interiore in questo mondo.
{| |}