Zohar Quotidien # 1014 – Avec le soutien des pères nous pouvons le faire en toute sécurité.
Cliquez ici pour entendre Zohar Quotidien [audio:https://dailyzohar.com/wp-content/uploads/audio/dz1014.mp3|titles=Daily Zohar 1014]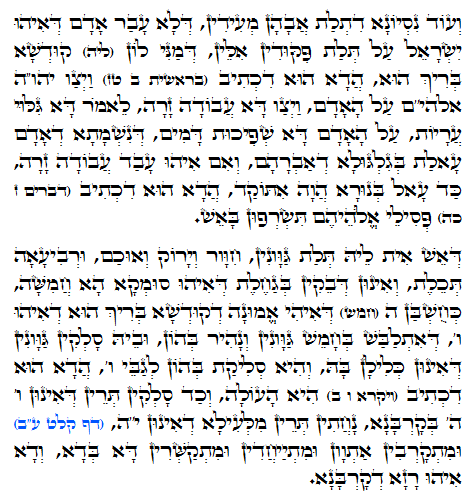 Tikkoun 2 – 3 (refers to Tikkun 22 and 23)
Genèse 2:16
"וַיְצַו יְהוָה אֱלֹהִים, עַל-הָאָדָם לֵאמֹר: מִכֹּל עֵץ-הַגָּן, אָכֹל תֹּאכֵל."
"Et Dieu YHVH commanda l'homme (Adam), en disant: 'Tu peux manger librement de tout arbre du jardin.;"
Le Zohar nous dit que le test que les patriarches durent traverser étaient pour corriger les péchés et impuretés que Adam avait commis.
Adam est la racine de tous les Israélites et le commandement dans le verset ci-haut se réfère à chacun d'entre nous.

"Et Dieu YHVH commanda" est de l'idolatrie, qui n'est pas suivre le système spirituel de l'Arbre de Vie.
"Dire" fait référence aux péchés sexuels. Ceci fut corrigé par Jacob à travers le travail de sa vie, faisant les bonnes connexions avec ses épouses pour attirer des âmes plus élevées.
"À l'homme" est le 'Sang versé' , corrigé par Isaac quand il s'est soumis à sa liaison et était prêt à donner son âme pour cette correction. Isaac avait 37 ans et son père avait 99 ans lors de cet événement.
Cette étude est une autre préparation pour Roch Hachana qui arrive dans quelques jours. Quand nous avons ce savoir et la correction que les Patriarches ont effectué pour nous tous, nous bénéficions de cela lors du jour du jugement (jour de 48 heures) et pour le reste de nos vies.
Suite à la correction de Abraham, Isaac et Jacob sur le prochain ZQ. Même si vous êtes occupés aux préparatifs de la Fête, faites le temps pour l'étude, étant donné que cela vous aidera grandement.
{||}