Click here to listen to the Daily Zohar [audio:https://dailyzohar.com/wp-content/uploads/audio/dz944.mp3|titles=Daily Zohar 944]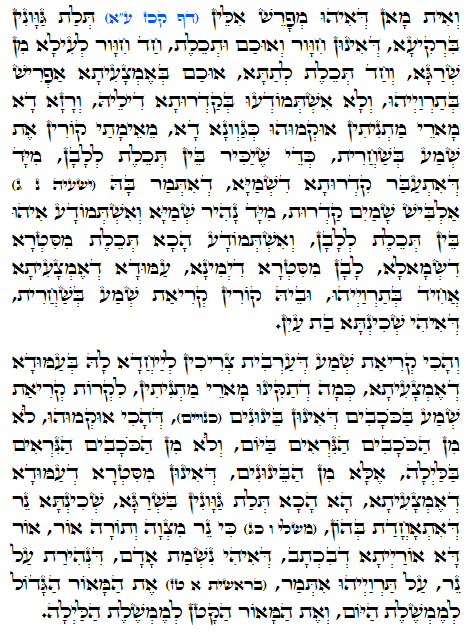 Hebrew translation:
Sorry Hebrew translation is missing from my original files.
Tikkun 70 – 49
Tri barve Sefirojev
Chessed – BELA,
GEVURAH – RDEČA,
Tiferet – MODRA
so na ravni Malchut-a in Zeir Anpin-a. Razumevanje prenosa energije na različnih ravne nam pomaga, da jo pravtako vidimo tudi ljudeh. Začetek jutranje molitve bi moral biti v času, ko se barva neba spremeni iz temne v modro. To nakazuje začetek prenosa energije med Chessed-om in Malchut-om. Recitiranje molitve Shema je najprimerneje opraviti v prvih 72 minutah dnevnega časa. Za natančno določitev začetka dneva lahko uporabite "Halaha čas" – ( začetek in konec dneva po postavi – zora in umaknitev zvezd iz neba ). Za natančno določitev časa lahko uporabljate Halaha časovni koledar imenovan Zmanim ( www.MyZmanim.com ). Na veliko področjih Zemlje se Shabbat-Sobotna molitev začne kasneje kot ponavadi. V takih primerih vam priporočam, da izgovorite 18 jutranjih blagoslovov ter besedilo Shema molitve takoj zjutraj na domu pred odhodom v sinagogo. Ne pozabite še Molitveno meditacijo preroka Elije ( Patach Eliyahu ) – https://dailyzohar.com/?page_id=660 in branje razdelka iz Tore. To je način, kako sebe napolnimo s svetlobo Chessed-a. Večerna molitev Shema se opravi po sončnem zahodu, ko se pojavijo prve zvezde na nebu. Ta čas je začetek energije središčnega debla.
Zohar obravnava barve in čas molitev v sredini BDO ( branje dlani in obraza ) proučevanja oči z namenom, da nas nauči opazovanja na barvne razlike v očeh osebe. Odstira nam tudi vrsto energije na katero je oseba navezana.
{||}