Click here to listen to the Daily Zohar [audio:https://dailyzohar.com/wp-content/uploads/audio/dz963.mp3|titles=Daily Zohar 963]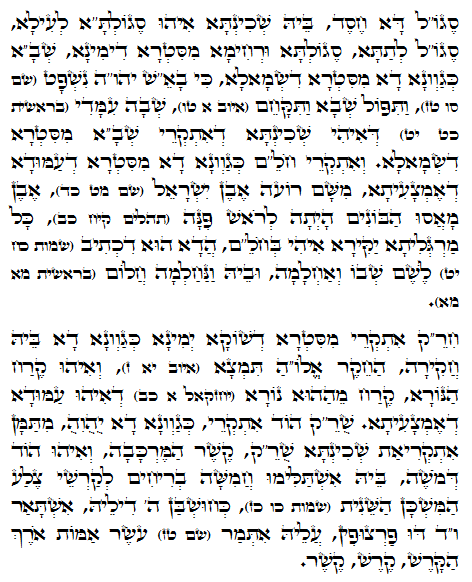 Hebrew translation:
Tikkun 70 – 68
Izaija 26:4 "בִּטְחוּ בַיהוָה, עֲדֵי–עַד: כִּי בְּיָהּ יְהוָה, צוּר עוֹלָמִים"
Nedovolj natančen prevod bi se glasil: "Zaupaj v Gospoda za vedno, kajti Gospod je Bog, večna Skala"
Pravi prevod za duhovnega študenta Kabbale pa se glasi:
"Zaupaj v YHVH za vedno. Z יה YH , YHVH oblikuje svetove"
Pozor: Vsi ostali jeziki kot so Slovenščina, Angleščina, Francoščina, Ruščina, Nemščina in ostali so pomembni in veliki jeziki za komunikacijo med ljudmi. Angleščina npr. je 1500 let star jezik. Vendar kot taka ne more dovolj verno prevesti jezik Tore. Kadar beremo prevod Tore v katerem od jezikov, vidimo samo okvarjen prevod Tore. Vsi jeziki so lepi jeziki, nastali med ljudi za komunikacijo med seboj. Veliko je lepe in čudovite proze in poezije v the jezikih Vendar vse to je na nivoju Malchut-a מלכות ZEMELJSKO KRALJESTVO.
Kamatz – קָמָץ – יָהָוָהָ – Predstavlja svetlobo Keter-ja כתר KRONA
Samoglasni[ki znak sestavljen iz dveh pravokotnih črt T. Nahaja pa se pod hebrejsko črko.
Zgornja vodoravna črta je meja z Neskončnim. Točka odspodaj predstavlja črko Yod kar predstavlja svetlobo iz Neskončnega, ki ustvarja vse svetove odspodaj.
Na telesu: Teme oz. vrh lobanje
Patach – פַתָח – יַהַוַהַ – vodoravna kratka črta pod hebrejsko črko
Beseda dobesedno pomeni 'odpira' Chokmah חכמה MODROST, ki je čist prehod ( kanal ) do Keter-ja. Čist! Torej brez vmesnega procesiranja ali omejevanja Svetlobe.
V telesu: Desna Hemisfera Možganov
Tzerei – צֵרֵי – יֵהֵוֵהֵ – samoglasniška oznaka sestavljena iz dveh točk pod hebrejsko črko
Binah בינה RAZUMEVANJE
"וַיִּיצֶר יְהוָה אֱלֹהִים אֶת–הָאָדָם"
"In potem je YHVH ELOHIM oblikoval (וַיִּיצֶר) človeka"
Beseda 'oblikoval' v Hebrejščini je tukaj nepravilno črkovana, z dvema črkama Yod, kar odstira udejanjanje Binah RAZUMEVANJA s samoglasniško oznako Tzerei. In dve točki izgledata kot dve črki Yod. Binah RAZUMEVANJE je sila, ki prejema svetlobo od Chokmah MODROST in prinaša življenje in oblikuje karkoli v svetu na spodnji ravni.
V telesu: Leva hemisfera možganov
Segol – סֶגוׂל – יֶהֶוֶהֶ samoglasniški znak iz treh točk postavljenih v trikotnih pod Hebrejsko črko.
Odstira vidik Chessed חסד BLAGOST ter desno deblo.
Druga Mojzesova knjiga Exodus 19:5:
" וְעַתָּה, אִם–שָׁמוֹעַ תִּשְׁמְעוּ בְּקֹלִי, וּשְׁמַרְתֶּם, אֶת–בְּרִיתִי—וִהְיִיתֶם לִי סְגֻלָּה מִכָּל–הָעַמִּים, כִּי–לִי כָּל–הָאָרֶץ"
"Zatorej, ZDAJ! Če prisluhnete mojemu glasu, in ohranite Mojo zavezo, potem boste Moj poseben zaklad izmed vseh ljudi; kajti vsak zemlja je Moja"
ZAKLAD – koren besede je Segol – סְגֻלָּה
Verz predstavlja ljubezen, ki jo YHVH goji do nas. Ko nam je dal Toro za posebno in tesno povezavo z Njim. Tre točke ( segol ) nakazujejo navezavo Chessed-a na zgornje tri Sefiroje: Keter KRONA, Chokmah MODROST in Binah RAZUMEVANJE.
V telesu: Desno Rame Prinašalec:Abraham
Sheva – שְבָא – יְהְוְהְ – samoglasniška oznaka v obliki dveh točk v vertikalni liniji pod Hebrejsko črko
Odstira vidik Gevurah גבורה MOČ, OSEBNADRŽA, SODBA ter levo deblo.
Izaija 66:16:
" כִּי בָאֵשׁ יְהוָה נִשְׁפָּט, וּבְחַרְבּוֹ אֶת–כָּל–בָּשָׂר; וְרַבּוּ, חַלְלֵי יְהוָה."
"Kajti z ognjem bo YHVH spoprijel in z Njegovim mečem proti vsemu mesu; in padlih pred YHVH
bo mnogo."
KAJTI Z OGNJEM – črke Sheva
Genesis Prva Mojzesova Knjiga 29:19:
"וַיֹּאמֶר לָבָן, טוֹב תִּתִּי אֹתָהּ לָךְ, מִתִּתִּי אֹתָהּ, לְאִישׁ אַחֵר; שְׁבָה, עִמָּדִי"
"In Laban je odgovoril: 'Bolje, da jo dam tebi za ženo, kot pa bi jo moral dati drugemu moškemu;
ostani z mano.'"
OSTANI-Sheva
Laban je želel navezati Jakoba na levo deblo. Zato ga prosi, da bi ostal z njim še preden mu daje svojo hčer za ženo. Ta verz prav tako izraža sebično željo ( Labanov prikrit namen ), ki je osnova Levega debla. Jakob se želi navezati na Rahel, ki je vidik Shechina ( Malchut ) in leve strani.
Na telesu: Levo rame Prinašalec:Izak
Cholam – חׂלֵם – יֹהֹוֹהֹ – samoglasniški znak predstavljen s točko na levi strani nad hebrejsko črko.
Odstira središčno deblo ter Tiferet תפארת LEPOTA, DUHOVNOST
Genesis Prva Mojzesova Knjiga 49:24 "וַתֵּשֶׁב בְּאֵיתָן קַשְׁתּוֹ, וַיָּפֹזּוּ זְרֹעֵי יָדָיו; מִידֵי אֲבִיר יַעֲקֹב, מִשָּׁם רֹעֶה אֶבֶן יִשְׂרָאֵל "
"Toda trden ostane njegov lok in gibčni njegovi lakti in roke, z rokami Mogočnega od Jakoba, od tam kjer je Pastir, Skala Izraela"
Jakob je Izrael. Zohar nas uči, da je 'skala Izraela' točka Cholam nad črko Vav, ki predstavlja središčno deblo.
Na telesu: Trup telesa Prinašalec: Jakob, Izrael
Chirik – חִרֵק – יִהִוִהִ – ena sama točka v sredini pod Hebrejsko črko.
Odstira Netzach נצח ZMAGA
Črke se lahko berejo kot חקר kar pomeni 'preiskovati' .
Zohar naveže Chirik na Ezekiel 1:22:
"וּדְמוּת עַל–רָאשֵׁי הַחַיָּה, רָקִיעַ, כְּעֵין, הַקֶּרַח הַנּוֹרָא—נָטוּי עַל–רָאשֵׁיהֶם, מִלְמָעְלָה."
"Nad glavami živih bitij je bila slika nebesnega svoda, kot barva čudovitega ledu, razpetega
nad njihovimi glavami."
ČUDOVIT נורא LED קרח
Netzach prihaja za Tiferet-on, ki je prav tako poimenovan 'Čudovit'. Nadaljuje se v Chessed, ki je nad Netzach-om v desnem deblu.
V telesu: desni spodnji ud Prinašalec: Mojzes
Shuruk – שֻרֵק – יֻהֻוֻהֻ – predstavlja točko v sredini hebrejske črke Vav
Odstira Hod הוד VELIČASTNOST
Exodus Druga Mojzesova Knjiga 26:27
"וַחֲמִשָּׁה בְרִיחִם, לְקַרְשֵׁי צֶלַע–הַמִּשְׁכָּן הַשֵּׁנִית; וַחֲמִשָּׁה בְרִיחִם, לְקַרְשֵׁי צֶלַע הַמִּשְׁכָּן, לַיַּרְכָתַיִם, יָמָּה. "
"in pet drogov za deske za drugo stran zatočišča in pet drogov za deske za zadnjo zahodno stran zatočišča"
DESKE קרש
Beseda deska קרש ima enake črke kot Nikkud shuruk in enake kot beseda קשר, kar pomeni navezava. Netzach in Hod sta spodnja uda, ki vzdržujeta celotno telo. Podobno Mojzes in Aron kot eden služita Bogu. Predstavljata celovitost osnove/nosilca in ga držita skupaj.
V telesu: Levi spodnji ud Prinašalec: Aron
{||}