Zoharjev dnevnik št. 946 – Kako obvladovati fizično realnost
Click here to listen to the Daily Zohar [audio:https://dailyzohar.com/wp-content/uploads/audio/dz946.mp3|titles=Daily Zohar 946]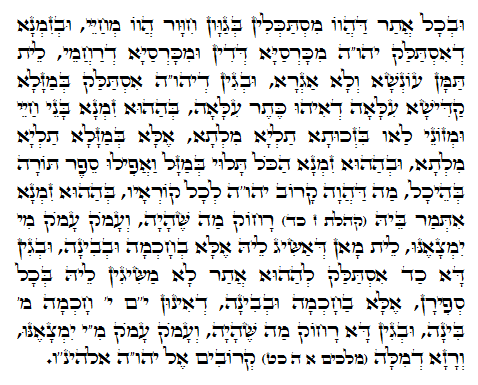 Hebrew translation:
Tikkun 70 – 51
Pravični ljudje z belimi očmi lahko usmerjajo energijo Chessed-a חסד ( BLAGOST ) in milost. Imajo to spososbnost zaradi svoje globoke navezave na na zgornje ravni izražene v Chokmah חכמה ( MODROST) in v Binah-בינה ( RAZUMEVANJE ).
Ko svetloba prihaja ven iz ust Adam Kadmona z namenom, da se oblikuje Sefiroje sveta Atzilutha, se svetloba iz 10ih Sefirojev razširi navzdol v spodnje ravni, da oblikuje nosilce.
1-Keter כתר ( KRONA)
2- Chokmah חכמה ( MODROST)
3- Binah-בינה ( RAZUMEVANJE )
4,5,6,7,8,9,10-Malchut מלכות ( KRALJESTVO)
Svetloba KETER-ja se usmeri na svoje izhodiščne mesto-ničelno točko 0, NESKONČNA SVETLOBA. Chockmah zasede tako sproščeno mesto od Keter-ja, Binah na mesto od Chokmah in tako naprej. Do Malchut-a, ki ostane brez svetlobe da izpolni namen Stvarjenja.
Vsaka svetloba pusti svojega nosilca za Reshimu רשימו , kar pomeni VTIS. Torej v Chokmah חכמה ( MODROST) je v dobršni meri prisotnost Keter-ja כתר ( KRONA). To dogajanje nam je podalo dve glavi Keter-ja: Atik ( krajše od Atik Yomin-Prastari v Dnevih ) in Arich ( Zunanji ), ki obvladujeta svetove na spodnjih ravneh. Dovoljeno nam je povezati Sefirot in vzpenjanja skozi ravni navzgor.
Naša dejanja, duhovne povezav, preučevanja nam dajejo priložnost združiti Chokmah חכמה ( MODROST) ter Binah-בינה ( RAZUMEVANJE ). Ko čista in pravična oseba doseže višjo raven, lahko prodre do svetlobe Arich ( Zunanjega ), ki predstavlja nosilec za Chokmah חכמה ( MODROST) in tako obvladuje fizično realnost brez omejitev.
POZOR! Ker se bližamo končnemu Popravku sveta, postaja svoboda izbira vedno bolj omejena. Večje duhovni potenciali so na voljo za nekaj posameznikov, ki so najverjetneje skriti pred očmi javnosti. Namreč lahko bi pokvarili čistost pravične osebe v trenutku.
{||}