Zoharjev dnevnik Št. 1008 – In naj jim bo dana oblast
Pritisni tukaj za poslušanje Zoharjevega dnevnika [audio:https://dailyzohar.com/wp-content/uploads/audio/dz1008.mp3|titles=Daily Zohar 1008]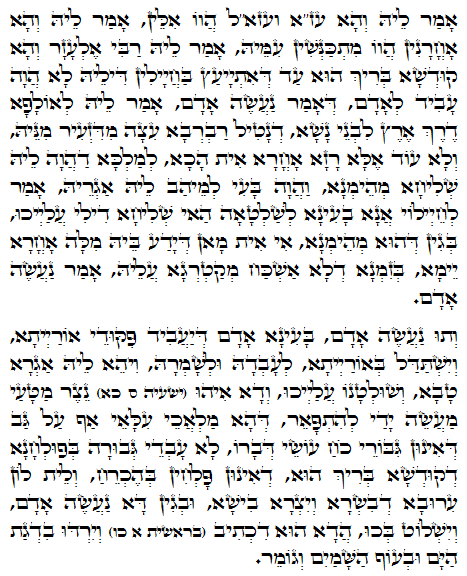 Tikkun 70 – 113
Geneza – Prva Mojzesov Knjiga 1:26 "וַיֹּאמֶר אֱלֹהִים, נַעֲשֶׂה אָדָם בְּצַלְמֵנוּ כִּדְמוּתֵנוּ; וְיִרְדּוּ בִדְגַת הַיָּם וּבְעוֹף הַשָּׁמַיִם, וּבַבְּהֵמָה וּבְכָל-הָאָרֶץ, וּבְכָל-הָרֶמֶשׂ, הָרֹמֵשׂ עַל-הָאָרֶץ "
"In Bog je rekel: 'Naredimo človeka po naši podobi, nam podobnega; in naj jim dana oblast nad ribami v morju, nad perjadjo v zraku, nad živino ter nad vso zemljo in nad vsemi plazečimi bitji, ki se plazijo na zemlji'"
Kadar beremo "Bog je rekel: Naredimo človeka…" razumemo, da se je posvetoval z angeli. Dva angela imenovana עז"א Azah in עזא"ל Azael sta oblikovala Božje besede do stvarjenja. Namreč rečeno je bilo: "on bo grešil, prinašal bolečino in trpljenje vsem ostalim". Oba sta bila odstranjena iz njunih višjih položajev v nebesih in izvržena iz nebes.
Zakaj se je Bog posvetoval z angeli?
Zohar nam pojasnjuje, da je dejanje bilo narejeno za nas, da nas nauči ponižnosti. Takrat, ko se posvetujemo z nekom nižjim od nas, pravzaprav poklonimo tej osebi svojo energijo. To je kot razširitev duhovne moči za stvarjenje in odpiranje novega telesa želje sprejemanja z namenom kasnejšega dajanja. Vsaka svetloba, ki vstopa v telo, pusti nekaj svojega za seboj. Podobno kot bi oseba vstopila v trgovino s parfumi. Čeprav se oseba ni dotaknila nobenega parfuma, se bo tistih nekaj vonjav zadržalo na osebi. Telo ( duhovna bit ) se prežame s to energijo in ostaja v njem. Ta koncept si velja zapomniti. Vsaka želja, ki jo imamo prihaja iz predhodne izkušnje. Duhovne in fizične želje so podedovane. Lahko tudi iz prejšnega življenja. Preprosta ponazoritev te trditve je želja po čokoladi. Nikakor si ne boš želel dobre čokolade, če že prej nisi izkusil tega okusa. Lahko pa gojiš željo za nečim kar nisi nikoli imel ali poskušal. Vendar je druga oseba s teboj samo delila izkušnjo posedovanja. Besede ali energija te osebe vstopa v tvojo bit/telo in rodi ter izgradi željo glede na občutek pomanjkanja te stvari. Nedavno smo brali o Chanochu, ki je prejel dušo od Adama in sicer na ravni Neshamah sveta Atziluth. To mu je dalo možnost 'hoditi z Bog-om' ( Geneza 5:25 ) in je lahko vstopal v višje ravni brez vmesnih smrti telesa. S to sposobnostjo je lahko služil YHVH in kontroliral celoten svet Yetzirah ( Zeir Anpin ). Chanock in Elija sta bila edina, ki sta prešla iz fizičnega v duhovni svet kot človeka. Chanoch je postal M-t-tr-n in Elija je postal S-nd-lfon, oba velika odposlanca Boga. Po Rabinu Moše Kordoveri, 280 predstavlja Chanoch kot M-t-tr-n 70 imen. Eno od njih je נער 'Na'ar'. Kar pomeni mlad fant. Verz v Genezi Prvi Mojezesovi Knjigi 37:2.
Geneza Prva Mojzesova Knjiga 37:2
"אֵלֶּה תֹּלְדוֹת יַעֲקֹב, יוֹסֵף בֶּן-שְׁבַע-עֶשְׂרֵה שָׁנָה הָיָה רֹעֶה אֶת-אֶחָיו בַּצֹּאן, וְהוּא נַעַר אֶת-בְּנֵי בִלְהָה וְאֶת-בְּנֵי זִלְפָּה, נְשֵׁי אָבִיו; וַיָּבֵא יוֹסֵף אֶת-דִּבָּתָם רָעָה, אֶל-אֲבִיהֶם"
"To so bili rodovi po Jakobu. Jožef je pri svojih sedemnajstih letih s svojimi brati pasel čredo. Kot mlad fant (Na'ar ) je bil veliko skupaj s sinovi očetovih žena Bilhah in Zilpah. Tako je prinašal očetu slabe govorice.."
Rabin Šimon nam zatrjuje, da je Chanoch bil inkarniran v Jožefa. Namreč prav tako je imenovan kot נער Na'ar. Jožefovi bratje so vedeli za Jožefa, da je poseben med njimi. Jožefove sanje so to potrdile. Bratje so bili ljubosumni na Jožefa. Podobno kot so bili ljubosumni angeli na Adama. In sicer ob odločitvi Boga, da ustvari Adama. Angeli imajo posebne zadolžitve vendar omejene sposobnosti. Bog nas je ustvaril, da smo na višji ravni kot angeli. Da imamo kontrolo nad celovito stvaritvijo. Podobno kot velja za dobre primere M-t-tr-n/Chanoch ter S-d-lf-n/Elija.
"in naj jim bo dana oblast nad ribami v morju, nad perjadjo v zraku in nad vso zemljo ter nad vsemi plazečimi bitji, ki plazijo na zemlji.'"
{||}