Zoharjev Dnevnik Št. 1223 – Dah Svetlobe
Zoharjev Dnevnik Št. 1223 Zoharjev Dnevnik Št. 1223 Zohar Pinhas, Knjiga Št. 20 (Ang)/Knjiga Št. 15 (Heb)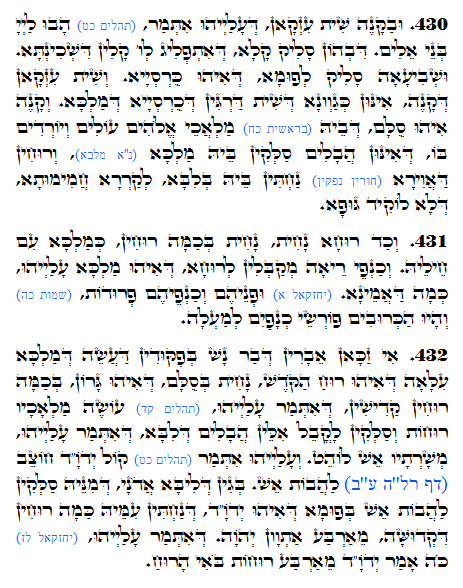 Heb. prevod:
430. וּבַקָּנֶה יֵשׁ שֵׁשׁ טַבָּעוֹת, שֶׁעֲלֵיהֶן נֶאֱמַר (תהלים כט) הָבוּ לַה' בְּנֵי אֵלִים. שֶׁבָּהֶן עוֹלֶה הַקּוֹל שֶׁנֶּחֱלָק לְשִׁשָּׁה קוֹלוֹת שֶׁל הַשְּׁכִינָה. וְהַשְּׁבִיעִי עוֹלֶה לַפֶּה, שֶׁהוּא כִּסֵּא. וְשֵׁשׁ טַבָּעוֹת שֶׁל קָנֶה, שֶׁהֵם כְּדֻגְמַת שֵׁשׁ מַדְרֵגוֹת שֶׁל כִּסֵּא הַמֶּלֶךְ. וְקָנֶה הוּא סֻלָּם, שֶׁבּוֹ נֶאֱמַר (בראשית כח) מַלְאֲכֵי אֱלֹהִים עֹלִים וְיֹרְדִים בּוֹ, שֶׁאוֹתָם הֲבָלִים עוֹלִים בּוֹ הַמֶּלֶךְ (מֵהַלֵּב), וְהָרוּחוֹת שֶׁבָּאֲוִיר (חוֹרִים יוֹצְאִים) יוֹרְדוֹת בּוֹ בַּלֵּב לְקָרֵר חֲמִימוּתוֹ, שֶׁלֹּא יִשְׂרֹף הַגּוּף.431. וְכַאֲשֶׁר הָרוּחַ יוֹרֶדֶת, יוֹרֶדֶת בְּכַמָּה רוּחוֹת, כְּמֶלֶךְ עִם חֵילוֹתָיו. וְכַנְפֵי הָרֵאָה מְקַבְּלוֹת לָרוּחַ, שֶׁהוּא מֶלֶךְ עֲלֵיהֶן, כְּמוֹ שֶׁנֶּאֱמַר (יחזקאל א) וּפְנֵיהֶם וְכַנְפֵיהֶם פְּרֻדוֹת, (שמות כה) וְהָיוּ הַכְּרֻבִים פֹּרְשֵׂי כְנָפַיִם לְמַעְלָה.
432. אִם זַכָּאִים הָאֵיבָרִים שֶׁל הָאָדָם בְּמִצְווֹת עֲשֵׂה שֶׁל הַמֶּלֶךְ הָעֶלְיוֹן, שֶׁהוּא רוּחַ הַקֹּדֶשׁ, יוֹרֵד בְּסֻלָּם, שֶׁהוּא הַגָּרוֹן, בְּכַמָּה רוּחוֹת קְדוֹשׁוֹת, שֶׁנֶּאֱמַר עֲלֵיהֶן (תהלים קד) עֹשֶׂה מַלְאָכָיו רוּחוֹת, וְעוֹלִים לְעֻמַּת אֵלּוּ הַהֲבָלִים שֶׁל הַלֵּב, שֶׁנֶּאֱמַר עֲלֵיהֶם מְשָׁרְתָיו אֵשׁ לֹהֵט. וַעֲלֵיהֶם נֶאֱמַר (תהלים כט) קוֹל יְהֹוָ"ה חֹצֵב לַהֲבוֹת אֵשׁ. מִשּׁוּם שֶׁהַלֵּב – אֲדֹנָי, שֶׁמִּמֶּנּוּ עוֹלִים לַהֲבוֹת אֵשׁ בַּפֶּה, שֶׁהוּא יְהֹוָ"ה, שֶׁיּוֹרְדוֹת עִמּוֹ כַּמָּה רוּחוֹת שֶׁל קְדֻשָּׁה מֵאַרְבַּע אוֹתִיּוֹת יְהֹוָה, שֶׁנֶּאֱמַר עֲלֵיהֶן (יחזקאל לז) כֹּה אָמַר יְהֹוָ"ה מֵאַרְבַּע רוּחוֹת בֹּאִי הָרוּחַ.
Pinhas 430-432
Šest hrustančnih obročov okoli sapnika ( trachea ) do pljuč so manifestacija Zeir Anpin-a. Ustrezajo šestim glasovom, ki so omenjeni v Psalmu št. 29. Psalm 29 je eden izmed Psalmov, ki jih pojemo konec šestega dne. To je na Petkov večer s sprejemom Sobote/Šabata, ki je manifestacija kraljice Šekine v zemeljskem kraljestvu Malchut.
Usta so sedma raven iz katere se dviga glas in se izoblikuje. Šest hrustančnih obročev je manifestacija procesa ( Zeir Anpin ) skozi katerega gredo pljučna krila pri navezavi na svetlobo, ki prihaja iz petih režnjev. Sapnik ( trachea ) služi kot Yessod/Osnova in usmerja navzven iz ust, kar je vidik zemeljskega kraljestva Malchut. Tako se zaokroži proces manifestiranja energije glasu v dejanje.
Sapnik je pojasnjen v Zoharju kot lestev, ki jo uporabljajo angeli za navezavo na zgornje ali nižje ravni.
Prva Mojzesova Knjiga 28:12 (Iz Jakobovih sanj) :
" . וַיַּחֲלֹם, וְהִנֵּה סֻלָּם מֻצָּב אַרְצָה, וְרֹאשׁוֹ, מַגִּיעַ הַשָּׁמָיְמָה; וְהִנֵּה מַלְאֲכֵי אֱלֹהִים, עֹלִים וְיֹרְדִים בּוֹ "

Transliteracija
וַיַּחֲלֹם vayachalom, וְהִנֵּה vehinneh סֻלָּם sullam מֻצָּב mutzav אַרְצָה artzah, וְרֹאשׁוֹ vero'sho, מַגִּיעַ magia הַשָּׁמָיְמָה hashamayemah; וְהִנֵּה vehinneh מַלְאֲכֵי mal'achei אֱלֹהִים elohim, עֹלִים olim וְיֹרְדִים veyoredim בּוֹ bo.
" In v sanjah je ugledal lestev postavljena na zemeljskih tleh in zgornjim vrhom se dotikala nebes; na lestvi je ugledal angele Gospoda, ki so se vzpenjali in sestopali."
Glavni sapnik (Trachea) se razpeci v 22 sapnic ( bronhiji ), ki se nadalje razcepi v 17 miljonov manjših sapnic. 22 je vidik Hebrejske abecede, ki vsebuje 22 črk, ki prihaja iz petih režnjev. V ustih se ponovno združijo in odstrejo 5 energijskih ravni ( poglej Zoharjev Dnevnik Št. 1168 https://dailyzohar.com/daily-zohar-1168/). 17 je številčna vrednost besede טוב/Dobro. Podobno kot je uporabljena beseda טוב/Dobro v
Prvi Mojzesovi Knjigi 1:4

" . וַיַּרְא אֱלֹהִים אֶת-הָאוֹר, כִּי-טוֹב; וַיַּבְדֵּל אֱלֹהִים, בֵּין הָאוֹר וּבֵין הַחֹשֶׁךְ "
Transliteracija
וַיַּרְא vayar אֱלֹהִים elohim אֶת-הָאוֹר et-ha'or, כִּי-טוֹב ki-tov; וַיַּבְדֵּל vayavdel אֱלֹהִים elohim, בֵּין bein הָאוֹר ha'or וּבֵין uvein הַחֹשֶׁךְ hachoshech.

" In Bog je videl, da je svetloba dala dobro; in tako je ločil svetlobo od teme."
Svetloba je dobro. To je tudi proces, ki se odvija na poti skozi pljuča z namenom služiti Kralju to je srcu med krili pljuč.
". וּפְנֵיהֶם, וְכַנְפֵיהֶם פְּרֻדוֹת מִלְמָעְלָה: לְאִישׁ, שְׁתַּיִם חֹבְרוֹת אִישׁ, וּשְׁתַּיִם מְכַסּוֹת, אֵת גְּוִיֹּתֵיהֶנָה "
Transliteracija
וּפְנֵיהֶם ufeneihem, וְכַנְפֵיהֶם vechanfeihem פְּרֻדוֹת perudot מִלְמָעְלָה milma'lah: לְאִישׁ le'ish, שְׁתַּיִם shettayim חֹבְרוֹת choverot אִישׁ ish, וּשְׁתַּיִם ushettayim מְכַסּוֹת mechassot, אֵת et גְּוִיֹּתֵיהֶנָה gevioteihenah.
"To so bila njihova obličja; in njihova krila so se raztezala nad njimi; dvoje kril vsakogar so bila združena/dotaknjena eno z drugim; in dvoje kril je pokrilo njihova telesa."
Druga Mojzesova Knjiga 25:20
" וְהָיוּ הַכְּרֻבִים פֹּרְשֵׂי כְנָפַיִם לְמַעְלָה, סֹכְכִים בְּכַנְפֵיהֶם
עַל-הַכַּפֹּרֶת, וּפְנֵיהֶם, אִישׁ אֶל-אָחִיו; אֶל-הַכַּפֹּרֶת–יִהְיוּ, פְּנֵי
" . הַכְּרֻבִים
Transliteracija
וְהָיוּ veha'u הַכְּרֻבִים hakeruvim פֹּרְשֵׂי poresei כְנָפַיִם chenafayim לְמַעְלָה lema'lah, סֹכְכִים sochechim בְּכַנְפֵיהֶם bechanfeihem עַל-הַכַּפֹּרֶת al-hakaporet, וּפְנֵיהֶם ufeneihem, אִישׁ ish אֶל-אָחִיו el-achiv; אֶל-הַכַּפֹּרֶת–יִהְיוּ el-hakaporet–yihu, פְּנֵי penei הַכְּרֻבִים hakeruvim."
" In kerubimi bodo visoko razpostrli svoja ter zasenčili pokrov skrinje z obličji obrnjenimi eden proti drugemu."
Pljuča so tista preko katerih YHVH predaja in izmenjava energijo življenja z nami. Ko se zaustavi dihanje, se zaustavi tudi srce. Čemur sledi omrtvitev možganov ter zapustitev duše iz telesa.
Vsak dah je darilo Svetlobe. Življenje, ki prihaja iz YHVH in pravšnja zavest sta pomembna za maksimalen sprejem energije in ohranitev zdravja telesa in duše.
Priporoča se pravšnja dihalna tehnika, ki bo dela dobro tvojemu telesu in umu. Ter izvajanje dihalne tehnike na prostoru, kjer ni duhovne ali fizične onesnaženosti.
{||}