Zoharjev dnevnik št. 1344 – Skrivnost MIZE
Zoharjev dnevnik št. 1344
Zohar Pinhas, Knjiga št. 20 (ANG)/Knjiga št. 15 (HEB)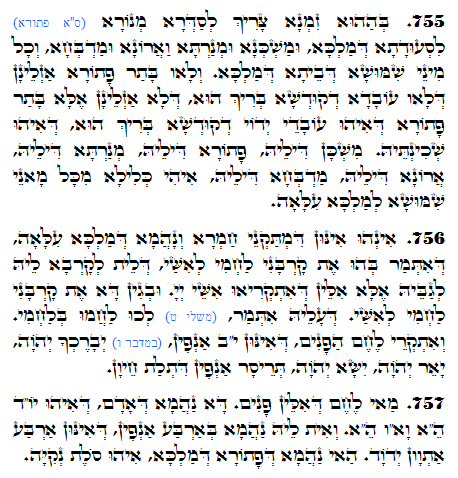 Pinhas 755-757
Nadaljevanje predhodnega dnevnik
קְחוּ עִמָּכֶם דְּבָרִים, וְשׁוּבוּ אֶל-יְהוָה; אִמְרוּ אֵלָיו, כָּל-תִּשָּׂא עָו‍ֹן "
". וְקַח-טוֹב, וּנְשַׁלְּמָה פָרִים, שְׂפָתֵינוּ
Črkovano besedilo:
קְחוּ kechu עִמָּכֶם immachem דְּבָרִים devarim, וְשׁוּבוּ veshuvu אֶל-יְהוָה el-Adonai; אִמְרוּ imru אֵלָיו elav, כָּל-תִּשָּׂא kal-tisa עָו‍ֹן a'o‍n וְקַח-טוֹב vekach-tov, וּנְשַׁלְּמָה uneshallemah פָרִים farim, שְׂפָתֵינוּ sefateinu.
Vzemite besede s seboj in vrnite se h Gospodu. Povejte Gospodu: " Odpusti vse grehe, krivico in vzami to kar je bilo dobrega. Tako ti izročimo daritve v volih iz naših ustnic."
Poučili smo se, da so darilna žrtvovanja služila kot orodje odpiranja duhovnih vrat ter pritegnila svetlobo za očiščenje vseh nečednosti tako od nas samih kot celotnega sveta.
Eno od orodij za višjo navezavo na Binah* je molitev Shema Izrael**.
Besedi אֶחָד , כָבוֹד iz prve vrstice dodamo מה 45 dobimo podobno kot Zeir Anpin, יוד-הא-ואו-הא. Ime 45 מה pritegne svetlobo iz Chokmah**** חכמה v Binah. Z navezavo na Tefilin na glavi sta oba navezana in kot taka pritegneta svetlobo na nižje ravni. Štirje prekati v čelnem Tefilinu predstavljajo navezavo YHVH z Chokmah, Binah, Zeir Anpin ter Malchut*****. Moliteve so povezane skupaj in angel molitev jih zbere v obliki krone nad temenom osebe.
Po molitvah, pripravimo obrok na mizi, ki služi kot oltar. Vino in kruh postaneta orodji, ki premoščata prepad med duhovnim in fizikalnim svetom.
Knjiga pregovorov 9:5
". לְכוּ, לַחֲמוּ בְלַחֲמִי; וּשְׁתוּ, בְּיַיִן מָסָכְתִּי "
Črkovano besedilo:
לְכוּ lechu, לַחֲמוּ lachamu בְלַחֲמִי velachami; וּשְׁתוּ ushetu, בְּיַיִן beyayin מָסָכְתִּי masachetti.
Pridite, jejte od mojega kruha in pojte od vina, ki sem ga dodala.
Prevod ne izraža popolnoma namena. Namreč ne izraža pravega smisls pri dobesednem prevodu Hebrejskih besed. Glasiti bi se moralo nekaj takega kot je:
"Pojdite in borite se z mojim kruhom in vinom, ki sem ga natočila."
Ta verz nas poduči, da je kruh lahko močan kanal energije od Boga. Dan nam je bil kot orodje duhovne navezave.
Prva Mojzesova knjiga 3:19
: בְּזֵעַת אַפֶּיךָ, תֹּאכַל לֶחֶם, עַד שׁוּבְךָ אֶל-הָאֲדָמָה, כִּי מִמֶּנָּה לֻקָּחְתָּ "
" .כִּי-עָפָר אַתָּה, וְאֶל-עָפָר תָּשׁוּב
Črkovano besedilo:
בְּזֵעַת beze'at אַפֶּיךָ apeicha, תֹּאכַל to'chal לֶחֶם lechem, עַד ad שׁוּבְךָ shuvecha אֶל-הָאֲדָמָה el-ha'adamah, כִּי ki מִמֶּנָּה mimmennah לֻקָּחְתָּ lukkacheta: כִּי-עָפָר ki-afar אַתָּה attah, וְאֶל-עָפָר ve'el-afar תָּשׁוּב tashuv.
"V potu svojega obraza bož zaužil kruh. Dokler se ne povrneš v zemljo. Kajti iz nje si bil vzet. Kajti prah si in v prah se povrneš."
Po prvem grehu Adama in Eve je prišlo do prekinitve navezave na prost pretok svetlobe.
Gospod jima je podaril orodja in načine za pritegnitev obilja. Verz nas poduči, da je vzostavljen proces "prislužitve" pred pridobitvijo obilja, ki je predstavljeno v kruhu Gospoda. Najprej se mora dogoditi duhovna navezava. Šele nato lahko užijemo od kruha. Imeti materijalni kruh brez navezave na svetlobo, je samo dodajanje masne teže in težnostne sile telesu in duši osebe.

Priporočeno branje, ki se navezuje: https://dailyzohar.com/zoharjev-dnevnik-st-1305-bela-moka-za-velik-namen/?lang=sl .
, הַמִּזְבֵּחַ עֵץ שָׁלוֹשׁ אַמּוֹת גָּבֹהַּ וְאָרְכּוֹ שְׁתַּיִם-אַמּוֹת, וּמִקְצֹעוֹתָיו לוֹ "
" . וְאָרְכּוֹ וְקִירֹתָיו, עֵץ; וַיְדַבֵּר אֵלַי–זֶה הַשֻּׁלְחָן, אֲשֶׁר לִפְנֵי יְהוָה
Črkovano besedilo:
הַמִּזְבֵּחַ hammizbeach עֵץ etz שָׁלוֹשׁ shalosh אַמּוֹת ammot גָּבֹהַּ gavoha וְאָרְכּוֹ ve'areko שְׁתַּיִם-אַמּוֹת shettayim-ammot, וּמִקְצֹעוֹתָיו umiktzo'otav לוֹ lo, וְאָרְכּוֹ ve'areko וְקִירֹתָיו vekirotav, עֵץ etz; וַיְדַבֵּר vaydaber אֵלַי–זֶה elay–zeh הַשֻּׁלְחָן hashulchan, אֲשֶׁר asher לִפְנֵי lifnei יְהוָה Adonai.
Oltar, tri komolce visok in od dolžine dveh komolcev, je bil iz lesa. Enako tudi vogali. Po celotni dolžini od zidov so bili prav tako iz lesa. Nato mi je porekel: "To je MIZA pred Gospodom."
Ta verz odstira navezavo med Oltarjem in mizo.
Naša večerna miza bi morala vedno biti pripravljena s spoštljivostjo. Kot vsaka jed oz. hrana na njej. To je namreč darilno žrtvovanje prinešeno pred Oltar v Svetem Templju.
Poskrbi za čistost mize ter jo na Šabat še posebej pripravi s svečano opravo in jedmi. Blagoslovi jedi pred in po obroku. To bo pritegnilo blagoslove v tvoje življenje.
{||}