Zoharjev dnevnik Št. 927 – Obnovi svojo dušo
Pritisni za poslušanje Zoharjevega dnevnika [audio:https://dailyzohar.com/wp-content/uploads/audio/dz927.mp3|titles=Daily Zohar 927]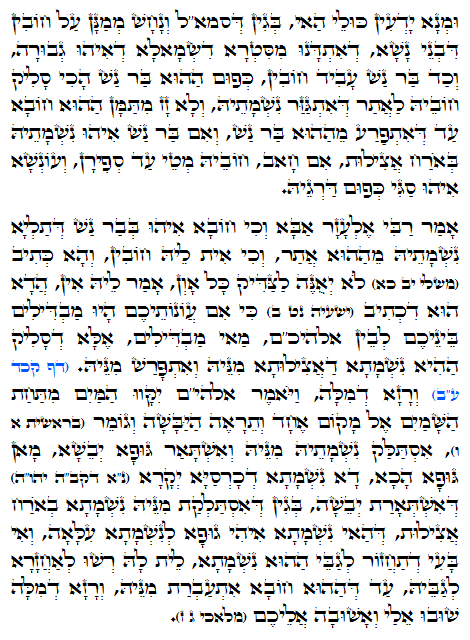 Hebrew translation:
Sorry Hebrew translation is missing from my original files.
Tikkun 70 – 32
( Nadaljevanje predhodnega Zoharjevega dnevnika št. 926 )
Zohar zastavlja vprašanje: "Kako pa druga stran ve za zapovedi in uredbe od zgoraj?".
The Zohar raises the question "how come the other side knows the decrees from above? ".
In odgovor j: Sam-el ( akter negativne strani ) in Kača sta zadolžena za sile popravka na vseh grehih človeštva. Vsak greh postavi rano v koren duše osebe. Ta ostane do popravka.
Silovitost popravka je zasnovana na izvoru duše. Četudi oseba podeduje zasluge duše iz sveta Atziluth-a in ob tem greši je popravek te osebe ostrejši kot popravek osebe z dušo iz nižje ravni.
Rabin Elazar je vprašal očeta: " Ampak mar oseba z višje ravni tudi počne grehe?".
Rabin Shimon odgovori, da je svobodna volja tista prisotna tudi pri pri osebah z dušo iz višje ravni. Vendar preden je duša iz sveta Atziluth-a poškodovana, oseba izgubi svetlobo, ki jo je duša dobivala iz nebeških nivojev. Tako se zaščiti duša pred poškodbo.
Rabin Ashlaq je doživel nebeško razodetje, ko je je prejel Ibbur ( duša, ki potuje drugim v pomoč ) duše njegove svetosti Ari-ja. Dobil je nalogo delati na razodetju Zoharja velikim množicam ljudi. Obljubljeno mu je bilo, da bo končal svoje delo, čeprav bo po nesrečnih ali nezavednih okoliščinah grešil ( o tem bo pripravljen poseben članek ).
Skrivnost je v Prvi Mojezesovi knjigi – Geneza 1:9
"וַיֹּאמֶר אֱלֹהִים, יִקָּווּ הַמַּיִם מִתַּחַת הַשָּׁמַיִם אֶל-מָקוֹם אֶחָד, וְתֵרָאֶה, הַיַּבָּשָׁה; וַיְהִי-כֵן"
"Bog je rekel:'Naj se vode, ki so pod nebom zberejo na enem mestu in naj se pokaže kopno. In tako se je zgodilo.'"
Voda je vidik duše Atzilutha in kopno je vidik telesa, ki je prpeuščeno tej svetlobi. Drugo vprašanje, ki se zastavlja je kako je lahko duša iz sveta Beriah-a ( ena raven pod Atziluth-om ), upoštevana kot telo. Zohar pojasnjuje, da je nižja raven obravnavana kot posoda/nosilec za raven nad njo.
Malachi 3:7
"לְמִימֵי אֲבֹתֵיכֶם סַרְתֶּם מֵחֻקַּי, וְלֹא שְׁמַרְתֶּם–שׁוּבוּ אֵלַי וְאָשׁוּבָה אֲלֵיכֶם, אָמַר יְהוָה צְבָאוֹת"
"Od dneva vaših očetov odstopate od Mojih zapovedi, ki se jih ne držite. Vrnite se k meni in jaz se vrnem k vam, govori YHVH vseh vojska."
Ko je nižja raven popravljena, imamo obljubo YHVH, da se del duše, ki nas je zapustila povrnem k nam.
Vsak dan je drugačen in vedno znova imamo priložnosti za popravek in obnovitev svoje duše. Naj te materialni svet ne zamoti za povrnitev ( tebi ) vseh dragocenih fragmentov duše.
Odpri svoje oči, um in srce s pomočjo preučevanja Zoharja. Ne moreš zgrešiti.
{||}