Zoharjev Dnevnik Št. 964 – Lahko imaš VSE
Click here to listen to the Daily Zohar [audio:https://dailyzohar.com/wp-content/uploads/audio/dz964.mp3|titles=Daily Zohar 964]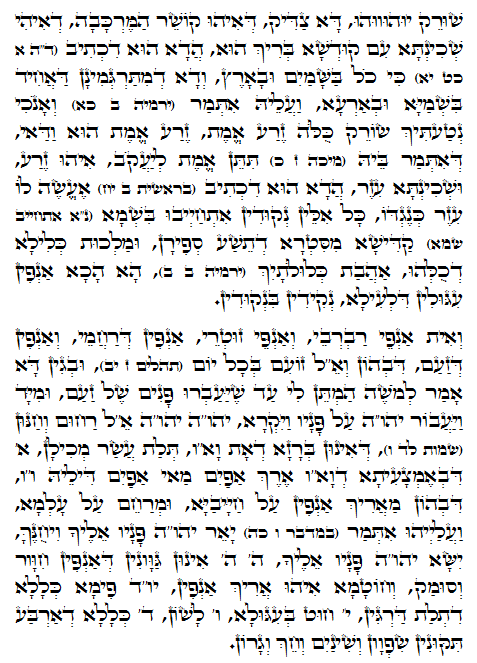 Hebrew translation:
Tikkun 70 – 69
Suruk Yessod- יוּהוּווּהוּ – Za Yessod TEMELJ, ki naveže svetlobo Zeir Anpin-a s "Shechina" ( prisotnost svetlobe ) z "Malchut-em".
Na telesu: spolni organi Prinašalec: Jožef
1 Prva kroniška knjiga 29:11
"לְךָ יְהוָה הַגְּדֻלָּה וְהַגְּבוּרָה וְהַתִּפְאֶרֶת, וְהַנֵּצַח וְהַהוֹד, כִּי-כֹל, בַּשָּׁמַיִם וּבָאָרֶץ: לְךָ יְהוָה הַמַּמְלָכָה, וְהַמִּתְנַשֵּׂא לְכֹל לְרֹאשׁ "
"Tvoja, YHVH je veličina (Chessed) in moč (Gevurah) in slava (Tiferet) ter zmaga (Netzach) ter veličastnost (Hod); za VSE (Yessod) kar je v nebesih (Svetloba) in je na zemlji (Osnova) je vaše; Kajti tvoje je Kraljestvo (Malchut), YHVH, in vse to poveličano na čelu nad vsemi (zgornje ravni). " (Pozor! V prevod so dodana imena Sefirojev).
Ta verz citira besede Kralja Davida, ki so bile izrečene pred ljudmi potem, ko je pripravil vse kar je bilo potrebno za izgradnjo Svetišča. To je edino mesto v Bibliji, ki omenja imena Sefirojev. Ob tem dogodku se je Kralj David kot vidik Malchut-a navezal na zgornje Sefiroje z z namenom, da pritegne svetlobo v svoje delo in blagoslovi ljudi za njihov prispevek pri zbiranju gradbenega materijala potrebnega za izgradnjo Svetišča. Za Yessod TEMELJ, Kralj David uporabi besedo 'VSE/VSI', ki ima numerično vrednost 50. Naveže na 5 Sefirojev nad Yessod-om TEMELJEM.
Pozor: Kadar se navežemo na nekaj na vseh ravneh, postane del nas. Iz tega razloga Yessod lahko postane "VSE" in ima vpliv na vse zgornje ravni. Daje sposobnost nahraniti Malchut. Veliki pravični Kabalisti so lahko ustvarjali čudeže z močjo, ki so jo pridobili skozi svojo čistost in navezavo na Svetlobo na vseh ravneh. Rabbi Shimon je lahko zapovedal nebesom in zemlji, da so mu sledile.
Mihej 7:20:
"תִּתֵּן אֱמֶת לְיַעֲקֹב, חֶסֶד לְאַבְרָהָם, אֲשֶׁר נִשְׁבַּעְתָּ לַאֲבֹתֵינוּ, מִימֵי קֶדֶם"
"Izkaži z resnico Jakobu, milostjo (Chessed) Abrahamu , kakor si obljubil našim očetom v dneh starodavnosti."
Jeremija 2:21:
" וְאָנֹכִי נְטַעְתִּיךְ שׂוֹרֵק, כֻּלֹּה זֶרַע אֱמֶת"
"Jaz sem te posejal (Shurek), kot celovito seme (זֶרַע) resnice;" Središčno Deblo, Jakob je Resnica, אמת in Yessod TEMELJ je usmernik, ki prinaša semena (זֶרַע) resnice v Malchut. Ženska, ki je vidik Shechine v Malchut je 'pomočnik', עֵזֶר (glej Geneza 2:18), ki sprejema semena in ustvarja nove duše in življenje v svetu. Hebrejska beseda za NEVESTA je כלה ( kar se izgovarja kot Kalah). Opazimo lahko črke כל za 'VSE/VSI' kar predstavlja Yessod TEMELJ in črko ה, ki je vidik osnove ženstvenost in Shechina.
Preučevanje besede כל 'VSE', v navezavi na Yessod TEMELJ, ki vsebuje ravni nad njim je pomembna učna lekcija.
Kadar vložimo napor za navezavo in preučevanje nečesa ( karkoli ), kar želimo, postane del nas. Če živimo in to dihamo, postane del nas. Moramo vložiti naše srce in dušo in postane strast del tega kar počnemo. Tako postanemo sposobni usmerjevalec resničnih semen našega uspeha. To velja kot resnica za duhovne in fizične stvari in okoliščine. Veliko ljudi je, ki so strastni nad svojim poslom in poklicem. Vendar nimajo vedno uspeha, ki si ga želijo. Namreč primanjkuje jim semen resnice, ki lahko pridejo samo iz duhovnega sistema YHVH.
Rečeno je Pregovorih 3:6:
"בְּכָל-דְּרָכֶיךָ דָעֵהוּ; וְהוּא, יְיַשֵּׁר אֹרְחֹתֶיךָ."
"Na VSEH svojih poteh, ga priznavaj in On bo usmerjal tvoje poti."
{||}