Zoharjev dnevnik Št. 976 – Katere vrste angelov želiš v svojem življenju?
Pritisni tukaj za poslušanje Zoharjevega dnevnika [audio:https://dailyzohar.com/wp-content/uploads/audio/dz976.mp3|titles=Daily Zohar 976]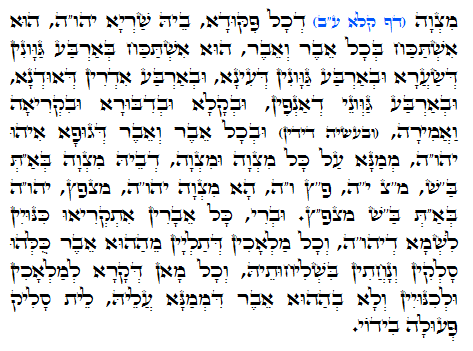 Hebrew translation:
Tikkun 70 – 81
Tetragramaton YHVH je odstrt v vsaki zapovedi. Beseda zapoved v Hebrejščini je מצוה. Prvi dve črki v Atbash ( zamenjava črk – obračanje ) , אתבש je יה.
'Atbash', אתבש je kabalistični način odstiranja različnih vidikov Svetlobe v posodi/nosilcu. S to metodo se črka Alef, ki je prva črka Hebrejske abecede Alef-Bet nadomesti z zadnjo črko Hebrejske abecede. Bet, ki je druga črka abecede se nadomesti s predzadnjo črko Shin. In tako naprej. Dve črki מצ, numerično sta 130 kar je 10 krat אהבה. Kar pomeni ljubezen. Druge dve črki וה VH, so črke imena za Zeir Anpin and Malchu. Samo s preučevanjem besede imamo priložnost se priučiti procesa uporabe zapovedi za pritegnitev svetlobe v naša življenja. H predstavlja našo osnovo/nosilec/posoda in željo za udejaniti pozitivno akcijo. Črka Vav je vidik Zeir Anpin-a in Tore, ki je orodje preučevanja in se uporablja kot most na višje ravni. Ko to naredimo, zastrta luč YH, ki predstavlja Chokmah MODROST in Binah RAZUMEVANJE, 'obrne' svoje obraze k nam in obsije njihovo svetlobo k nam. Podobno kot starši pozdravijo ljubljenega otroka. Tukaj nas Zohar poučuje, da so pozitivna dejanja osebe odstrta v štirih barvah las, oči, štirih sobanah ušesa in štirih barvah obraza. Rabbi Shimon nam omenja, da so imena vseh delov telesa psevdonimi imena Boga, ki je odet v ta imena. Angeli, ki se ne vežejo na ta imena povzdignejo dejanja Mitzva ( zapovedi ) in pritegnejo svetlobo povezano z dejanjem. Če nekdo poskuša priklicati angele za pritegnitev svetlobe in se okoristi z uporabo nepravilnih imen, to ne bo imelo dobrodejnega vpliva zanj.
Zohar nam v zadnjem stavku tega razdelka zelo jasno pove. Ne bi smeli poskušati uporabo angelov, ki ŠE NISO del nas. Preden prosimo za ozdravljenje, bi morali moliti za zdravje drugih, da pritegnemo angele ozdravljenja okoli nas. Če želimo nahranitve bi morali blagosloviti vsakogar na naši poti in jim želeti uspeh, tudi naši konkurenci. Kajti angeli uspeha bodo prišli k nam. Ne bodi ljubosumen, če druga oseba prevzame tvojo sorodno dušo. Sicer te bodo angeli ljubosumja obkrožili. Vsako dejanje, ki ga udejanimo ustvari angele. Tako dobre kot slabe. Imamo sposobnost s svojimi dejanji odločati kateri angeli nas bodo obkrožali. To je moja svobodna odločitev.
{||}