Daily Zohar – Tikunim – # 1008 – "und lasst sie herrschen´´
Hier anklicken, um dem Daily Zohar zuzuhören [audio:https://dailyzohar.com/wp-content/uploads/audio/dz1008.mp3|titles=Daily Zohar 1008]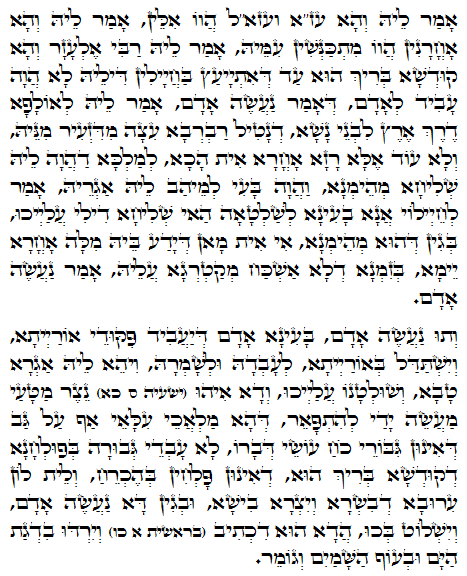 Tikkun 70 – 113
Genesis 1:26
"וַיֹּאמֶר אֱלֹהִים, נַעֲשֶׂה אָדָם בְּצַלְמֵנוּ כִּדְמוּתֵנוּ; וְיִרְדּוּ בִדְגַת הַיָּם וּבְעוֹף הַשָּׁמַיִם, וּבַבְּהֵמָה וּבְכָל-הָאָרֶץ, וּבְכָל-הָרֶמֶשׂ, הָרֹמֵשׂ עַל-הָאָרֶץ "
"Und Gott sprach: 'Lasst uns Menschen machen, nach einem Bild, das uns gleich sei; und lasst sie herrschen über die Fische im Meer und über das Federvieh in der Luft und über das Vieh, und über die ganze Erde, und über alles kriechende, das auf der Erde kriecht.'
Wenn wir lesen, dass Gott sagte "Lasst uns Menschen machen…" verstehen wir das er mit den Engeln 'beriet'. Zwei Engel namens עז"א Azah und עזא"ל Azael, protestierten gegen die Schöpfung des Menschen, weil sie sagten " er wird sündigen und Schmerz und Leid zu allen bringen". Sie wurden von ihren höheren Position entfernt und aus dem Himmel hinausgeworfen.
Warum hat Gott sich mit den Engeln beraten?</strong

Der Zohar sagt, dass es für uns getan wurde, um uns Demut zu lehren. Wenn wir uns mit niedrigern als uns beraten, geben wir ihnen tatsächlich von unserer eigenen Energie. Es ist wie die Erweiterung einer spirituellen Kraft, um ein neues Gefäß zu schaffen und zu öffnen, für den Wunsch zu empfangen um zu teilen.

Jedes Licht, das in ein Gefäß eintritt, lässt etwas von sich zurück. Wie bei einer Person, die eine Parfümerie betritt, selbst wenn sie keines der Perfüme berührt, wird etwas an ihr ´haften´ bleiben. Ihr Gefäß erfährt diese Energie und sie bleibt bei ihr.

Dieses ist ein wichtig zu lernendes Prinzip. Jeder Wunsch den wir haben, kommt von einer vorherigen Erfahrung. Die spirituellen und physischen Wünsche werden verebt, sogar aus vorherigen Leben. Ein einfaches Beispiel dafür ist, dass ihr euch keine gute Schokolade wünschen würdet, es sei denn, ihr hattet schon den Geschmack davon. Ihr könnt euch auch etwas wünschen, was ihr noch nicht hattet, wenn eine andere Person diese Erfahrung mit euch teilt. Ihre Worte/Energie geht in euch Gefäss ein und baut durch das Fehlen der Sache, einen Wunsch danach auf
Vorher haben wir gelernt, dass Chanoch die Seele Ebene von Neshama von Atzilut von Adam erreicht hat, was ihm die Fähigkeit gab ´mit Gott zu gehen´ (Genesis 5:24) und dass er die oberen Ebenen ohne den Prozess vom Tod betreten konnte. Dieses verlieh ihm die Fähigkeit YHVH zu dienen und die ganze Welt von Yetzera (Zeir Anpin) zu kontrollieren.
"Chanoch und Elijah waren die Einzigen die als Menschen aus der physischen Welt in die spirituellen Reiche übergehen konnten. Chanoch wurde Metatron und Elijah wurde Sandalfon, beide sind große Botschafter Gottes. Laut Rabbi Moshe Kordovero סנדלפון = 280, זכור לטוב (אליהו) = 280
Chanoch wie Metatron hat 70 Namen und einer davon ist נער 'Na'ar', das heißt ein Junge.
Der Vers in Genesis 37:2
"אֵלֶּה תֹּלְדוֹת יַעֲקֹב, יוֹסֵף בֶּן-שְׁבַע-עֶשְׂרֵה שָׁנָה הָיָה רֹעֶה אֶת-אֶחָיו בַּצֹּאן, וְהוּא נַעַר אֶת-בְּנֵי בִלְהָה וְאֶת-בְּנֵי זִלְפָּה, נְשֵׁי אָבִיו; וַיָּבֵא יוֹסֵף אֶת-דִּבָּתָם רָעָה, אֶל-אֲבִיהֶם"
"Dieses sind die Genarationen von JakobThese are the generations of Jacob. Joseph, war siebzehn Jahre alt, weidete die Herde mit seinen Brüdern, war noch ein Junge (Na'ar) sogar mit den Söhnen von Bilhah, und mit Söhnen von Zilpah, seines Vaters Frauen; und Joseph hinterbrachte seinem Vater was die Brüder Böses taten."
Rabbi Shimon sagte, dass Chanoch in Yosef inkarnierte, weil auch er נער Na'ar genannt wurde. Seine Brüder wussten, dass er 'etwas besonderes' ist und seine Träume bestätigten das. Sie hatten die Eifersucht, die die Engel auf Adam hatten, als Gott beschloss ihn zu erschaffen.
Engel haben besondere Pflichten/Aufgaben und begrenzte Fähigkeiten. Gott hat uns auf einer höheren Ebene als Engel geschaffen, um, Kontrolle über die gesamte Schöpfung zu haben wie das gute Beispiel von Metatron/Chanoch und Sadalfon/Elijah zeigt.
"und lasst sie über die Fische im Meer herrschen, und über das Federvieh in der Luft, und über das Vieh, und über die ganze Erde und über alles kriechende, dass über die Erde kriecht.'"
{||}