Daily Zohar – Tikunim – # 947 – Wo können wir Hilfe bekommen?
Click here to listen to the Daily Zohar [audio:https://dailyzohar.com/wp-content/uploads/audio/dz947.mp3|titles=Daily Zohar 947]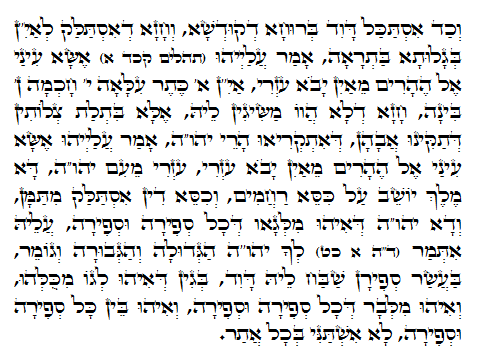 Tikkun 70 – 52
Ein Lied vom Aufsteigen, ich werde meine Augen zu den Bergen anheben; von woher soll meine Hilfe kommen?
König David hatte den Heiligen Geist in sich. Er sah , dass in dem letzten Exil (unseren Zeiten) der Heilige Tempel nicht existieren wird, und deswegen wird die Vereinigung von Zeir Anpin und Malchut nicht existieren. Das Licht, das für uns ohne Arbeit verfügbar war, einen Prozess erfordert, um es zu erreichen.
Woher soll meine Hilfe kommen?, enthält die Antwort zu der Frage. Von ( Alef Yud Nun). Woher für – Alef – bedeutet wörtlich ´´Nichts´´, verweist auf das Ein Sof (Unendliche)
Alef – für Keter
Yod – für Chochmah
Nun – für Binah
Die oberen drei Sefirot, die nicht in den ursprünglichen Prozess von dem Zerbrechen des Gefässes involviert waren, der unsere Welt geschaffen hat, sind in einem perfektem Zustand.
Job 28:12
Aber Weisheit (Chochmah), wo soll sie gefunden werden? Und wo ist der Platz vom Verstehen (Binah)?
Unsere Verbindung sollte erst mit den ´´Bergen´´ sein, das ist der Aspekt von den Patriarchen, Abraham, Isaak, und Jakob. Wenn wir uns selbst zu ihrer Ebene erhöhen, und den drei Säulen des Baums des Lebens, sind wir fähig zu den oberen drei Sefirot Keter, Chochmah und Binah aufzusteigen. Nur dann wird uns das Unendliche die Unterstützung geben, die wir benötigen.