Daily Zohar – Tikunim – # 1017 – Riscrivi la Storia delle Tue Ossa.
Click here to listen to the Daily Zohar [audio:https://dailyzohar.com/wp-content/uploads/audio/dz1017.mp3|titles=Daily Zohar 1017]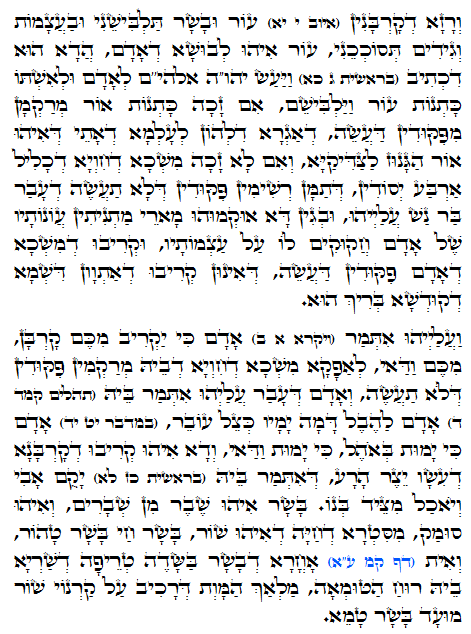 Tikkùn 3 -2.
Giobbe 10:11.
"עוֹר וּבָשָׂר, תַּלְבִּישֵׁנִי,. וּבַעֲצָמוֹת וְגִידִים, תְּשֹׂכְכֵנִי""Tu mi hai rivestito di pelle e di carne, e mi hai tessuto (protetto) con ossa e di nervi."
Ossa – Chockmàh – י. L'essenza e la forza dell'uomo
Tendini – Binàh – ה, L'energia che collega la carne alla forza delle ossa
Carne – Zeir Anpìn – ו, Il vaso/recipiente ed il processo di cambiamento.
Pelle – Malchùt – ה, Il contatto con il mondo esterno.
Questi quattro aspetti sono anche in relazione alle quattro Creature Viventi del Santo Trono .

Genesi-Bereshìt 3:21.
"וַיַּעַשׂ יְהוָה אֱלֹהִים לְאָדָם וּלְאִשְׁתּוֹ, כָּתְנוֹת עוֹר – וַיַּלְבִּשֵׁם" "vàyà'as Adonay Elohìm lè-Adàm ùlè-ishtò kotnòt òr vayalbishem" "e YHVH Dio fece all'uomo e alla donna tuniche di pelli e li vestì".
Dopo il peccato, Adamo ed Eva caddero nel mondo fisico e questo versetto rivela che,lo Zohar ci dice che i capi di pelle, "עור" possono essere trasformati in "אור", indumenti di "Luce" che è la Luce che era nascosta nel giorno della Creazione. Tale premio è dato nel mondo a venire, ad una persona che lo merita .
Le azioni di una persona sono 'incise' sulle sue ossa. Ossa עצמות significa anche 'essenza' che si traduce in un DNA spirituale che non viene mai cancellato.
Quando le azioni sono negative, esse attraggono l'aspetto della morte e quella persona non risorgerà mai nella Redenzione Finale.
{| |}