Daily Zohar – Tikunim – # 1014 – Mit der Unterstützung der Väter könner wir es absichern.
Hier anklicken, um den Täglichen Zohar anzuhören [audio:https://dailyzohar.com/wp-content/uploads/audio/dz1014.mp3|titles=Daily Zohar 1014]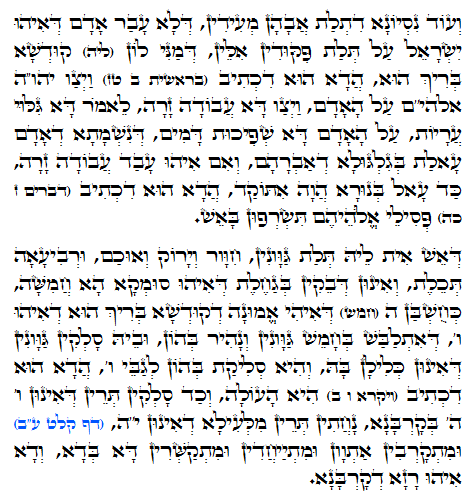 Tikkun 2 – 3 (bezieht sich auf Tikkun 22 and 23)
Genesis 2:16
"וַיְצַו יְהוָה אֱלֹהִים, עַל-הָאָדָם לֵאמֹר: מִכֹּל עֵץ-הַגָּן, אָכֹל תֹּאכֵל."
"Und YHVH Gott gebot dem Menschen (Adam), sprach: 'von jedem Baum dieses Gartens kannst du nach Belieben essen;"
Der Zohar sagt uns, dass die Prüfungen, durch die die Patriarchen gingen dazu da waren, die Sünden und Verunreinigungen die Adam gemacht hat zu korrigieren.
Adam ist die Wurzel von allen Israeliten und das Gebot in dem obigen Vers bezieht sich auf uns alle.

"Und YHVH Gott gebot" ist Götzenanbetung, die nicht dem spirituellen System des Baums des Lebens Folge leistet.
"Sprach" bezieht sich auf sexuelle Sünden. Diese wurden durch Jakobs Lebenswerk korrigiert, er machte mit seinen Frauen einwandfreie Verbindungen, um höhere Seelen nach unten zu ziehen.
"Zu dem Menschen" ist 'Blutvergießen', korrigiert von Isaak, als er sich seiner Bindung unterwarf und bereit war, seine Seele für diese Korrektur zu geben. Isaak war bei diesem Ereignis 37 Jahre alt und sein Vater war 99 Jahre alt.
Dieses Lernen ist eine weitere Vorbereitung auf Rosh Hashanah, das in wenigen Tagen kommt. Wenn wir dieses Wissen von der Korrektur haben, die die die Patriarchen für uns alle gemacht haben, können wir davon während des Tages von Urteil (48 Stunden) und für den Rest unseres Lebens profitieren.
Mehr über die Korrektur von Abraham Isaak and Jakob im nächsten DZ. Selbst wenn ihr damit beschäftigt seid, euch auf die Feiertage vorzubereiten, nehmt euch Zeit es zu lernen, es wird euch außerordentlich helfen.
{||}