Click here to listen to the Daily Zohar [audio:https://dailyzohar.com/wp-content/uploads/audio/dz1020.mp3|titles=Daily Zohar 1020]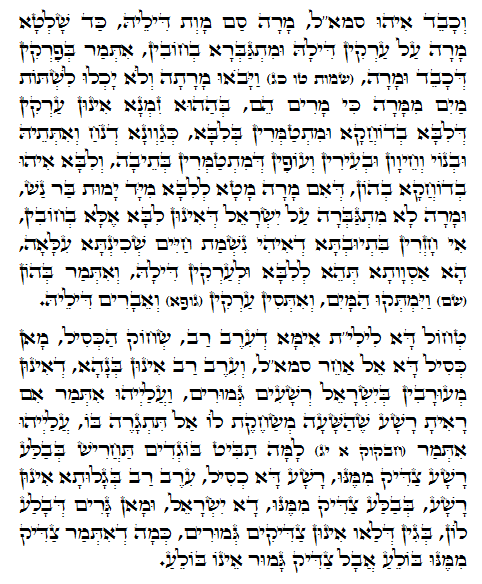 Hebrew translation:
Tikkun 3 – 5
O fígado é o lugar de habitação de Sam-ael que é o ministro do lado negativo. A bile é sua fêmea e juntos eles usam a negatividade de uma pessoa para controlar seu sistema sanguineo e o coração.
Êxodo 15:23
"וַיָּבֹאוּ מָרָתָה–וְלֹא יָכְלוּ לִשְׁתֹּת מַיִם מִמָּרָה, כִּי מָרִים הֵם; עַל-כֵּן קָרָא-שְׁמָהּ, מָרָה"
"Então chegaram a Mara; mas não puderam beber das águas de Mara, porque eram amargas; por isso chamou-se o lugar Mara."
Este versículo aparece depois da história do milagre da abertura do Mar. Os Israelitas viajaram no deserto por alguns dias e não conseguiram achar água. Eles chegaram num lugar chamado Mara, mas a água era amarga e eles não puderam bebê-la.
Mara, מָרָה, significa literalmente 'amargo' e também é o nome hebraico para Bile. O Zohar conecta isso ao estado de negatividade que o corpo alcança como resultado de não seguir as leis espirituais.
Deus libertou os Israelitas do Egito e agora era tempo de prepará-los para a luz da Torah. Eles foram no deserto sem água por três dias, este é o aspecto da Luz. Quando eles chegaram num lugar com água (física), não tinha a força da vida que eles experimentaram anteriormente.
Êxodo 15:25
"וַיִּצְעַק אֶל-יְהוָה, וַיּוֹרֵהוּ יְהוָה עֵץ, וַיַּשְׁלֵךְ אֶל-הַמַּיִם, וַיִּמְתְּקוּ הַמָּיִם; שָׁם שָׂם לוֹ חֹק וּמִשְׁפָּט, וְשָׁם נִסָּהוּ "
"E ele (Moisés) clamou ao YHVH, e o YHVH mostrou-lhe uma árvore, que lançou nas águas, e as águas se tornaram doces. Ali lhes deu estatutos e uma ordenança, e ali os provou."
A Árvore que Deus mostrou a Moisés era a Árvore da Vida, que conectada às leis da Torah, adoçaram a água.Neste ponto foi criado um recipiente para os Israelitas e a luz para enchê-lo lhes foi mostrada. Então Deus deu a eles uma promessa.
Êxodo 15:26
"וַיֹּאמֶר אִם-שָׁמוֹעַ תִּשְׁמַע לְקוֹל יְהוָה אֱלֹהֶיךָ, וְהַיָּשָׁר בְּעֵינָיו תַּעֲשֶׂה, וְהַאֲזַנְתָּ לְמִצְו‍ֹתָיו, וְשָׁמַרְתָּ כָּל-חֻקָּיו–כָּל-הַמַּחֲלָה אֲשֶׁר-שַׂמְתִּי בְמִצְרַיִם, לֹא-אָשִׂים עָלֶיךָ, כִּי אֲנִי יְהוָה, רֹפְאֶךָ. "
"E disse: Se ouvires atento a voz do YHVH teu Deus, e fizeres o que é reto diante de seus olhos, e inclinares os teus ouvidos aos seus mandamentos, e guardares todos os seus estatutos, nenhuma das enfermidades porei sobre ti, que pus sobre o Egito; porque eu sou o YHVH que te sara."
Este versículo é auto explicativo e a promessa é clara e grandiosa.
Os cabalistas nos ensinam que este versículo tem um poder especial de cura que vêm dos quatro Yuds inclusos " עָלֶיךָ, כִּי אֲנִי יְהוָה" do versículo acima . (Este versículo conclui a porção de Beshalach que tem os três versículos que fazem os 72 nomes).
Nosso corpo é um recipiente que é 'emprestado' do mundo físico. Este fato dá vantagem ao lado negativo que tem maior controle sobre ele. Para sobrepujar isto, temos que encher continuamente o recipiente com luz, através de ações e com o estudo do texto sagrado.
{||}
traduzido por Denis Schaefer