Click here to listen to the Daily Zohar [audio:https://dailyzohar.com/wp-content/uploads/audio/dz975.mp3|titles=Daily Zohar 975]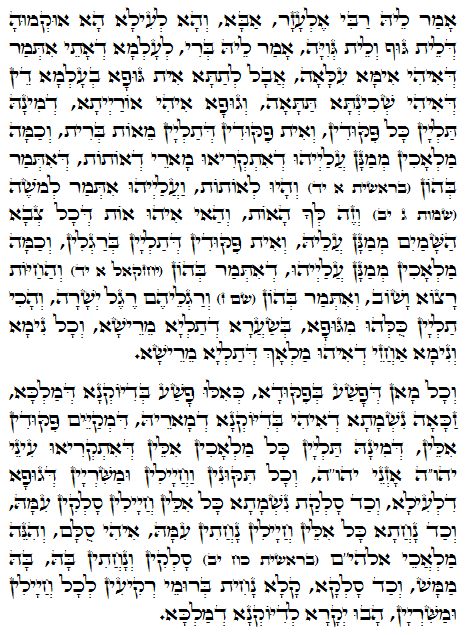 Hebrew translation:
Tikkun 70 – 80
Rabbi Shimon explica a Rabbi Elazar que a Torah é o aspecto do corpo da Shechina e dela vem todas as Mitzvot, Preceitos que o mundo de Malchut depende.
A palavra para letra é "אות", que também significa "sinal", 'um símbolo'. Eles representam diferentes luzes que são reveladas em Malchut.
Gênesis 1:14 " וַיֹּאמֶר אֱלֹהִים, יְהִי מְאֹרֹת בִּרְקִיעַ הַשָּׁמַיִם, לְהַבְדִּיל, בֵּין הַיּוֹם וּבֵין הַלָּיְלָה; וְהָיוּ לְאֹתֹת וּלְמוֹעֲדִים, וּלְיָמִים וְשָׁנִים" "E disse D'us: Haja luminares na expansão dos céus, para haver separação entre o dia e a noite; e sejam eles (forças celestiais, anjos que foram criados anteriormente) para sinais (letras), e para tempos (eventos) determinados e para dias (sefirot inferiores) e anos (sefirot superiores);"
Êxodo 3:12 "וַיֹּאמֶר, כִּי-אֶהְיֶה עִמָּךְ, וְזֶה-לְּךָ הָאוֹת, כִּי אָנֹכִי שְׁלַחְתִּיךָ: בְּהוֹצִיאֲךָ אֶת-הָעָם, מִמִּצְרַיִם, תַּעַבְדוּן אֶת-הָאֱלֹהִים, עַל הָהָר הַזֶּה." "E disse: Certamente eu serei contigo; e isto te será por sinal (sinal, anjos) de que eu te enviei: Quando houveres tirado este povo do Egito, servireis a Deus neste monte."
D'us enviou anjos com Moisés, para protegê-lo em todo lugar que ele fosse. Mesmo o Faraó e todos seus poderes não podiam se aproximar para prejudicá-lo.
As ações positivas que fazemos, de acordo com as leis espirituais da Torah criam anjos que mantém a raiz da ação da mesma forma que o cabelo no corpo. Baseado na ação e sua consciência, os anjos vem de diferentes níveis. Eles conseguem conectar a pessoa do nível inferior, em todo caminho até Atzilut.
Uma pessoa que vai contra o sistema corrompe sua conexão espiritual com a Torah e a luz é a raiz dos preceitos.
Uma pessoa justa merece ter uma "escada" e seus anjos ajudam-no a se conectar aos níveis superiores.
{||}