Daily Zohar # 1061 – Pinchas – Você é um escravo ou livre?
Click here to listen to the Daily Zohar [audio:https://dailyzohar.com/wp-content/uploads/audio/dz1061.mp3|titles=Daily Zohar 1061]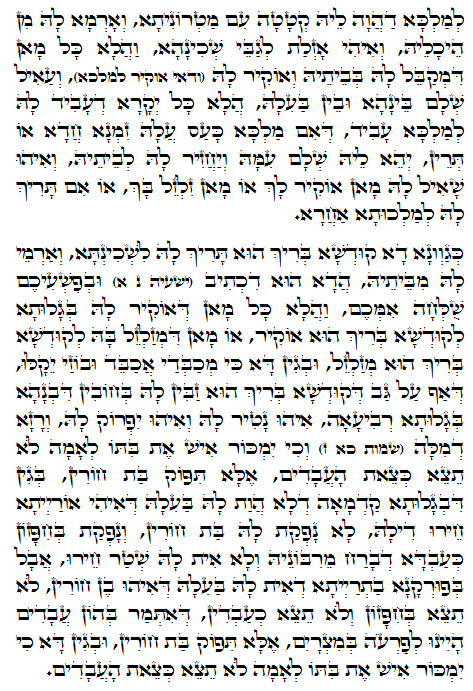 Hebrew translation:
Tikkun 7 -2
Isaías 50:1 "הֵן בַּעֲו‍ֹנֹתֵיכֶם נִמְכַּרְתֶּם, וּבְפִשְׁעֵיכֶם שֻׁלְּחָה אִמְּכֶם " "Eis que por vossas maldades fostes vendidos, e por vossas transgressões vossa mãe foi repudiada. "
O primeiro pecado causou uma separação entre o Rei (Luz) e a Rainha (Shechina) que teve que ir para o exílio. Com nossas ações positivas, o estudo do Zohar e meditações, trazemos a Shechina do estado de exílio para a unificação com a Luz.
1 Samuel 2:30 "כִּי-מְכַבְּדַי אֲכַבֵּד וּבֹזַי יֵקָלּוּ" "aos que me honram honrarei, porém os que me desprezam serão desprezados."
Êxodo 21:7 " וְכִי-יִמְכֹּר אִישׁ אֶת-בִּתּוֹ, לְאָמָה–לֹא תֵצֵא, כְּצֵאת הָעֲבָדִים " "E se um homem vender sua filha para ser serva, ela não sairá como saem os servos."
O Zohar nos revela deste verso segredos da Redenção Final. Quando saímos do primeiro exílio que foi no Egito, nós éramos como escravos fugindo de seus senhores.
Êxodo 32:16 "וְהַלֻּחֹת–מַעֲשֵׂה אֱלֹהִים, הֵמָּה; וְהַמִּכְתָּב, מִכְתַּב אֱלֹהִים הוּא—חָרוּת (Freedom), עַל-הַלֻּחֹת." "E aquelas tábuas eram obra de Deus; também a escritura era a escritura de Deus, esculpida ( חָרוּת palavra hebraica idêntica de Liberdade) nas tábuas."
Quando deixamos o Egito, não tínhamos a Torá que é a nossa conexão com a liberdade. Pelo mérito do estudo da Torá em seu mais alto nível que é o Zohar, vamos sair deste exílio como pessoas livres. O Zohar descreve a Torá como um projeto de lei de liberdade e sem ela e o Zohar a maioria das pessoas ainda são escravas do mundo material e não serão capazes de apreciar a Redenção Final.
{||}
traduzido por Denis Schaefer