Daily Zohar # 1370 – Pinchas – Guests with gifts of blessings
Zohar Pinchas, Vol. 20 (English)/Vol 15 (Hebrew)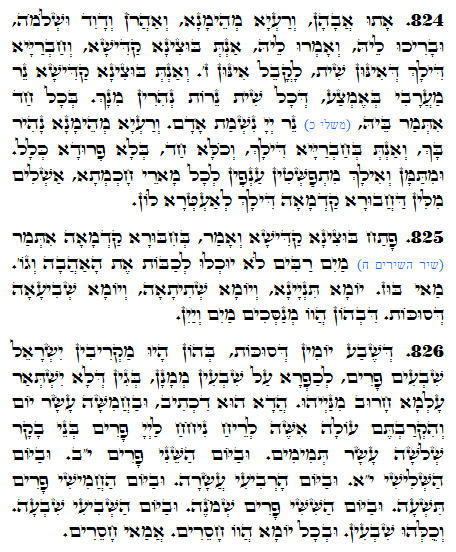 Hebrew translation:
824. בָּאוּ הָאָבוֹת, וְהָרוֹעֶה הַנֶּאֱמָן, וְאַהֲרֹן וְדָוִד וּשְׁלֹמֹה, וּבֵרְכוּ אוֹתוֹ וְאָמְרוּ לוֹ, אַתָּה הַמְּנוֹרָה הַקְּדוֹשָׁה, וְהַחֲבֵרִים שֶׁלְּךָ שֶׁהֵם שִׁשָּׁה, כְּנֶגֶד אֵלּוּ שֶׁהֵם שִׁבְעָה. וְאַתָּה הַמְּנוֹרָה הַקְּדוֹשָׁה, נֵר מַעֲרָבִי בָּאֶמְצַע, שֶׁכָּל שִׁשָּׁה נֵרוֹת מְאִירִים מִמְּךָ. בְּכָל אֶחָד נֶאֱמַר בּוֹ, (משלי כ) נֵר ה' נִשְׁמַת אָדָם. וְהָרוֹעֶה הַנֶּאֱמָן מֵאִיר בְּךָ, וְאַתָּה בַּחֲבֵרִים שֶׁלְּךָ, וְהַכֹּל אֶחָד בְּלִי פֵרוּד כְּלָל. וּמִשָּׁם וְאֵילָךְ מִתְפַּשְּׁטִים עֲנָפִים לְכָל בַּעֲלֵי הַחָכְמָה, הַשְׁלֵם דִּבְרֵי הַחֲבוּרָה הָרִאשׁוֹנָה שֶׁלְּךָ לְעַטֵּר אוֹתָם.
825. פָּתַח הַמְּנוֹרָה הַקְּדוֹשָׁה וְאָמַר, בַּחִבּוּר הָרִאשׁוֹן נֶאֱמַר, (שיר השירים ח) מַיִם לֹא יוּכְלוּ לְכַבּוֹת אֶת הָאַהֲבָה וְגוֹ'. מַהוּ בּוֹז? יוֹם שֵׁנִי וְיוֹם שִׁשִּׁי וְיוֹם שְׁבִיעִי שֶׁל סֻכּוֹת, שֶׁבָּהֶם הָיוּ מְנַסְּכִים מַיִם וְיַיִן.
826. שִׁבְעָה יְמֵי סֻכּוֹת בָּהֶם הָיוּ מַקְרִיבִים יִשְׂרָאֵל שִׁבְעִים פָּרִים לְכַפֵּר עַל שִׁבְעִים מְמֻנִּים כְּדֵי שֶׁלֹּא יִשָּׁאֵר הָעוֹלָם חָרוּב מֵהֶם. זֶהוּ שֶׁכָּתוּב וּבַחֲמִשָּׁה עָשָׂר יוֹם וְהִקְרַבְתֶּם עֹלָה אִשֶּׁה לְרֵיחַ נִיחֹחַ לַה' פָּרִים בְּנֵי בָקָר שְׁלֹשָׁה עָשָׂר תְּמִימִים. וּבַיּוֹם הַשֵּׁנִי פָּרִים שְׁנֵים עָשָׂר. וּבַיּוֹם הַשְּׁלִישִׁי אַחַד עָשָׂר. וּבַיּוֹם הָרְבִיעִי עֲשָׂרָה. וּבַיּוֹם הַחֲמִישִׁי פָּרִים תִּשְׁעָה. וּבַיּוֹם הַשִּׁשִּׁי פָּרִים שְׁמוֹנָה. וּבַיּוֹם הַשְּׁבִיעִי שִׁבְעָה. וְכֻלָּם שִׁבְעִים. וּבְכָל יוֹם הָיוּ חֲסֵרִים. מַדּוּעַ חֲסֵרִים?
Pinchas 824-826
The Zohar tells us that after Rabbi Shimon finished the study of the Sukkah and the Lulav the patriarchs came to him with Moses, Aaron, David and Solomon and blessed him.
We learn from this story that when we study from the Torah and reveal the secrets, we make direct connection to the spiritual elements and receive their blessings. Rabbi Shimon taught about the Sukah and Ushpizin (See DZ 1366) and they came to bless him. The Zohar adds Solomon with David because both of them connect to Malchut. King David formed the vessel of Malchut with his great desire for the Light and his son, King Solomon, built the Holy Temple connecting the light to Malchut.
The Ushpizin blessed Rabbi Shimon and told him that he is the Holy Menorah, Candelabra. His six students* are the aspects of the six candles and Rabbi Shimon is the seventh, the candle of Yessod, that is in the middle and holds all the others together. They shine because of him. On each of them it said (Proverb 20:27) "נֵר יְהוָה, נִשְׁמַת אָדָם" "The soul of man is the candle of YHVH" but in the soul of Rabbi Shimon the light of the Faithfull Shepherd (Moses) shines. From Rabbi Shimon branches of light spread to all students that own the wisdom.
Rabbi Shimon continues with the study and quotes Song of Songs 8:7
"מַיִם רַבִּים, לֹא יוּכְלוּ לְכַבּוֹת אֶת-הָאַהֲבָה, וּנְהָרוֹת, לֹא יִשְׁטְפוּהָ; אִם-יִתֵּן אִישׁ אֶת-כָּל-הוֹן בֵּיתוֹ, בָּאַהֲבָה–בּוֹז, יָבוּזוּ לוֹ"
"Many waters cannot quench love, neither can floods drown it. If a man offered for love all the wealth of his house, he would be utterly despised."
The word "בּוֹז" and the numerical value of each letter is reference to the second, sixth and seventh days of the holiday of Sukkot when they were celebrating the pouring of wine and water in the Holy Temple. Because of the great light revealed on Sukkot, the pouring of wine over the altar had greater significance than when it was done during the year. The pouring of water was done only on Sukkot.
Rabbi Shimon didn't invite his guests but they came because he made a spiritual connection to them by revealing the secrets of the Torah, the holidays and the precepts. When we join the study of the Zohar with Rabbi Shimon, we benefit from his connection to these great souls and channels of Light.
There are no better ways to achieve such level of connection. Rabbi Shimon and the Zohar paved the path and all we need is to use it and 'own' it.
{||}