Daily Zohar # 1385 – Pinchas – Names of light
Zohar Pinchas, Vol. 20 (English)/Vol 15 (Hebrew)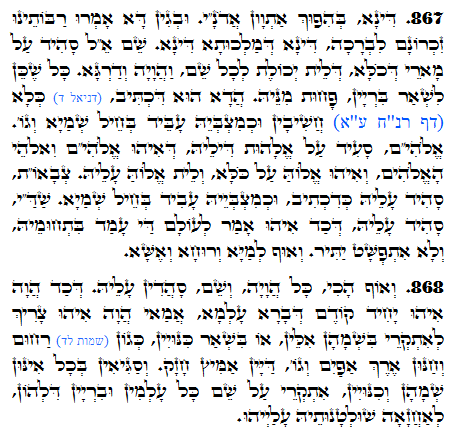 Hebrew translation:
867. דִּינָא בְּהִפּוּךְ אוֹתִיּוֹת – אֲדֹנָ"י. וּמִפְּנֵי זֶה אָמְרוּ רַבּוֹתֵינוּ זִכְרוֹנָם לִבְרָכָה, דִּין הַמַּלְכוּת – דִּין. שֵׁם אֵ"ל מֵעִיד עַל אֲדוֹן הַכֹּל, שֶׁאֵין יְכֹלֶת לְכָל שֵׁם וַהֲוָיָה וְדַרְגָּה. כָּל שֶׁכֵּן לִשְׁאָר בְּרִיּוֹת פָּחוֹת מִמֶּנּוּ. זֶהוּ שֶׁכָּתוּב (דניאל ד) כְּלֹא נֶחְשָׁבִים וְכִרְצוֹנוֹ עוֹשֶׂה בִּצְבָא הַשָּׁמַיִם וְגוֹ'. אֱלֹהִי"ם מֵעִיד עַל אֱלָהוּת שֶׁלּוֹ, שֶׁהוּא אֱלֹהִי"ם וֵאלֹהֵי הָאֱלֹהִים, וְהוּא אֱלוֹהַּ עַל הַכֹּל, וְאֵין אֱלוֹהַּ עָלָיו. צְבָאוֹ"ת מֵעִיד עָלָיו כְּמוֹ שֶׁכָּתוּב (שם) וְכִרְצוֹנוֹ עוֹשֶׂה בִּצְבָא הַשָּׁמַיִם. שַׁדַּ"י מֵעִיד עָלָיו, שֶׁכַּאֲשֶׁר הוּא אָמַר לָעוֹלָם דַּי, עָמַד בִּתְחוּמוֹ וְלֹא הִתְפַּשֵּׁט יוֹתֵר. וְגַם לַמַּיִם, וְרוּחַ וְאֵשׁ.
868. וְאַף כָּךְ, כָּל הֲוָיָה וְשֵׁם מְעִידִים עָלָיו. שֶׁכַּאֲשֶׁר הָיָה הוּא יָחִיד קֹדֶם שֶׁבָּרָא הָעוֹלָם, מַדּוּעַ הָיָה הוּא צָרִיךְ לְהִקָּרֵא בְּשֵׁמוֹת אֵלּוּ, אוֹ בִּשְׁאָר כִּנּוּיִים, כְּגוֹן (שמות לד) רַחוּם וְחַנּוּן אֶרֶךְ אַפַּיִם וְגוֹ', דַּיָּן, אַמִּיץ, חָזָק. וְרַבִּים בְּכָל אֵלּוּ שֵׁמוֹת וְכִנּוּיִים. אֶלָּא נִקְרָא עַל שֵׁם כָּל עוֹלָמוֹת וּבְרִיּוֹת שֶׁלָּהֶם, לְהַרְאוֹת שִׁלְטוֹנוֹ עֲלֵיהֶם.
Pinchas 867-868
The name of God in Malchut is אדני ADNY. The letters form the word דינא DYNA that means judgment. It tells us that in Malchut we have the aspect of judgments, good and bad, cause and effect and all that comes from it.
The name of God צבאות, is translated as 'armies'. This name controls the armies above and below. The Sefirot Netzach and Hod govern the armies of spiritual forces.
Each of God's names in the Torah represent different revelations of the Endless Light. The secret is in the letters and the nikkud (vowels) of the names.
All Torah translations use different descriptive names of God's name but they are all 100% wrong because you can not translate the energy levels revealed through the Hebrew letters and Nikkud.
The charts below show the names related to each Sefira. Remember that the name of the sefira reveals the type of vessel and the name of God related to it, the light that activates and 'works' through it.
There are more names and descriptive names of God for each level. I suggest the book שערי אורה – יוסף גקיטיליא, Shaare Orah by Yosef Gekitilia where you can find explanation and names for each of the ten Sefirot.

Original text in Hebrew (PDF format by DailyZohar). Click on the link to download (free).
ספר שערי אורה להורדה

The book in English. I found the link on Amazon but I can't tell how good is the English edition. (I usually don't value English translation and even in my English commentary I give the Aramaic and Hebrew strong presence so on the spiritual level you will get more.)
Gates of Light: Sha'are Orah (Sacred Literature Trust Series)

or
Gates of Light / Sha'Are Orah (Sacred Literature Series) (English and Hebrew Edition)

The book in Hebrew (original text with additional notes).
http://www.seforimcenter.com/product.asp?cookiecheck=yes&numPageStartPosition=1&P_ID=4960&strPageHistory=cat&strKeywords=&strSearchCriteria=&PT_ID=197

{||}