Daily Zohar # 3837 – Bo – All the firstborn
Daily Zohar 3837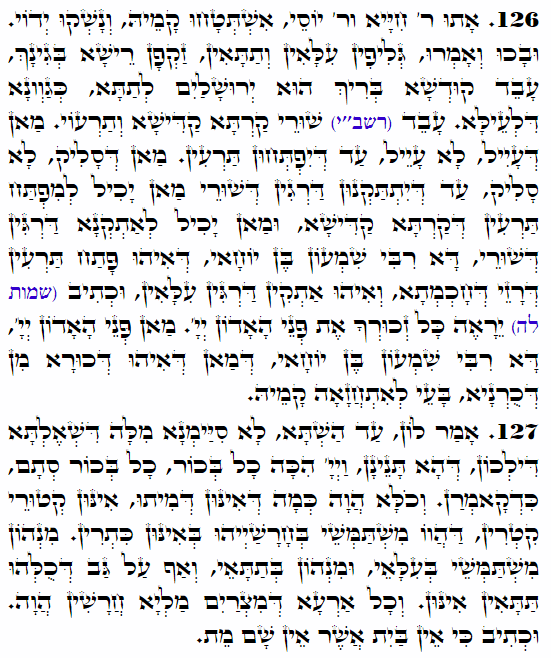 Hebrew translation:
126. בָּאוּ רַבִּי חִיָּיא וְרַבִּי יוֹסֵי, הִשְׁתַּטְּחוּ לְפָנָיו וְנָשְׁקוּ יָדוֹ, וּבָכוּ וְאָמְרוּ, חֲקִיקוֹת עֶלְיוֹנִים וְתַחְתּוֹנִים מְרִימִים רֹאשׁ בִּזְכוּתְךָ. עָשָׂה הַקָּדוֹשׁ בָּרוּךְ הוּא יְרוּשָׁלַיִם לְמַטָּה כְּמוֹ שֶׁלְּמַעְלָה. עָשָׂה [רַשְׁבִּ"י] חוֹמוֹת הָעִיר הַקְּדוֹשָׁה וּשְׁעָרֶיהָ. מִי שֶׁנִּכְנָס, לֹא נִכְנָס עַד שֶׁיִּפָּתְחוּ הַשְּׁעָרִים. מִי שֶׁעוֹלֶה, לֹא עוֹלֶה עַד שֶׁיִּתְתַּקְנוּ הַמַּדְרֵגוֹת שֶׁל הַחוֹמוֹת. מִי יָכוֹל לִפְתֹחַ אֶת שַׁעֲרֵי הָעִיר הַקְּדוֹשָׁה, וּמִי יָכוֹל לְהַתְקִין אֶת הַמַּדְרֵגוֹת שֶׁל הַחוֹמוֹת? זֶה רַבִּי שִׁמְעוֹן בֶּן יוֹחַאי, שֶׁהוּא פּוֹתֵחַ שְׁעָרִים שֶׁל סוֹדוֹת הַחָכְמָה וְהוּא מְתַקֵּן דְּרָגוֹת עֶלְיוֹנוֹת. וְכָתוּב (דברים טז) יֵרָאֶה כָּל זְכוּרְךָ אֶת פְּנֵי הָאָדוֹן ה'. מִי זֶה פְּנֵי הָאָדוֹן ה'? זֶה רַבִּי שִׁמְעוֹן בֶּן יוֹחַאי, שֶׁמִי שֶׁהוּא זָכָר מִן הַזְּכָרִים צָרִיךְ לְהֵרָאוֹת לְפָנָיו.
127. אָמַר לָהֶם, עַד עַכְשָׁו לֹא סִיַּמְנוּ הַדָּבָר עַל שְׁאֵלַתְכֶם, שֶׁהֲרֵי שָׁנִינוּ וַה' הִכָּה כָל בְּכוֹר, כָּל בְּכוֹר סְתָם, כְּמוֹ שֶׁאָמַרְנוּ. וְהַכֹּל הָיָה כְּמוֹ שֶׁל אוֹתָם שֶׁמֵּתוּ, אוֹתָם קוֹשְׁרֵי הַקְּשָׁרִים שֶׁהָיוּ מִשְׁתַּמְּשִׁים בְּכִשְׁפֵיהֶם בְּאוֹתָם הַכְּתָרִים. מֵהֶם מִשְׁתַּמְּשִׁים בָּעֶלְיוֹנִים וּמֵהֶם בַּתַּחְתּוֹנִים, וְאַף עַל גַּב שֶׁכֻּלָּם הֵם תַּחְתּוֹנִים. וְכָל אֶרֶץ מִצְרַיִם מְלֵאָה הָיְתָה כְּשָׁפִים, וְכָתוּב כִּי אֵין בַּיִת אֲשֶׁר אֵין שָׁם מֵת.
.
Zohar Bo
Continued from previous DZ
#126
Rabbi Chaya and Rabbi Yossi came and prostrated themselves before Rabbi Shimon, kissed his hands, wept, and said, the upper and lower forms raised their heads because of your merits. The Holy One Blessed be He, made Jerusalem below, which is Malchut, like the supernal Jerusalem above, which is Binah. He made walls and gates to the Holy City. No one can enter unless they open the gates for him. Whoever ascends does not ascend until he accesses the levels to the walls.
Who can open the gates of the holy city, and access the supernal levels? It is Rabbi Shimon that opens the gates of wisdom, and fix access to the supernal levels. It is written;
Exodus 34:23
"שָׁלֹשׁ פְּעָמִים בַּשָּׁנָה יֵרָאֶה כָּל זְכוּרְךָ אֶת פְּנֵי הָאָדֹן יְהוָה אֱלֹהֵי יִשְׂרָאֵל."
"Three times in the year, all your men shall appear before the face of the master, YHVH God of Israel."
The word "זְכוּרְךָ" is translated to "Your men," but in Hebrew, it is also the root for "male," and "remembrance."
"The face of the master" is Rabbi Shimon, who is the memory (part) from the supernal Light of Father, Chokmah, and Mother, Binah, that are called "Remembrance" that need to appear before him.
#127
Rabbi Shimon continues to explain, "And YHVH struck all the firstborn in the land of Egypt" (Exodus 12:29). It says "All the firstborn" to refer to all levels that Egypt is nourished from. They are the four levels of Klipot previously mentioned, and these levels died as the firstborn of Egypt died. The firstborns include the magicians of Egypt that connect to the upper levels of the Klipot for their magics. In verse below, this is the meaning of " there was not a house where there was not one dead" in the verse below.
Exodus 12:30
"וַיָּקָם פַּרְעֹה לַיְלָה הוּא וְכָל עֲבָדָיו וְכָל מִצְרַיִם וַתְּהִי צְעָקָה גְדֹלָה בְּמִצְרָיִם כִּי אֵין בַּיִת אֲשֶׁר אֵין שָׁם מֵת."
"So Pharaoh rose in the night, he, all his servants, and all the Egyptians; and there was a great cry in Egypt, for there was not a house where there was not one dead."
Lesson;
The killing of the firstborn was the elimination of the spiritual powers of Egypt, disconnecting their magic from the roots in the spiritual levels. That action could be done only by Hashem.
{||}