Daily Zohar # 4040 – Balak – The day of the joy of his heart
Daily Zohar 4040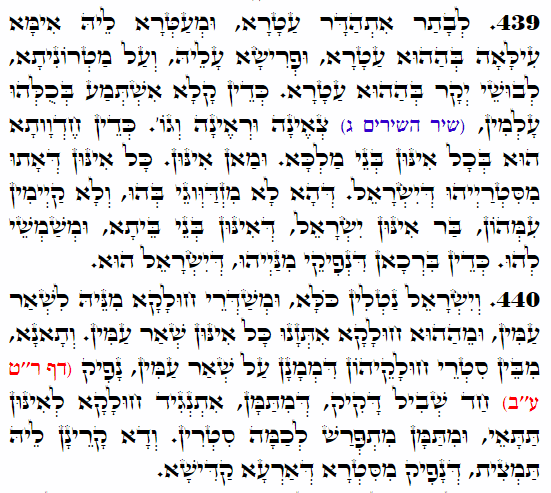 Hebrew translation:
439. אַחַר כָּךְ חוֹזֶרֶת הָעֲטָרָה, וּמְעַטֶּרֶת אוֹתָהּ הָאֵם הָעֶלְיוֹנָה בְּאוֹתָהּ עֲטָרָה, וּפוֹרֶשֶׂת אוֹתָהּ עָלָיו וְעַל הַמַּלְכָּה, לְבוּשֵׁי כָבוֹד בְּאוֹתָהּ עֲטָרָה. וְאָז נִשְׁמָע קוֹל בְּכָל הָעוֹלָמוֹת, (שיר השירים ג) צְאֶינָה וּרְאֶינָה וְגוֹ'. אָז חֶדְוָה הִיא בְּכָל בְּנֵי הַמֶּלֶךְ. וּמִי הֵם? כָּל אוֹתָם שֶׁבָּאוּ מִצַּד יִשְׂרָאֵל, שֶׁהֲרֵי לֹא מִזְדַּוְּגִים בָּהֶם וְלֹא עוֹמְדִים עִמָּהֶם, פְּרָט לְאוֹתָם יִשְׂרָאֵל שֶׁהֵם בְּנֵי הַבַּיִת וּמְשַׁמְּשִׁים אוֹתָם. וְאָז בְּרָכוֹת שֶׁיּוֹצְאוֹת מֵהֶם, שֶׁל יִשְׂרָאֵל הֵן.
440. וְיִשְׂרָאֵל לוֹקְחִים הַכֹּל, וְשׁוֹלְחִים חֵלֶק מִמֶּנּוּ לִשְׁאָר הָעַמִּים, וּמֵאוֹתוֹ חֵלֶק נִזּוֹנִים כָּל אוֹתָם הָעַמִּים. וְלָמַדְנוּ, מִבֵּין צִדְדֵי חֶלְקָם שֶׁל הַמְמֻנִּים עַל שְׁאָר הָעַמִּים יוֹצֵא שְׁבִיל דַּקִּיק אֶחָד שֶׁמִּשָּׁם נִשְׁפָּע חֵלֶק לְאוֹתָם תַּחְתּוֹנִים, וּמִשָּׁם נִפְרָד לְכַמָּה צְדָדִים. וְלָזֶה קוֹרְאִים תַּמְצִית, שֶׁיּוֹצֵאת מִצַּד הָאָרֶץ הַקְּדוֹשָׁה .
.
Zohar Balak
Continued from previous DZ
#439
After the crown received all the lights mentioned above, the supernal Mother adorned Zeir Anpin with this crown. Then she spread over the Zeir Anpin and Malchut precious clothing called clothing of honor, "לְבוּשֵׁי כָבוֹד," that come from the Chassadim that clothe Chokmah. Then the voice is heard in all the worlds;
Songs 3:11
"צְאֶינָה וּרְאֶינָה בְּנוֹת צִיּוֹן בַּמֶּלֶךְ שְׁלֹמֹה בָּעֲטָרָה שֶׁעִטְּרָה לּוֹ אִמּוֹ בְּיוֹם חֲתֻנָּתוֹ וּבְיוֹם שִׂמְחַת לִבּוֹ."
"Go forth, O daughters of Zion, And see King Solomon with the crown With which his mother crowned him On the day of his wedding, The day of the gladness of his heart."
King Solomon is the aspect of Zeir Anpin, and his Mother is Binah. Then she is happy with all the king's sons. They are all those who come from the side of Israel because only Israel connects with Zeir Anpin and Malchut. They are the household that serves them, which means they raise female water through their Torah studies and prayers that awaken the unification. Therefore, the blessings that come from the unification of Zeir Anpin and Malchut go to Israel.
Lesson;
The Torah scroll is the aspect of Zer Anpin, and it is stored in the Ark, which is the aspect of Binah. When the Torah is brought out on Shabbat for the weekly reading, we recite Songs 3:11 above. When the Torah is placed in its place for reading, we have the aspect of the unification of Zeir Anpin and Malchut, receiving the Light from Binah.
#440
Israel takes all the blessings that come from the unification of Zeir Anpin and Malchut in the secret of the Light from their crowns. They send part of the blessings to the other nations; from that part, all the other countries are nourished. We learned that from the portions of the ministers in charge of the other nations, one very narrow path emerges, from which the portion of the lower ones extends and nourishes them. It divides into several sides. And that is called extract that comes from the side of the Holy Land, Malchut.
Lesson;
After the Holy Temple's destruction, Israel's children spread all over the world. They must pray and study Torah to reveal the Light to all nations. Cities and countries with a large population of Jews have better success than places where there are no Jews that reveal the Light of the Torah. Sukkot is the holiday when we pray to give Light to the 70 nations of the world. It is not by error that the gathering of all nations happens every year in the United Nations building in New York during the holiday of Sukkot.
{||}