Click here to listen to the Daily Zohar [audio:https://dailyzohar.com/wp-content/uploads/audio/dz950.mp3|titles=Daily Zohar 950]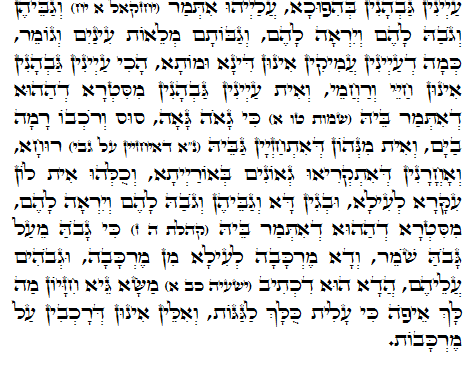 Hebrew translation:
Sorry Hebrew translation is missing from my original files.
Traduccion Sebastian Palen
Tikun 70-54
Anteriormente, leímos que una persona con los ojos de configuración profundas en la mayoría de los casos, representan el juicio y la muerte. Las personas con ojos que estan más en la parte frontal de la cara y alineadas por encima de la parte superior de la oreja tienen una energía de vida y misericordia.
Ezequiel 01:18
"וְגַבֵּיהֶן – וְגֹבַהּ לָהֶם, וְיִרְאָה לָהֶם; וְגַבֹּתָם, מְלֵאֹת עֵינַיִם סָבִיב – לְאַרְבַּעְתָּן"
En cuanto a sus anillos, que fueron elevados y éstos fueron terribles, y cuatro tenían sus anillos llenos de ojos alrededor.
En la visión de Ezequiel leímos que las sagradas criaturas del trono eran altas con ojos a su alrededor para que pudieran ver en todas direcciones. Los ojos son el más alto "sentido" en el cuerpo y se encuentra en el nivel de Jojma. Si los ojos están situados más arriba en la cara (no profundamente) entonces quiere decir que hay habilidad de conexión espiritual más elevada. El aspecto negativo es el ego y el orgullo.
Éxodo 15:1 "… אָשִׁירָה לַיהוָה כִּי – גָאֹה גָּאָה …"
"… Cantaré yo a YHVH, porque El es muy exaltado (גָאֹה גָּאָה) …"
El pasuk es de la canción que vino después de la división del Mar Rojo. Se alaba a Dios por el estado exaltado experimentado en ese acontecimiento. La raíz de la palabra es גא. El aspecto espiritual de la misma es positivo, ya que representa la elevación sobre lo físico. En el plano físico esto significa el ego y la gravedad hacia el egoísmo y la materia.
La palabra "genio" en hebreo es גאון que significa espiritualmente elevada por encima de la norma. Podemos aprender del Zohar que las personas con los ojos por encima de la posición normal tienen una mayor capacidad mental. Los maestros espirituales, después de la destrucción del segundo Templo, fueron llamados גאונים, que literalmente significa "genio". Eso no significa un título para el ego, sino por su capacidad para conectar a lo más alto en el plano espiritual que pueda tambien canalizar la energía vital desde Bina y la luz de la misericordia.
{||}