um sie herum, so dass sie Click here to listen to the Daily Zohar [audio:https://dailyzohar.com/wp-content/uploads/audio/dz950.mp3|titles=Daily Zohar 950]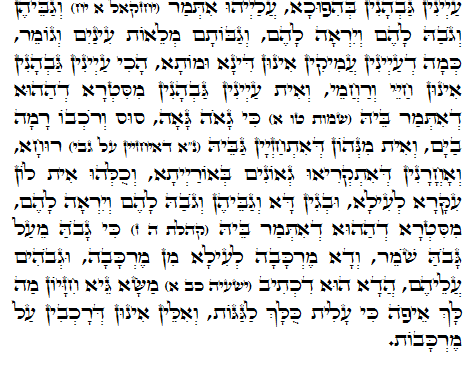 Hebrew translation:
Sorry Hebrew translation is missing from my original files.
Tikkun 70 – 54
Zuvor lasen wir, dass eine Person mit tief liegenden Augen, in den meisten Fällen, Urteil und Tod repräsentiert. Menschen mit Augen, die eher vorne im Gesicht sind und über dem oberen Ende der Ohren angesetzt, haben Energie des Lebens und Gnade.
Ezekiel 1:18 "וְגַבֵּיהֶן–וְגֹבַהּ לָהֶם, וְיִרְאָה לָהֶם; וְגַבֹּתָם, מְלֵאֹת עֵינַיִם סָבִיב–לְאַרְבַּעְתָּן " "wie für ihre Ringe, sie waren hoch und sie waren furchtbar; und die Vier hatten ihre Ringe ringsrum voller Augen."
In der Vision von Ezekiel lesen wir, dass die Heiligen Wesen auf dem Thron hoch waren, mit Augen um sie herum, so dass sie in alle Richtungen schauen konnten. Die Augen sind der höchste 'Sinn' im Körper und es ist auf der Ebene von Chochmah. Wenn die Augen höher im Gesicht positioniert sind (nicht tief), dann bedeutet dieses eine Fähigkeit für höhere spirituelle Verbindung. Der negative Aspekt ist Ego und Stolz.
Exodus 15:1 "…אָשִׁירָה לַיהוָה כִּי-גָאֹה גָּאָה…" "… werde ich zu YHVH singen, denn er ist hoch erhaben (גָאֹה גָּאָה)…"
Dieser Vers oben ist aus dem Lied, das nach der Teilung des Roten Meeres kam. Es lobt Gott für den, an diesem Ereigis erlebten, erhabenen Zustand. Die Wurzel von dem Wort ist גא. Der spirituelle Aspekt davon ist positiv, weil es eine Erhöhung über das Physische ist. Auf der physischen Ebene bedeutet es Ego und Anziehungskraft in Richtung Egoismus und Materie.
Das Wort für 'Genie' ist in Hebräisch גאון , das bedeutet, oberhalb der Norm spirituell erhöht. Wir lernen von dem Zohar, dass Menschen mit Augen oberhalb der normalen Position, größere geistige Fähigkeiten haben. Die spirituellen Lehrer, nach der Zerstörung des zweiten Heiligen Tempels, wurden גאונים genannt, wörtliche Bedeutung 'Genie'. Das bedeutete keinen Titel für Ego, aber für ihre Fähigkeit, sich auf einer höheren spirituellen Ebene zu verbinden, das konnte Energie von Leben und Licht der Gnade von Binah kanalisieren.
{||}