Click here to listen to the Daily Zohar [audio:https://dailyzohar.com/wp-content/uploads/audio/dz952.mp3|titles=Daily Zohar 952]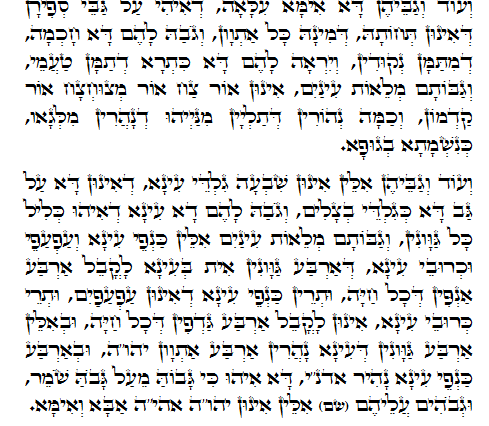 Hebrew translation:
Sorry Hebrew translation is missing from my original files.
Tikkun 70 – 55
Die vier Heiligen Lebewesen sind der Aspekt von Chessed (Löwe), Gevurah (Ochse), Tiferet (Adler) und Malchut (Mann).
Über ihnen ist die überirdische Mutter, Binah, die sie beeinflusst und nährt wie ihre Kinder. Die Nikud, die von Binah kommt, erhält ihr Licht von Chochmah, bevor es zu den Gefäßen von Malchut runter geht. Die Te´amin kommen von Chochmah und sie erhalten ihr Licht von Keter.
Keter beinhaltet drei Lichter aus der Unendlichkeit, die die Wurzeln für Chochmah, Binah, Da´at bilden. Sie bringen den Aspekt von Seele und Lebenskraft in den Körper der Buchstaben ein.
Der Augapfel hat sieben Schichten, wie die Schichten der Zwiebel, um die sieben Sefirot zu repräsentieren. Über ihnen die Augenlider mit ihren ´Lippen´ und Haaren, die das Auge beschützen.
Die vier Farben der Augen stellen die Gesichter der Heiligen Lebewesen dar und den Aspekt von dem Namen YHVH. Die beiden Augenlider und die beiden Lippen stellen die ´Flügel´von den Heiligen Lebewesen und den Aspekt von dem Namen ADNY, dar.
Über den Augen haben wir den Namen von der überirdischen Mutter, Binah, אהיה, AHYH, der die ´Kinder´unten beschützt
Die Einzelheiten mögen zuerst verwirrend sein, aber was der Zohar uns hier im Rahmen des PFR Studiums lehrt, ist auf den Fluss und die Hierarchie von Lichtern zu schauen.
Keter 'puscht' das Licht aus dem Unendlichkeit zu Chochmah und Binah herunter und das spiegelt sich in den Augen wieder. In die Augen schauen und ihre ´wahre´ Farbe bestimmen, wird uns die Ebene von der Verbindung der Person zu den oberen Ebenen, sagen. Die Augenlider können uns über die Kraft von der Person, ihr innere Licht in dieser Welt zum Ausdruck zu bringen, erzählen.
{||}