Daily Zohar – Tikunim – # 959 – Cómo ver los colores verdaderos?
Click here to listen to the Daily Zohar [audio:https://dailyzohar.com/wp-content/uploads/audio/dz959.mp3|titles=Daily Zohar 959]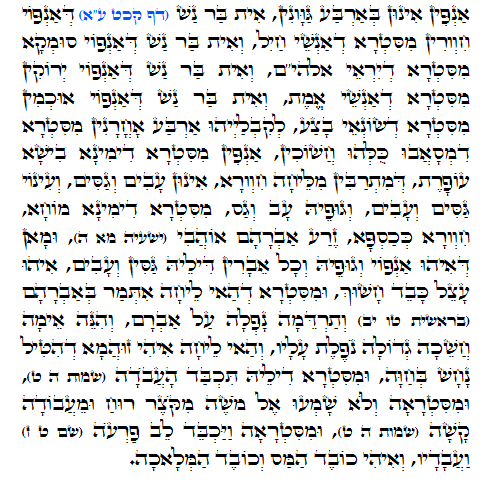 Hebrew translation:
Traduccion Sebastian Palen
Tikun 70-64
Los colores de la cara tienen los aspectos del nombre YHVH.
Y – Blanco – derecha – Jesed
H – Rojo – Izquierda – Guevurá
V – Verde – Centro – Tiferet
H – Negro – Maljut. Debido a que no tiene luz propia y toma todas las Sefirot / los colores de arriba.
Hay aspectos en los que Yesod está representado por el color Negro y Maljut recibe el azul.
Un rostro que irradia luz blanca tiene el aspecto de Jesed. Si el blanco se ve como plomo a continuación revela las impurezas y los aspectos negativos de esa persona.
Cuando la luz que irradia es rojo, entonces el aspecto puro indica el deseo y la conexión a la luz. El aspecto impuro son los deseos terrenales para sí mismo.
Verde en el rostro representa aferrarse a la verdad y lo contrario es para los mentirosos y los manipuladores.
El negro representa la energía fuerte en Maljut. El aspecto positivo es la conexión a la Shejiná, el aspecto negativo es la conexión con el lado oscuro de la vida, la amargura, la pereza y pesadez. Las personas con falta de energía, buscan los atajos y evitan el trabajo duro.
Al mirar en la cara de la gente, hay que ver más allá de las características físicas. Para la mayoría de la gente que lee el estudio de PFR en el Zohar diario esto es confuso. No es una sencilla guía para una correcta interpretación. El carácter de una persona y el proceso de Tikun está escrito en su rostro cuando se trata de vidas anteriores, y no como una pantalla de TV en vivo.
Los verdaderos colores sólo pueden verse cuando nos arrojan luz sobre el objeto. Lo mismo ocurre con la gente. Debemos enviar a la luz (con el pensamiento puro) de nuestros ojos a la persona. Esto aumentará nuestra capacidad de ver la verdad con los ojos interiores, Jojma y Bina. Sin esto somos daltónicos.
{||}