Click here to listen to the Daily Zohar [audio:https://dailyzohar.com/wp-content/uploads/audio/dz960.mp3|titles=Daily Zohar 960]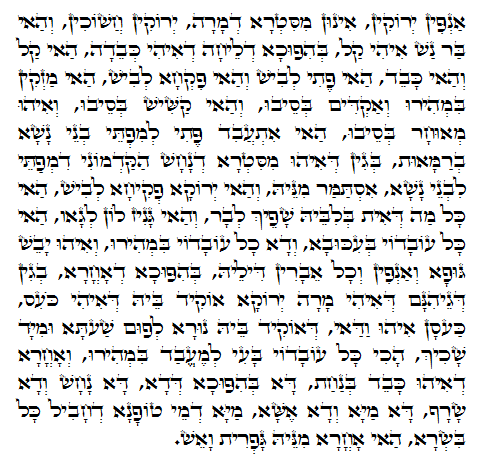 Hebrew translation:
Traduccion Sebastian Palen
Tikun 70-65
La gente del tipo 'blancos' con el aspecto negativo son como la serpiente de la primer transgresion, que era de color blanco. Estas personas seducen a los demás en transgresiones y crean impurezas en sus vidas. Se ven más jóvenes que su edad. Todos debemos tener cuidado con este tipo de personas, ya que nos puede manipular con medias verdades y pueden vendernos "aceite de serpiente". Ellos buscan su propia comodidad y posponer las cosas. El blanco tiene el aspecto del agua como el agua de El Diluvio.
Negativos del tipo 'Verdes' son aquellas personas rápidas para saltar en las transgresiones. Ellos envejecen de forma rápida y podrían experimentar caída repentina de la energía y el aspecto de una persona anciana más temprano. Son fáciles de enojarse al igual que el elemento fuego de su naturaleza, que es como el fuego que cayó sobre Sodoma y Gomorra.
{||}