Click here to listen to the Daily Zohar [audio:https://dailyzohar.com/wp-content/uploads/audio/dz984.mp3|titles=Daily Zohar 984]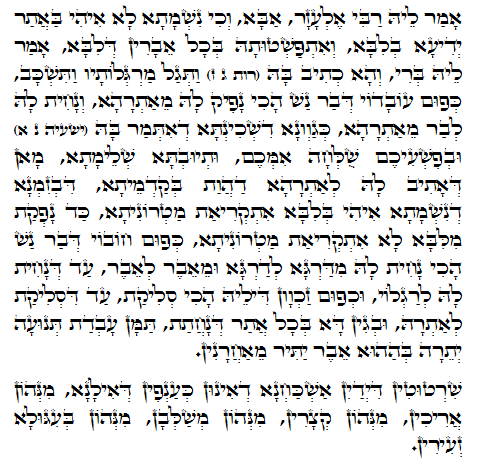 Hebrew translation:
Tikkun 70 – 89
Viele Menschen bewegen einige Teile ihres Körpers während sie sprechen. Einige Menschen bewegen ihre Augen, Hände, ihren Kopf und einige bewegen ihre Beine. Der entsprechende Körperteil wird durch die Energie der Seele munter.
Isaiah 50:1 "הֵן בַּעֲו‍ֹנֹתֵיכֶם נִמְכַּרְתֶּם, וּבְפִשְׁעֵיכֶם שֻׁלְּחָה אִמְּכֶם. " "…für eure Missetaten wurdet ihr verkauft und für eure Vergehen wurde euch eure Mutter weggenommen."
Rabbi Shimon erklärt, dass in diesem Vers die Mutter, das ist die Shechina, aus einem Zustand von vollständiger Vereinigung mit dem Licht ausgesandt wurde, um den Menschen mit ihrem Tikun zu helfen
Die gesamte Existenz, das ist die Welt von Tikun, ist in ständiger Bewegung, nichts ist leblos. Die Unendlichkeit ist ein totaler Platz der Ruhe, weil der Aspekt des Mangels nicht in ihr ist. Bewegung existiert nur in der Welt von Malchut und sie wurde auf diese Weise geschaffen, damit wir unsere Korrekturen machen können.
Am Shabbat verbinden wir uns mit dem Aspekt von Ruhe, um Energie aus Binah zu empfangen, welche über der Welt von Tikun ist. Unsere Shabbat Gebete erwähnen die ´Ruhe´ um eine Verbindung zu der Energie herzustellen.
Am Shabbat Nachmittag, nach dem Gebet von Mincha, ist der höchste Zustand der ´Ruhe´ und die beste Zeit, zu diesen Zweck im Zohar zu lesen (die Verbindung ist 10.000 mal stärker als an normalen Tagen!)
Die Seele ist der Aspekt der Shechina und wird stark in den unterschiedlichen Körperteilen ausgedrückt die Korrektur erfordern. Wir haben gelernt, dass der gesamte Körper die spirituelle Essenz und den Seelen Typ einer Person darstellt. Wenn er Verunreinigungen hat oder hatte, dann wird es als ´zusätzliche´ Bewegung im Körper gesehen oder es äußert sich anders als auf die normale Weise . Spezielle Bewegungen von Augen, Mund, Händen oder anderen Körperteilen geben eine spirituelle Korrektur an, die sich auf diesen Bereich des Körpers bezieht.
.
Die Korrektur ist, den Körper in totale Balance mit unseren spirituellen Verbindungen und Aktionen zu bringen. Wenn wir einen Zustand von Frieden und Ruhen in unserem Herzen fühlen, während wir unserem Tikun Prozess folgen, dann sind wir auf dem richtigen Weg.
{||}