Click here to listen to the Daily Zohar [audio:https://dailyzohar.com/wp-content/uploads/audio/dz972.mp3|titles=Daily Zohar 972]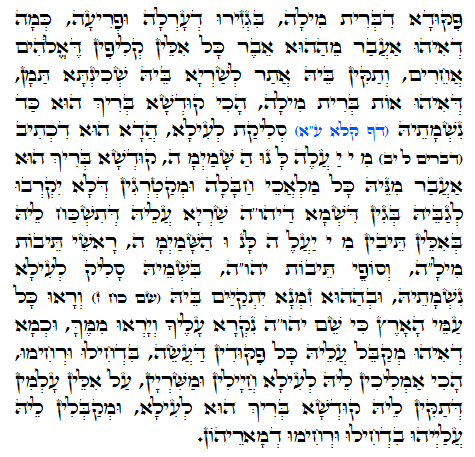 Hebrew translation:
Tikkun 70 – 77
Der Prozess der Beschneidung entfernt die Klipot, die am physischen Körper befestigt wurden, als Adam die erste Sünde getan hat. Die Vorhaut bedeckt die ´Krone´ von Yesod und hält das Licht davon ab, leicht enthüllt zu werden. Ihre Entfernung öffnet den Kanal für Yesod und eine Person hat so das größere Potiental gerecht zu werden.
Die Kräfte von der negativen Seite versuchen, die Seele zu ´attakieren´, gucken nach Löchern in ihrer Kleidung, um so viel Energie wie möglich ´zu saugen´, bevor die Seele höher geht und jenseits ihrer Reichweite ist.
Eine ´schwere´ Seele, das heißt eine mit dem größerem Wunsch für sich allein und starker Verbindung zur materiellen Welt, ist sehr langsam im Aufstieg und bietet der anderen Seite ein ´gutes´´Mahl an, währen sie einen schmerzvollen Prozess erfährt. Das ist die Passage durch die Tore der Hölle, bevor die Seele beurteilt wird und für den ordnungsgemäßen Reinigungsprozess weitergeht.
Die Gesetze der Thora weisen uns an, den Körper sobald wie möglich und bevor die Sonne untergeht, zu beerdigen. Das hilft den Schmerz der Seele auf dem Weg nach oben abzukürzen oder zu überspringen. So lange wie der Körper nicht zurück in der Erde ist, bewegt sich die Seele nicht zum nächsten Schritt.
Der Zohar enthüllt uns, dass uns Gott wegen der Beschneidung einen leichten Pass zu den oberen Welten gibt und die Seele vor solchen beschützt, die sich wünschen ihr zu schaden.
Deuteronomy 30:12 "מִי יַעֲלֶה-לָּנוּ הַשָּׁמַיְמָה " "'Wer wird für uns bis in den Himmel gehen"
Die Initialien von diesem Zitat sind in dem Wort 'מילה', 'Beschneidung' und die letzten Buchstaben buchstabieren den Namen יהוה YHVH. Unsere Verbindung zu YHVH mit dem Prozess der Korrektur unseres Körpers mit positiven Handlungen, ebnen wir uns einen ´Autobahn´ in die oberen Welt.
Zum Ebnen haben wir als Werkzeuge die Thora und den Zohar. Mit ihrem Licht bereichern wir unsere Seele und vervollständigen unsere Korrektur. Wenn die Zeit kommt, erhalten wir auf der Autobahn einen First Class Begleitservice zur Unterstützung, um unser Ziel zu erreichen.
Wir alle wollen in unserem Leben Messias und die endgültige Erlösung erfahren und wir sollten daran glauben, dass es Heute sein wird, aber wenn nicht, dann sind wir glücklich, einen weiteren Arbeitstag zu haben, um mehr für die Zukunft zu verdienen.
Und nebenbei gesagt, um erfolgreich in eurer Arbeit zu sein, solltet ihr euch an jedem Moment daran erfreuen, egal wie schwer oder leicht es ist.
{||}