Daily Zohar – Tikunim – # 995 – Die Menorah scheint auf dein Gesicht
Click here to listen to the Daily Zohar [audio:https://dailyzohar.com/wp-content/uploads/audio/dz995.mp3|titles=Daily Zohar 995]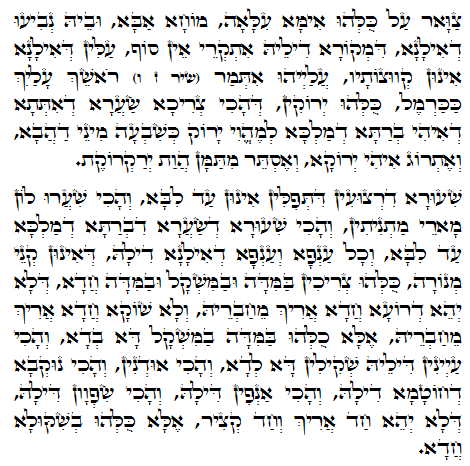 Tikkun 70 –
100 Song of Songs 7:6 " רֹאשֵׁךְ עָלַיִךְ כַּכַּרְמֶל, וְדַלַּת רֹאשֵׁךְ כָּאַרְגָּמָן " "Dein Kopf auf dir ist wie Carmel, und das Haar auf deinem Kopf ist wie Purpur"
Der Kopf und das Gesicht sind die zehn Sefirot. Chochmah ist das rechte Gehirn, Binah ist das Linke und das Gehirn in der Mitte ist Da'at. Sie sind oberen drei Sefirot und unter dem Schädel verborgen. Unter den Dreien finden wir auf dem Gesicht die unteren sieben Sefirot in drei Paaren plus 1.
Das Licht von Chochmah wird durch die Augen enthüllt, das Licht von Binah wird durch die Ohren enthüllt, die Nase ist Zeir Anpin and der Mund ist Malchut, der alle Sefirot enthüllt.
[frame type="raised"]https://dailyzohar.com/wp-content/uploads/2012/08/menorah.jpg[/frame]
Wie die Menorah im Heiligen Tempel, sollten alle Körperteile die paarweise sind, die gleiche Größe haben um Balance zwischen dem Rechten und dem Linken zu zeigen. Die innere Wand spaltet das Gesicht in der Mitte.
Im Schöpfungs Prozess, kam das Licht der Unendlichkeit durch die Augen, Ohren und die Nase um alles miteinander im Mund(Akudim) zu vereinen.
Die Augen, Ohren und die Nase beginnen intern meistens auf der gleichen horizentralen Ebene, und mit unserer Phantasie können wir die Form einer spirituellen Menorah auf dem Gesicht sehen und der Mund ist die Basis, die die oberen Lichter manifestiert.
}||{