Click here to listen to the Daily Zohar [audio:https://dailyzohar.com/wp-content/uploads/audio/dz994.mp3|titles=Daily Zohar 994]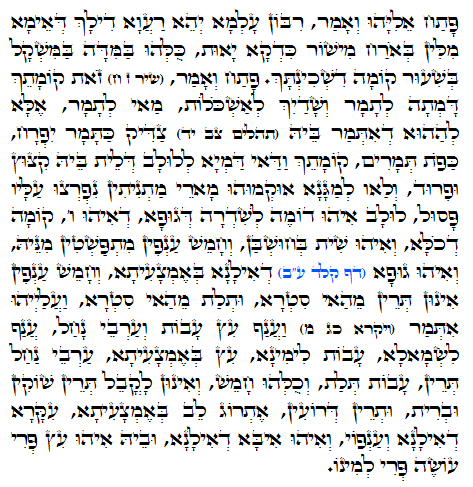 :
Tikkun 70 – 99.
Il Profeta Elia è venuto giù in seguito ad un invito speciale da parte di Rabbi Shimòn. Il Profeta Elia spiega i livelli della Shechinàh.
Cantico dei Cantici 7:8.
"זֹאת קוֹמָתֵךְ דָּמְתָה לְתָמָר, וְשָׁדַיִךְ לְאַשְׁכֹּלוֹת" "la tua statura rassomiglia ad una palma, e le tue mammelle a grappoli"
Elia cita questo Verso e dice che la Shechinàh è come una palma, alta e feconda.
Levitico-Vaykrà 23:40 "וּלְקַחְתֶּם לָכֶם בַּיּוֹם הָרִאשׁוֹן, פְּרִי עֵץ הָדָר כַּפֹּת תְּמָרִים, וַעֲנַף עֵץ – עָבֹת, וְעַרְבֵי – נָחַל; וּשְׂמַחְתֶּם, לִפְנֵי יְהוָה אֱלֹהֵיכֶם – שִׁבְעַת יָמִים" "ùlkachtem lachèm bayòm hàrishòn perì etz hadar kapòt tmarim và'anaf etz-avòt vè'arvei-nachal usmàchtem lifney Adonay Eloheychèm shiv'àt yamim"." il primo giorno,prenderete per voi il frutto dell'albero mirabile (Etròg), rami di palme (Lulàv) e rami di alberi frondosi (Hasadìm), e sottili rami di salici (Aravòt) di torrente, e gioirete sette giorni davanti a YHVH tuo Dio."
La Shechinàh è come un impeccabile Lulàv che è verso l'alto e le sue foglie non si dividono. Come il Lulàv, la Shechinàh connette Yessòd e Zeir Anpin ed è come la 'spina dorsale' del corpo e l'aspetto di Tiferet, Colonna Centrale. E 'il segreto dell'Albero della Vita. I 5 rami del Lulav sono tre sul lato destro per Chessèd, Ghevuràh e Tiferet di Yessòd e sulla sinistra due rami di Netzàch e Hòd. Il ramo di palma al centro è Yessòd stesso che è come la lettera ו Vav (valore numerico 6) che collega i sei elementi insieme. L'Etròg (Cedro), che è l'agrume, è per Malchùt e può essere collegato al sei solo dopo una benedizione speciale.
Ci sono molti segreti per l'uso del Lulàv durante la festa di Sukkòt. La festa di Sukkòt viene dopo Ròsh HaShanàh, che è un giorno di 48 ore corte e dopo Yòm Kippùr che è il giorno in cui viene dato il verdetto. A Sukkòt "agitiamo,scuotiamo" il Lulàv in sei direzioni (4=avanti,lato destro,indietro,lato sinistro + sù e giù= sei direzioni), al fine di ricevere la Luce assegnata per noi a Yòm Kippùr per l'intero anno.
Questo studio che ci viene dato da Elia ci insegna che collegandosi alla Shechinàh attraverso lo Zohar e le connessioni spirituali , siamo in grado di attirare Luce continua al mondo e nelle nostre vite.
{| |}