Click here to listen to the Daily Zohar [audio:https://dailyzohar.com/wp-content/uploads/audio/dz999.mp3|titles=Daily Zohar 999]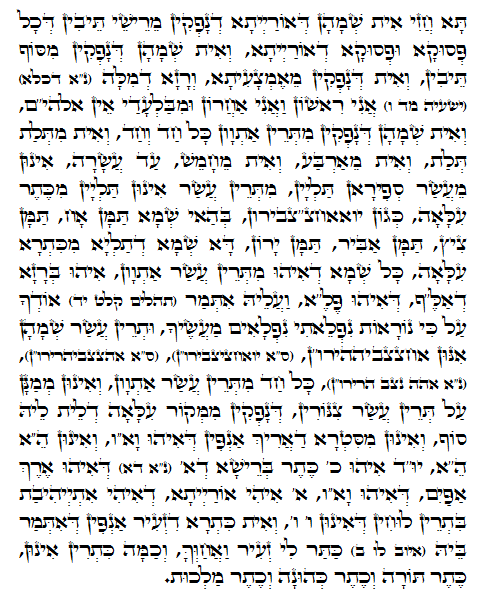 Tikkun 70 – 104
Die Verse der Thora verbergen Heilige Namen. Von ihren Initialien kommen Namen, die ihre Wurzel in Chochma haben. Von den letzten Buchstaben kommen Namen aus der Wurzel von Binah und von den mittleren Buchstaben kommen Namen von Keter.
Dieser Zohar Abschnitt sagt, dass dieses Geheimnis 'Ich bin der Erste und Ich bin der Letzte' in dem Vers unten angedeutet wird.
Isaiah 44:6 " כֹּה-אָמַר יְהוָה מֶלֶךְ-יִשְׂרָאֵל וְגֹאֲלוֹ, יְהוָה צְבָאוֹת: אֲנִי רִאשׁוֹן וַאֲנִי אַחֲרוֹן, וּמִבַּלְעָדַי אֵין אֱלֹהִים" "So spricht YHVH, der König von Israel, und sein Erlöser YHVH der Heerscharen: Ich bin der Erste und ich bin der Letzte und neben mir gibt es keinen Gott ."
Gott ist am Anfang, im Ende und in allem dazwischen. Es gibt nichts außer ihm.
Der Zohar fährt fort und lehrt uns , dass Namen mit zwei Buchstaben aus der Wurzel von Chochma kommen. Drei Buchstaben aus der Wurzel von Binah, vier von Chessed, fünf von Gevurah und so weiter bis zu Malchut wo 10 Buchstaben Namen sind.
Namen mit 12 Buchstaben wie der Name יואאחצ"צבירון sind von Arich Anpin. Dieser Name enthält Verweise auf Licht von Keter mit den Worten אח,ציץ,ירון die da herauskommen. Jedem Buchstaben sind 12 Kanäle zugewiesen, die aus dem oberen Kopf von Keter kommen. (Es gibt drei Köpfe in Keter, aber es ist hier nicht der Platz um darauf einzugehen).
Psalms 139:14 " אוֹדְךָ– עַל כִּי נוֹרָאוֹת, נִפְלֵיתִי: נִפְלָאִים מַעֲשֶׂיךָ; וְנַפְשִׁי, יֹדַעַת מְאֹד" "Ich werde Dir danken, denn ich bin furchtsam und wunderbar gemacht; wunderbar sind Deine Werke; und das weiß meine Seele recht gut."
König David sah die Herrlichkeit Gottes in allem was um ihn herum war und alle Psalme die er schrieb, geben Zeugnis davon. Mit diesem Vers dankt er Gott für die Fähigkeit die Wunder der Schöpfung zu sehen und seiner Seele zu erlauben, sich damit zu verbinden.
Wir sind nicht König David, aber wir haben den Zohar, der uns alle die Wunder der Welt enthüllt. Der Zohar ist unser Auge zu den Heiligen Namen die so wunderbar in der Thora verborgen sind. Der Zohar liefert uns die Geheimnisse in einer Form, dass wir alle imstande sind, uns damit zu verbinden und überirdischisches Licht in unser Leben zu ziehen.
{||}