Daily Zohar – Tikunim – # 1001 – Warum bist du hungrig?
Click here to listen to the Daily Zohar [audio:https://dailyzohar.com/wp-content/uploads/audio/dz1001.mp3|titles=Daily Zohar 1001]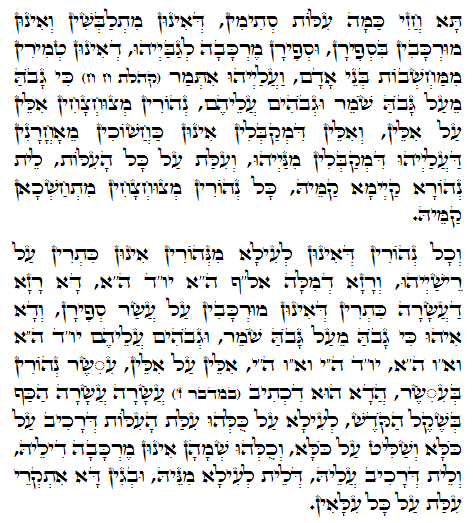 Tikkun 70 – 106
Der ´Kopf´ von Arich Anpin hat drei Ebenen des Lichts die mit dem unendlichen Licht verbinden.
Gulgalta – גולגלתא- Schädel
Kruma d'Avira – אוירא קרומא ד- Luft Membrane
Mocha Stima'ah – מוחא סתימאה- Verborgenes Gehirn>
Die Zeichnung unten ist sehr allgemein, sie soll euch nur die Beziehung zwischen den beiden Köpfen von Keter zeigen, ATIK und ARICH. ATIK wurde von Adam Kadmon und dem Unendlichenen Licht kopiert. Es ist Eins und alles Barmherzigkeit. Seine nächste Phase ist ARICH wo wir anfangen können, die Bildung der Aspekte von männlich und weiblich zu sehen (wird unten nicht gezeigt)
Zum Vergrößern anklicken
[frame type="lifted"]https://dailyzohar.com/wp-content/uploads/2012/08/atik-arich-215×300.jpg[/frame]
Der Prozess in Keter erschuf die Fähigkeit den Aufbau der Welten fortzusetzen und das Unendliche Licht in die unteren Ebenen zu kanalisieren.
Der Zohar lehrt uns, dass obwohl Keter die höchste Sefira mit dem feinsten Licht ist wird es noch, im Verhältnis zu den Ebenen darüber und der Unendlichkeit, als ´dunkel´ bezeichnet.
Die 10 Sefirot stellen den Prozess der Evolution des Unendlichen Lichts zu den Sachen der physischen Welt dar. Jede Ebene bringt die Ebene darunter hervor, um ein Gefäß für es zu schaffen.
Die obere Sefira 'schiebt' ihr Licht herunter um ein Gefäß zu formen, dann geht sie, für alle Ebenen unter sich Licht zurücklassend, nach oben zurück.
Keter hat das Licht für alle die zehn Sefirot unter sich und hat keinen Mangel.
Chochma hat das Licht von neun Sefirot, sich selbst und den Acht unter sich. Chochma hat keinen wirklichen Mangel, weil es all sein Licht von Keter bekommt, das nur eine Wurzel von allen ist.
Binah hat das Licht don den acht unteren Sefirot. Binah beginnt den Wunsch zu erfahren, das ihr von Chochmah vererbte Licht zu verbreiten. Der Prozess setzt sich in die unteren Ebenen fort bis er in Malchut ankommt, das ohne Licht übrig geblieben ist, ABER den allergrößten Wunsch. Malchut hat den 'Geschmack' von allen Sefirot über sich und ist in ständigem Hunger.
Wünsche nach den nach materiellen Dingen zu haben, ist wie der Genuss unserer eigenen Gefäße und macht sie zerbrechlich. Wenn wir die materielle Existenz nutzen, um unser Gefäß zu erweitern und dem Wunsch nach Licht, wachsen wir spirituell und unsere Seelen können höhere Ebenen erreichen.
{||}