Click here to listen to the Daily Zohar [audio:https://dailyzohar.com/wp-content/uploads/audio/dz953.mp3|titles=Daily Zohar 953]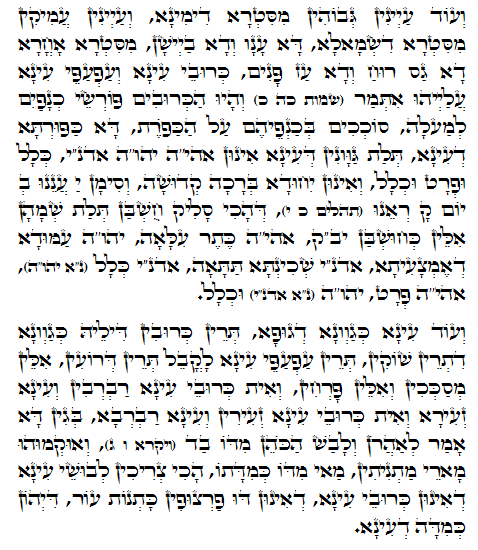 Hebrew translation:
Sorry Hebrew translation is missing from my original files.
Tikkun 70 – 58 (Fortsetzung aus DZ 951 und 952)
Hoch sitzende Augen sind die äußere Erscheinung der rechten Säule (Chessed), tief sitzende Augen, linke Säule (Gevurah)
Tiefe, עומק, in hebräisch numerischer Wert 216 ist gleichzusetzen mit Gevurah. Die positive Seite von Augen aus der Rechten Säule ist Bescheidenheit und die negative Seite ist Grobheit und Gemeinheit.
Die positive Seite von Augen aus der linken Säule ist Schüchternheit und die negative Seite ist Frechheit und schamlos
Exodus 25:20 "וְהָיוּ הַכְּרֻבִים פֹּרְשֵׂי כְנָפַיִם לְמַעְלָה, סֹכְכִים בְּכַנְפֵיהֶם עַל-הַכַּפֹּרֶת, וּפְנֵיהֶם, אִישׁ אֶל-אָחִיו; אֶל-הַכַּפֹּרֶת–יִהְיוּ, פְּנֵי הַכְּרֻבִים" " Und die Cherubim sollen ihre Flügel hoch ausbreiten, den Schrein mit ihren Flügeln abschirmen, mit ihren Gesichtern zueinander; in Richtung der Schrein-Abdeckung sollen die Gesichter der Cherubim sein."
Der Zohar lehrt uns, dass die Augenlider der Aspekt der Cherubim sind, die sich über der Abdeckung des Heiligen Schrein befinden.Die Augäpfel, wie vorher erklärt, haben 7 Schichten für die Sefirot von Zeir Anpin und Malchut.
Die Augen Farben; Weiß אהיה AHYH Keter, Grün für YHVH יהוה Tiferet und blaue Farbe ist für ADNY אדני, Malchut. Zusammen gestalten sie die Mittellinie von den Baum des Lebens, von Keter zu Malchut.
Die Falten von den Augenlidern beschützen die Augen wie die Abdeckung von des Heiligen Schrein. Die Ränder der Augenlider mit den Augenwimpern, sind wie die Cherubim, die die Verbindung zwischen den oberen und unteren Ebenen öffnen und schliessen. Moses war mitGott im Kontakt ´´zwischen´´ den Flügeln der Cherubim.
Exodus 25:22 "וְנוֹעַדְתִּי לְךָ, שָׁם, וְדִבַּרְתִּי אִתְּךָ מֵעַל הַכַּפֹּרֶת מִבֵּין שְׁנֵי הַכְּרֻבִים, אֲשֶׁר עַל-אֲרוֹן הָעֵדֻת–אֵת כָּל-אֲשֶׁר אֲצַוֶּה אוֹתְךָ, אֶל-בְּנֵי יִשְׂרָאֵל " "Und da werde ich mich mit dir treffen, und ich werde mit dir von oben aus der Abdeckung des Schreins sprechen, zwischen den beiden Cherubim die auf dem Schrein der Zeugnisse (Torah) sind, von all den Dingen, die ich dir in Geboten für die Kinder Israels geben werde. ´´
Die Augen sind beidseitige Kanäle; ihre Kraft geht beide Wege, wie mit Gott unterhalten. Was wir mit unseren Augen sehen, wirkt sich auf unseren physischen Körper und unsere Seelen aus. Wenn wir negative Sichten ´´eingeben´´, werden wir durch Negativität beeinflusst. Wenn wir positives und heiliges ´´eingeben´´, dann erhält unsere Seele im Gegenzug reines Licht. Lies "Beobachte es!" http://rabbishimon.com/?p=763
Der Zohar belehrt uns über einen anderen Aspekt von ' heilig´ der Augen, durch Verweis auf Genesis 3:21 "וַיַּעַשׂ יְהוָה אֱלֹהִים לְאָדָם וּלְאִשְׁתּוֹ, כָּתְנוֹת עוֹר–וַיַּלְבִּשֵׁם " "Und der LORD Gott machte für Adam und seine Frau Kleidung aus Haut und bekleidete sie."
Nach der Sünde hatte Gott Adam und Eva, vom Garten Eden und ihrem Zugriff auf den Baum des Lebens, zu seperieren. Er machte ihnen Kleidung aus Haut´´ und das ´blendete' sie den Baum des Lebens zu sehen. Das ist der Zweck der Augenlider, die reine Seele und die spirituelle Welt, von der physischen Welt von Malchut zu separieren. Wenn die Augen offen sind, sind wir zu der Begrenzung der physischen Welt von Malchut verbunden und wenn wir sie schließen, dann haben wir die Fähigkeit, in das spriituelle Reich zu ´reisen´.
Wir können leicht sündigen und die Seele, mit einem falschen Gebrauch unserer Augen, verletzen. Wir haben Engel über unseren Augen und wir sollten uns selber antrainieren ihnen zu sagen, sich von aller Negativität in unserer Umgebung zu trennen.
Es gibt negative Situationen, da können und sollten wir helfen, wie Unfälle oder einer negativen Sitation vorzubeugen.
Aus Isiah's Prophzeihung (Isaiah 33:15) "הֹלֵךְ צְדָקוֹת, וְדֹבֵר מֵישָׁרִים; מֹאֵס בְּבֶצַע מַעֲשַׁקּוֹת, נֹעֵר כַּפָּיו מִתְּמֹךְ בַּשֹּׁחַד, אֹטֵם אָזְנוֹ מִשְּׁמֹעַ דָּמִים, וְעֹצֵם עֵינָיו מֵרְאוֹת בְּרָע." " Er , der rechtschaffen geht und untadelig spricht; Er, der Vorteil der Unterdrückung verschmäht, dessen Hände sich schütteln, beim Festhalten von Schmiergeldern, der die Ohren abhält vom Hören von Blut, und seine Augen geschlossen hält auf böses zu sehen´´
Die Regel ist, wenn wir nicht direkt mit der Situation verbunden sind oder die Fähigkeit haben zu helfen oder es ist nicht unsere Pflicht ist (Polizei, Gesundheit oder andere verwandte Berufe) dann sollten wir weitergehen und sogar vergessen was wir gesehen haben.
Ignoriert es also nicht, wenn es euer Beruf ist oder ihr Licht in die Situation bringen könnt, aber wenn nicht, dann geht definitiv von solchen Plätzen weg, so schnell wie ihr könnt, lasst einen Segen zurück, dass das Licht kommen wird, die Negativität zu korrigieren .
Der PFR Aspekt davon ist, wenn eine Person kein korrektes Format der Augenlider hat, dann reflektiert es eine Fehlerstelle in der Seele der Person und allgemein Unausgewogenheit.
{||}