Click here to listen to the Daily Zohar [audio:https://dailyzohar.com/wp-content/uploads/audio/dz992.mp3|titles=Daily Zohar 992]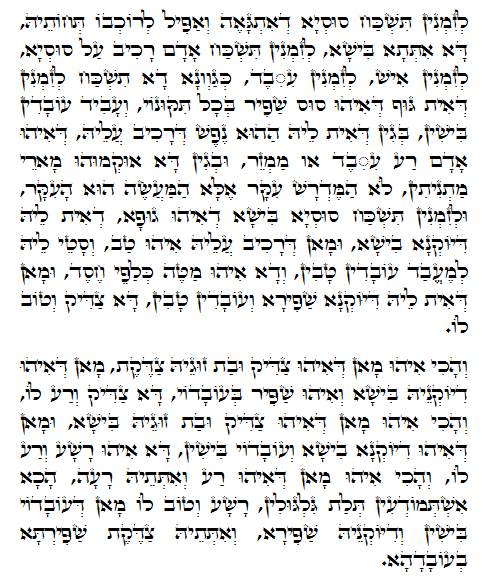 Tikkun 70 – 97
Die Seele einer Person ist ein männlicher Aspekt und die Erschaffung von Adam. Der Körper ist ein weiblicher Aspekt, weil er ein Gefäß für die Seele ist.
.
Genesis 2:18 " וַיֹּאמֶר יְהוָה אֱלֹהִים, לֹא-טוֹב הֱיוֹת הָאָדָם לְבַדּוֹ; אֶעֱשֶׂה-לּוֹ עֵזֶר, כְּנֶגְדּוֹ" "Und der HERR sagte: 'Es ist nicht gut, dass der Mensch allein sei; Ich will ihm eine Hilfe machen, für ihn zu treffen."
Den Körper/weiblich, den Gott für Adam/Seele erschaffen hat, wurde ihm als ein Werkzeug gegeben, um in dieser Welt zu arbeiten. Wenn eine Person den rechtschaffenden Weg nimmt, dann würde ihm die Frau helfen großes Licht zu erreichen, den Wegen der Thora zu folgen
.
Ecclesiastes 7:26 "וּמוֹצֶא אֲנִי מַר מִמָּוֶת, אֶת-הָאִשָּׁה אֲשֶׁר-הִיא מְצוֹדִים וַחֲרָמִים לִבָּהּ–אֲסוּרִים יָדֶיהָ; טוֹב לִפְנֵי הָאֱלֹהִים, יִמָּלֵט מִמֶּנָּה, וְחוֹטֵא, יִלָּכֶד בָּהּ." "Ich finde bitterer als den Tod die Frau, die ein Fallstrick ist, deren Herz eine Falle ist und deren Hände Ketten sind. Der Mann, der Gott gefällt, wird ihr entkommen, aber den Sünder wird sie umgarnen."
Wenn eine Person den falschen Weg nimmt und seiner bösen Neigung folgt, dann fängt der Körper die Seele in körperlichen und materiellen Wünschen ein.
Den Wunsch für sich allein auszulöschen, sehr davon zu profitieren den Körper/weiblich/Gefäß als Kanal zu nutzen, um mehr Licht in sein Leben zu ziehen.
Proverb 18:22 "מָצָא אִשָּׁה, מָצָא טוֹב; וַיָּפֶק רָצוֹן, מֵיְהוָה." "Wer eine Frau findet, findet was gut ist und erhält die Gunst von YHVH"
Das Hebräische Wort, hier übersetzt als 'Gunst', hat die gleichen Buchstabens wie צנור, was eine 'Leitung', ein 'Kanal' bedeutet .
{||}