Click here to listen to the Daily Zohar [audio:https://dailyzohar.com/wp-content/uploads/audio/dz942.mp3|titles=Daily Zohar 942]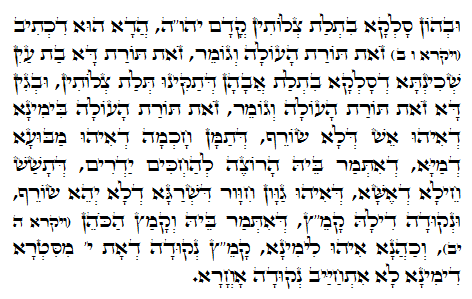 Hebrew translation:
Sorry Hebrew translation is missing from my original files.
Tikkun 70-47
Levitico 6:2.
"זֹאת תּוֹרַת הָעֹלָה: הִוא הָעֹלָה עַל מוֹקְדָה עַל – הַמִּזְבֵּחַ כָּל – הַלַּיְלָה"6:2. "zòt toràt ha'olàh hì ha'olàh al mokedàh al-hamizbe'ach kòl-halailàh""questa è la legge dell'olà essa è l'olà (che rimarrà) sulla legna ardente,sull'altare tutta la notte "
Lo Zohàr ci insegna qui che la Pupilla dell'occhio è l'aspetto della Shechinàh che sale al livello di Chokmàh. Le preghiere che utilizzano i tre Patriarchi, Avrahàm con Chessèd, Itzàck con Ghevuràh e Yaàkòv con Tiferèt sono come l'olocausto sull'altare.
Poiché gli occhi sono a livello alto di Chokmàh,essi rappresentano tre tipi di fuoco.
1-il bianco del bulbo oculare è Chessèd ed è considerato fuoco freddo;
2-l'iride è Ghevuràh e rappresenta il fuoco che arde ma non consuma come il 'Roveto Ardente' che Moshè ha visto quando ha incontrato HaShèm;
3-la pupilla e la parte interna dell'occhio è l'aspetto di Malchùt e rappresenta il fuoco che brucia e consuma.
Gli occhi di una persona possono rappresentare questi tre livelli. Quando le palle degli occhi sono di colore bianco e 'acquoso' essi rappresentano Chessèd e portano energia di agio e comfort alle persone che li circondano.
Occhi che mostrano forza, ma non sono " intimidatori" sono il secondo livello di fuoco che brucia e possono portare calore e sostegno alle persone che li circondano.
Il terzo tipo è pericoloso perché può influire su di noi in modo negativo.
Se noi fissiamo negli occhi del primo tipo, essi ci riempiono di sensazione piacevole e potremmo innamorarci di quella persona, perché irradia amore e gentilezza.
Il secondo tipo può farci sentire a disagio guardandolo negli occhi e noi facilmente perderemmo in una gara di sguardi. Non fate una gara di sguardi a meno che non sia una persona che si ama o in un rapporto forte. Queste persone hanno forza spirituale e potrebbero avere carisma e influenza sulle persone. Potrebbe essere negative o positive e noi possiamo determinare questa caratteristica esaminando altri caratteri sul loro volto.
Dobbiamo evitare qualsiasi contatto visivo con il terzo tipo. Considera i loro occhi come raggi laser che potrebbe imprimere segni negativi nella tua anima. Gli occhi sono finestre per l'anima e se tu lasci entrare queste persone, esse possono causare danni. Queste persone irradiano energia dal corpo che non deve passare attraverso gli occhi. Queste persone potrebbero tenerti la mano e farti sentire svuotato.Ovviamente ci sono diversi livelli in ciascun tipo. Il top è uno come il Sommo Sacerdote (Cohen Gadòl) che potrebbe guarire con i suoi occhi e il peggiore è uno come Bilàm che potrebbe prendere la vita con i suoi occhi.
La migliore protezione è quella di evitarli. Con una purezza spirituale aumentata, tu puoi sentire queste persone a distanza.
{| |}