Click here to listen to the Daily Zohar [audio:https://dailyzohar.com/wp-content/uploads/audio/dz949.mp3|titles=Daily Zohar 949]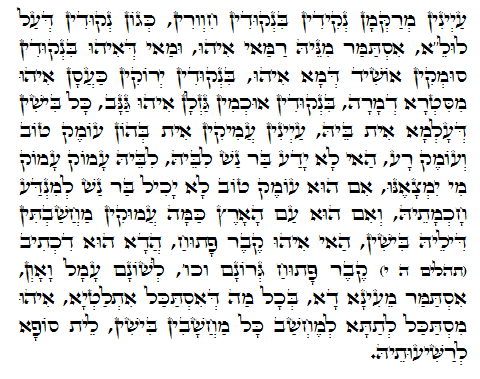 Hebrew translation:
Sorry Hebrew translation is missing from my original files.
Tikkun 70-54
Guardando intorno agli occhi, possiamo vedere lunghe linee o punti. Il punto rappresenta l'aspetto degli attributi negativi, i punti bianchi rappresentano una persona ingannevole e non affidabile, come Lavàn l'Arameo.Punti verdi sono la Bile che raccoglie elementi negativi dal corpo fisico. Tale persona è reattiva e veloce ad arrabbiarsi.Punti rossi su una persona che può facilmente versare il sangue degli altri.I punti neri rappresentano desideri forti e negativi per il sé, un ladro che prenderà qualsiasi cosa che può prendere dagli altri. Il Nero include tutti gli altri colori così questa persona è capace di ogni tipo di negatività.
Le persone con gli occhi infossati hanno pensieri profondi che noi non possiamo leggere o prevedere. Se la persona è positiva allora potrebbe avere saggezza profonda che non possiamo capire.Se è una persona negativa allora i suoi occhi ci dicono che ha una gran quantità di cattivi pensieri. Egli è come un "buco nero" e lo Zohàr lo spiega come se fosse una "Tomba Aperta". Hanno l'"occhio cattivo" ( malocchio) e potrebbero portare la morte con il loro sguardo. Dobbiamo fare attenzione e stare lontani da questo tipo di persone.
Note e Promemoria: Si prega di non azzardarci nel giudicare le persone con gli occhi profondi. Alcune di loro possono apparire come persone cattive, ma potrebbero nascondere una grande persona saggia. E 'raro, ma se facciamo un errore di giudizio,allora questo potrebbe farci del male.
{| |}