Click here to listen to the Daily Zohar [audio:https://dailyzohar.com/wp-content/uploads/audio/dz957.mp3|titles=Daily Zohar 957]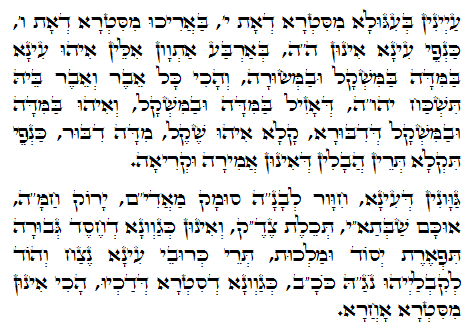 Hebrew translation:
Tikkun 70-62
Gli occhi sono a livello di Chokmàh e, come tali, nascondono molti aspetti dei livelli superiori dell'anima.
La rotondità degli occhi è l'aspetto della lettera Y (Yòd) (Chokmàh) del Nome YHVH. La lunghezza dell'occhio è l'aspetto della lettera V (Vàv)(Zeir Anpìn) del Nome. La palpebra superiore è per la H (Hey) superiore (Binàh) del Nome e la palpebra inferiore è per la H (Hey) inferiore (Malchùt) del Nome.
I colori degli occhi sono gli aspetti delle sette Sefiròt inferiori e dei sette pianeti principali del sistema solare.
Bianco – Chessèd – Luna
Rosso – Ghevuràh – Marte
Verde – Tiferèt – Sole
Nero – Yessòd – Saturno
Blu – Malchùt – Giove
Le palpebre sono per Netzàch e Hòd, Venere e Mercurio.
Studiare le Sefiròt ed i pianeti ci dà un'altra dimensione nella comprensione della "storia" che gli occhi possono raccontare.
Dovremmo sempre ricordare che , a tutti i livelli che abbiamo descritto, c'è sempre l'aspetto puro ed impuro.
{| |}