Click here to listen to the Daily Zohar [audio:https://dailyzohar.com/wp-content/uploads/audio/dz977.mp3|titles=Daily Zohar 977]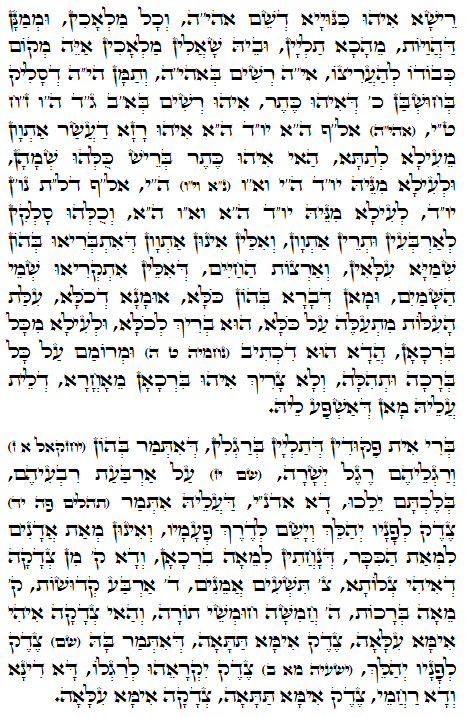 Hebrew translation:
Tikkun 70-82.
La testa che è Keter ha il Nome אהיה AHYH ed è la radice di tutti gli Angeli che vengono dagli altri Nomi Sacri.Nell' ultima preghiera di Shabbàt, ci eleviamo a Keter e recitiamo le parole degli Angeli "איה מקום כבודו", queste parole si leggono e suonano come una domanda: "Dove è il Suo posto d'onore?", Ma è anche un annuncio che איה (del nome אהיה) rappresenta Chokmàh, Binàh e Daàt è il posto del Suo onore. Il posto è il trono di Keter.
Lo Zohar qui, ci rivela che la lettera Kaf כ di Keter כתר viene dopo le prime 10 lettere dell'alfabeto Ebraico Alef-Bet, אבגדהוזחטי, a dirci che le Dieci Sefiròt sono state create prima di Keter che è il capo dei mondi del Tikkùn di sotto.
I nomi di Keter scritti e quelli di sotto hanno 42 lettere:
אלף הא יוד הא
יוד הי ויו הי
יוד הא ואו הא
אלף דלת נון יוד
Con queste 42 lettere HaShèm creò il cielo, che è il mondo superiore di Berià (Creazione) e la terra dei vivi che è Malchut di Berià.
Neemia 9:5.
"וִיבָרְכוּ שֵׁם כְּבֹדֶךָ, וּמְרוֹמַם עַל – כָּל – בְּרָכָה וּתְהִלָּה"
" Sia benedetto il Tuo Nome glorioso, che è esaltato al di sopra di ogni benedizione e di ogni lode".
Lo stato di 'esaltato al di sopra di tutto' è per il Creatore di tutto ciò che è,il Sena Fine (Ein Sof- Endless) Benedetto Egli sia. Egli è colui che porta le benedizioni e il sostegno a tutte le Sefiròt e ai mondi di sotto.
Dopo il primo Tzìmtzùm, il Senza Fine (Ein Sof-Endless) ha formato le 10 Sefiròt nello spazio vuoto come la formula per tutto ciò che seguirà. Solo allora, i mondi di Atzilùt, Beriàh, Yetziràh e Asiàh hanno potuto essere fondati.
Tutto ciò che ha un nome è stato creato dalla Luce Infinita dei mondi inferiori. Keter è la prima e la testa delle dieci Sefirot, ma la Luce arriva sempre dal Senza Fine(Ein Sof-Endless).
{| |}